5G Radio Research Engineer
Nokia Networks
więcej
5G Radio Research Engineer
Wrocław, dolnośląskie

Specjalista

24.03.2015
Pracodawca ma prawo zakończyć rekrutację we wcześniejszym terminie.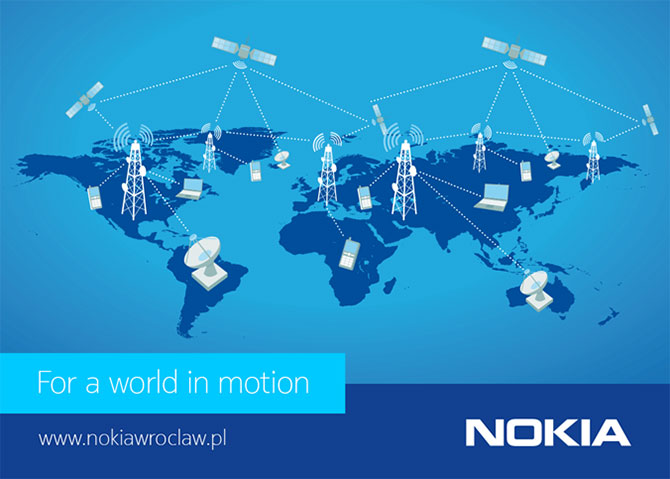 5G Radio Research Engineer

Miejsce pracy: Wrocław
Nokia invests in technologies important in a world where billions of devices are connected. We are focused on three businesses: network infrastructure software, hardware and services, which we offer through Nokia Networks; location intelligence, which we provide through HERE; and advanced technology development and licensing, which we pursue through Nokia Technologies. Each of these businesses is a leader in its respective field
Our Nokia Networks business is the world's specialist in mobile broadband. From the first ever call on GSM, to the first call on LTE, we operate at the forefront of each generation of mobile technology. Our global experts invent the new capabilities our customers need in their networks. We provide the world's most efficient mobile networks, the intelligence to maximize the value of those networks, and the services to make it all work seamlessly.
Nokia European Software & Engineering Center hires dedicated, enthusiastic and passionate people, who create the largest ITC R&D in Poland. Our facilities in Wroclaw are located in three sites and accommodate one of the biggest test telecommunications labs in Middle and Eastern Europe. Apply and experience the adventure of a lifetime!!!

Professional challenges and career opportunities:

We are looking for motivated professionals for 5G Radio Research Engineer positions. 5G will be the next generation of mobile communications that will be rolled out around 2020, and which we in Wroclaw are already shaping now. The challenges you will face include definition of components of the new system, their modeling and evaluation in software simulation tools and finally dissemination in patent filing or conference publications.
We have a variety of opened positions for candidates with wide range of work experience – from fresh graduates to highly experienced professionals.
Position Description:

You will be a 5G Radio Research Engineer working on 5G radio and spectrum coexistence. You will be a member of a team that is responsible for radio systems research within Nokia. You will work on concepts of how the existing and future communications systems should operate and develop simulation tools to evaluate those concepts. For the good ones you will file patent applications, write conference publications and develop demonstrators that we show to customers.
Position Requirements:
Expected:
M.Sc. degree in telecommunications or in another engineering field, or mathematics, physics etc.
Good understanding of radio propagation
Good understanding of the design of radio communication systems and their components
Good Matlab and/or C++ programming skills
Very good English in writing and speech
More senior candidate should bring along a few of the following:
Experience in system level simulations of communications systems
Experience in link level simulations of communications systems
Experience in product development and implementation in the field of wireless communications
Experience in the standardization of wireless communications systems, e.g. 3GPP
Very good knowledge of radio spectrum, experience in coexistence simulations
Proven record of filed patents
Proven record of conference publications / Ph.D.
Excellent knowledge of LTE, HSPA or Wi-Fi
Experience in project management
References from previous experience in similar research position

We can offer you:
Work on most advanced radio technologies without leaving Poland
Support in pursuing a Ph.D.
Competitive salary + bonuses depending on performance
Medical care for you and your family
Flexible working time, relocation support
Group life insurance, co-financing of nursery and kindergarten
Sport card, lunch card
Tickets to cinema, theater, opera, e-ticket
If you are interested in this job offer, send your CV in English to:
or apply online using link below:

Looking for other opportunities? Visit our career portal:
Please add to attached documents the following clause:
"Oświadczam, że wyrażam zgodę na przetwarzanie danych osobowych zawartych w mojej ofercie pracy dla potrzeb przyszłych procesów rekrutacji Nokia Siemens Networks Sp. z o.o. z siedzibą w Warszawie przy ul. Domaniewskiej 39A (zgodnie z ustawą z dnia 29.08.1997 r. O Ochronie Danych Osobowych, Dz. Ustaw nr 133 poz. 883 z późn. zm.)".
"I hereby authorize Nokia Solutions and Networks, located in Warsaw 02-672, ul. Domaniewska 39a, to process the attached personal information strictly for the purposes of job recruitment pursuant to the Personal Data Protection Act of 29 August 1997 (Journal of Laws (Dz.U.) No. 133, item 883)."
Please note that we will contact only with selected candidates.