Account Manager - eCommerce
Philips
więcej
Account Manager - eCommerce
Warszawa, mazowieckie

pokaż mapę

Specjalista

09.07.2018
Pracodawca ma prawo zakończyć rekrutację we wcześniejszym terminie.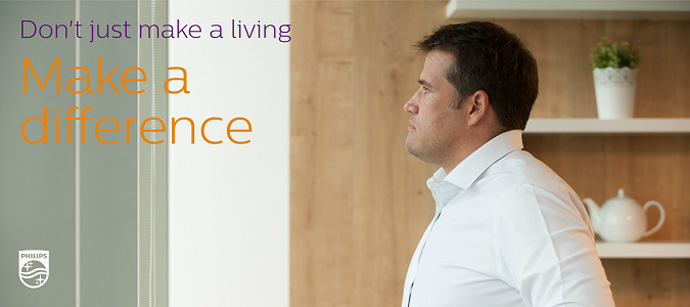 Account Manager – eCommerce

Location: Warszawa
In this role, you have the opportunity to


support our Personal Health division growth via managing sales in a dedicated on-line channel in Poland.


You will manage and develop sales of Philips consumer products within on-line pure-players key accounts in line with company policies so to optimize the turnover and profit in total business.
You are responsible for
Reaching you targets like: turnover, margin, product mix at your dedicated on-line customers
Manage and develop sales organization work with key accounts to optimize efficiency at the lowest possible cost
Implement discount and credit conditions according to company policy, ensure efficient collection of receivables
Identify and develop new potentials in this specific on-line market and recognize opportunities for Philips business
Coordinate all internal necessary resources to obtain objectives and where necessary involve local sales force and marketing support, such as Category Management, Trade marketing
Ensure continuity of the relationship with the accounts and operates at the highest level in the accounts' organizations
Prepare annual business development plan (Account Plan) for each existing key account
Contribute to the development and implementation of local marketing strategies
Continuous improvement of internal processes and procedures
Identify trends, market info which are relevant for the future sales-strategy
Recognize opportunities for both current and new products
You are a part of


Dynamically growing online sales team, with ambitious goals to achieve within our Personal Health division.
To succeed in this role, you should have the following skills and experience
Bachelor degree level in business, management or similar
Over 3 years of successful sales experience on independent position preferably within FMCG, consumer products

Experience in e-commerce is essential for this role

Experience in working with market places e.g. Allegro or Amazon would be a strong asset
Excellent negotiation skills, business acumen and active approach to market opportunities
Strong team player
Fluent English and

Polish languages are

required
In return, we offer you


The unique combination of a critical and challenging role and a creative and empowering office environment. You will be actively encouraged to make improvements, establish best in class service and have a direct impact on improving people's lives on a daily basis.
Moreover, our benefits are build around:
Annual bonus based on performance achieved
Private medical care with option to extend it to family members
Benefit System cards
Discount for Philips' products

Philips Information clause
The processing of your personal data will take place in order to execute the recruitment process on the basis of the applicable law provisions, the legal basis for processing is Art. 6 (1) (c) of the General Data Protection Regulation of 27 April 2016 (hereinafter: "GDPR"). As part of this aim, the data can be used in the profiling process to direct job offers to candidates on qualifications relevant to the job position (Art. 6 (1) (f) of the GDPR). Data processing in a broader scope than it result from regulations of the Labor Code and for the purposes of future recruitment will take place on the basis of the consent expressed in the recruitment form (Art. 6 (1) (a) of the GDPR).
Please be advised that the controller of your personal data is Philips Polska sp. z o.o. with its registered office in Warsaw, Al. Jerozolimskie 195B (02-222 Warsaw) hereinafter referred to as the "Controller" or "Company".
Data Protection Officer (DPO)
The Controller has appointed a Data Protection Officer (DPO) with which you can contact with the following e-mail address: [email protected] in all matters regarding your personal data.
The period of data storage
Your personal data will be stored for a period of 6 months from the date of submitting the application or 1 year from the date of submitting the application with the consent to use it in future recruitment. Personal data will not be processed after your consent has been withdrawn or opposition has been filed, if such permission is granted.
Recipients of data
The recipient of personal data provided by you may be third parties supporting the Company in the recruitment process (consultancy in the field of recruitment, IT support), while these entities process data only in accordance with the Company's recommendations.
The rights of the data subject
You have the right to access your personal data, demand their rectification, removal, objection, limitation of processing, transfer of data to another controller and submission of a complaint to the President of the Office for Personal Data Protection if you consider that the processing of your personal data violates the law.
Providing by you your personal data collected by us on the basis of applicable provisions is voluntary, but necessary to execute the recruitment process. The consequence of not providing personal data will be the inability to participate in the recruitment process.
The consent expressed may be withdrawn at any time. Its withdrawal will not affect the lawfulness of processing your personal data prior to its withdrawal. You can object to profiling at any time. The statement of withdrawal of consent and objection should be sent to the e-mail address: [email protected].
Pełną informację odnośnie przetwarzania Twoich danych osobowych znajdziesz tutaj.