Account Resource Manager
SII Sp. z o.o.
więcej
Account Resource Manager
Łódź, łódzkie

Specjalista

Pełny etat

01.08.2019

Ważna jeszcze 10 dni (do

31.08.2019)
Pracodawca ma prawo zakończyć rekrutację we wcześniejszym terminie.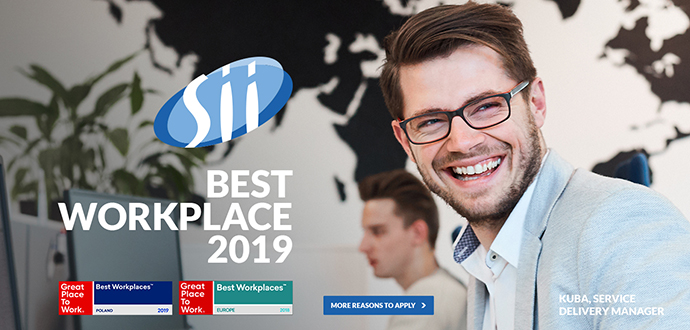 Account Resource Manager
Location: Łódź

The challenges waiting for you:
Why are we looking? We are fast growing IT and Engineering company in Poland and we want to develop our business. We are searching for Account Resource Manager for innovative digital project, which is connected with industrial equipment and systems and enables the development of its components.
We are looking for an ambitious leader with great positive can-do attitude, who is passionate about business, wants to win and shares our desire to succeed. If you have experience in the ares of sales, pre-sales, recruitment, management and problem solving join us - the Greatest Place to Work in Poland in 2019.
Fulfilling new sales opportunities concerning Sii services, conducting sales processes such as recruitment of engineers and resource allocation
Creating new needs among Sii customers
Building and maintaining good relations with managers of our customers
Supporting preparation and executing effective strategies to develop business and win against competitors
Cooperating with Recruitment Department in terms of searching for and employing the best candidates
Recruiting and managing team of consulting engineers
Maintaining professional contact with candidates and building good relationships with them
Developing business through promoting and selling whole spectrum of Sii services
Required skills:
Minimum 3 years of experience in recruitment or sales jobs
Higher education (IT or Business degree preferred)
English - very good
Ability to: conduct sales process, build professional and long-lasting business relationships, motivate, influence, and support all team members, define priorities for a team
Strong focus on efficiency
Good understanding of both clients' and candidates' needs
Determination and persistence to constantly look for new business opportunities
Goal-driven person with great problem-solving skills
Excellent teamwork and communication skills
Your benefits:
You will join the Leader. With over 4 000 specialists, Sii is actually the fastest growing, most successful & undisputed number 1 IT & Engineering services company in Poland!
You will work on challenging & fascinating international projects run for hundreds of prestigious customers from various sectors & industries
We will guarantee you many career development opportunities, facilitated by our Job changer application which allows you to change a project, the area of your activity or a place of work
You will cooperate with the best experts in talented & passionate teams on most advanced cutting-edge technologies
You will work in Great Place to Work company with amazing atmosphere and authentic values. You will meet new fantastic friends here!
We will support your personal dreams and initiatives within Passion Sponsorship Program and Power Volunteers Program
We will invite you to awesome integration meetings, interest groups and meetups
You will enjoy comfortable, top class, modernly designed offices in the best locations
Remember to attach the following personal data processing consent:

"I hereby grant consent for the processing of my personal data contained in this CV by Sii sp. z o.o. with its registered office at Al. Niepodległości 69, 02-626 Warsaw ("Sii") for the purposes of recruitment carried out by Sii. At any time, you may withdraw your consent for processing, but such withdrawal shall not affect the legal compliance of any processing which occurred before you withdrew your consent. Sii does not make any automated decisions regarding the processing of personal data in recruitment process. Detailed information on the processing of your personal data is specified in the Privacy Policy."

Please note that we will contact only selected candidates.