Agile Coach
Warszawa, mazowieckie

pokaż mapę

Specjalista

01.02.2017
Pracodawca ma prawo zakończyć rekrutację we wcześniejszym terminie.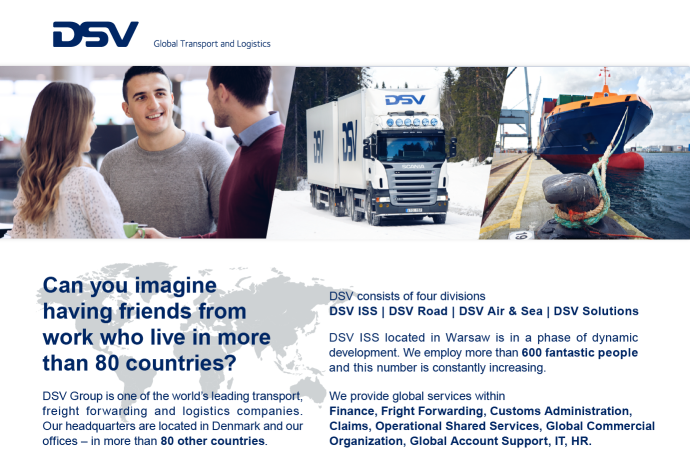 At DSV ISS we offer local and global IT positions in a rewarding and challenging environment. DSV Global IT is accountable for the strategy, system architecture, development and day-to-day operation & support for our global infrastructure and business applications. At every IT position at DSV ISS you have a real influence and a chance to produce visible results.
Now there is a chance to join us in the position of:
Location: Warszawa | Reference number: AC/ISS
Our offer
Work in a modern, global corporation.
Possibility to create a company in a phase of dynamic development.
Employment contract (without trial period).
Social package, including private medical care and sports card.
Business English classes and international work environment.
Trainings, cross – functional projects and programs dedicated to the best employees.
Very friendly working atmosphere.
Modern office in Mokotów area – 10 minutes from Wilanowska metro station.
Challenges
Working in an international environment.
Being an Agile Coach for multiple teams of skilled developers delivering B2B Solutions.
Support the Product Owners in managing customer expectations for project deliverables.
Cooperating with Managers and Line of Business across many countries.
Assist in team development while holding teams accountable for their commitments.
Guiding and Coaching Teams and the Organization on how to use Agile/Scrum practices.
Improving self-organization, empowerment and collaboration between Teams and Team Members.
Removing blockers to ensure team performance.
Join us if you have…
Agile methodologies knowledge,
Strong interpersonal skills including mentoring, coaching, collaborating, and team building,
Very good English language skills – allowing seamless communication,
More than two year of experience in the Scrum Master/Agile Coach role,
Bachelor or master degree preferably in: IT,
Prior experience with SCRUM/Agile methodologies with enterprise-level application development projects,
Knowledge and practical experience of Kanban,
Knowledge of Agile Project Management tools such as Jira is a plus,
High analytical skills,
Ability to manage own time and timely execution of assigned tasks,
Second level Scrum Master certification (PSM, CSP) is a plus,
Experience being Coach for multiple Teams in a variety of different contexts (different team sizes, different cultures, co-located vs. distributed, etc.).


Please include the following statement in your application documents:
"I give my consent for the processing of my personal data by DSV International Shared Services sp. z o.o. with its registered office in Ołtarzew for the purpose of current and future recruitment processes and verification of my professional skills, as well as for the transfer of my personal data to other companies belonging to the DSV ISS group for the purpose of any recruitment processes in the future".

DSV – Global Transport and Logistics
With offices and facilities in more than 80 countries on six continents, we provide and run supply chain solutions for thousands of companies on a daily basis. Our reach is global yet our presence is local and close to our customers. Read more at www.dsv.com


Please be informed that the data controllers of the personal data included in the recruitment documents sent by you are DSV International Shared Services sp. z o.o. with its registered office in Ołtarzew at ul. Południowa 2 (hereinafter: "DSV ISS").
The aforesaid personal data will be processed for the purpose of the recruitment process relating to your application, verification of your professional skills, as well as for the purpose of any future recruitment processes.
The personal data submitted as part of the recruitment process carried out by DSV ISS will be transferred by DSV ISS to DSV. The personal data may also be transferred to other companies belonging to the DSV ISS group for the purpose of future recruitment processes.
You have every right to access and amend your personal data.
Provision of data in the scope specified in the Labour Code Act of 26 June 1974 is obligatory. Provision of additional data is voluntary.
In the cases referred to in Article 32 (1) (7) and (8) of the Act on the Protection of Personal Data of 29 August 1997, you have the right to object to the processing of your personal data.