Ważna jeszcze miesiąc

15 Luty 2020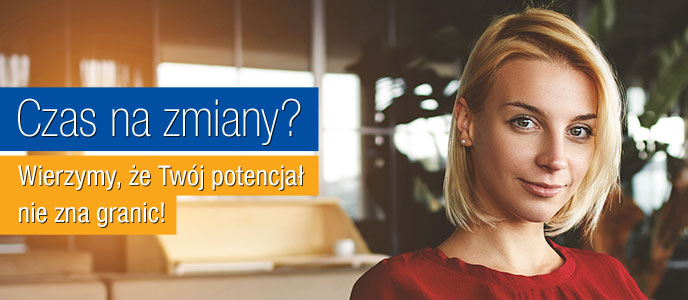 AP Team Leader
Poznań
•
36242/001
On this position you will be responsible for managing a AP team of 10+ individuals, participate in process migration and setting up of new processes.
Client Details
Our client is an international company with their shared service center located in Poznan. For their developing structures we are looking to hire experienced candidate for the position of AP Team Leader
Description
Leading a functional work team within Accounts Payable focused on the complete, accurate, and timely completion of accounting transactions

Assuring people development by providing regular coaching and training to the team members and acting as the Subject Matter Expert for the assigned Finance Services

Aligning team & individual objectives to achieve company's goals

Reviewing and assessing team members' performance

Supporting and motivating the team, acting as a point of referral on all personal and performance related issues, ensuring prompt and professional resolution

Taking part in creating the team by active participation in the recruitment processes

Performing analysis of accounts and highlighting discrepancies for correction

Conducting investigations and reconciliations of accounts as necessary

Leading the internal control over Financial Reporting compliance and reporting for Accounts Payable testing

Managing the period/quarter/year end processes and delivering all required activities accurately and on time

Ensuring that KPIs for accounts payable are in line with SLAs

Cooperating with various stakeholders

Effectively and promptly identifying and resolving problems

Working on different tasks concurrently, often with tight deadlines

Setting right priorities regarding multiple work and demands.

Identifying, recommending and assisting in implementation of best practices to gain efficiency and driving productivity gains

Ensuring delivery of training in the area of expertise and proper execution of hand-over procedure within the team
Profile
Min. 4 years of experience in various financial/accounting positions

Supervisory experience would be benefitial

University degree or qualifications in Economy, Accountancy or Finance

Demonstrate proficiency of financial accounting and reporting

Good knowledge of accounting controls, ability to work within tight operational deadlines and priorities

Excellent problem-solving skills and cooperation attitude

Strong analytical skills

Strong interpersonal and communication skills with ability to build relationship across various stakeholders

Being business focused and understand key business processes within an organization

Being strongly achievement-orientated person, motivated & able to deliver quality results under pressure
Job Offer
A fantastic opportunity to join freshly started new organization, where you can build your career together with the development of the company

The opportunity to develop your skills by working in a multi-national/ multi-cultural team

Competitive benefit package (incl. sports card, private healthcare, life insurance)

Possibility to work in a highly professional, stimulating and challenging work environment of European Company with great and long-term career prospective

Opportunity to participate in training and development programs

Attractive office location in A class building within a 5-minute walk from public communication

Comfortable working environment

Friendly and supportive company culture
| | |
| --- | --- |
| Jeśli czujesz, ze ta oferta jest dla Ciebie, kliknij w przycisk aplikuj i prześlij nam swoje CV lub profil LinkedIn. | Aplikuję |
Dlaczego Michael Page?
| | | | | |
| --- | --- | --- | --- | --- |
| | | | | |
| Kandydat w centrum uwagi | | Doradztwo i pełne wsparcie | | Najlepsze oferty pracy od sprawdzonych pracodawców |
AP Team LeaderNumer ref.: 36242/001
On this position you will be responsible for managing a AP team of 10+ individuals, participate in process migration and setting up of new processes.
Client Details
Our client is an international company with their shared service center located in Poznan. For their developing structures we are looking to hire experienced candidate for the position of AP Team Leader
Description
Leading a functional work team within Accounts Payable focused on the complete, accurate, and timely completion of accounting transactions

Assuring people development by providing regular coaching and training to the team members and acting as the Subject Matter Expert for the assigned Finance Services

Aligning team & individual objectives to achieve company's goals

Reviewing and assessing team members' performance

Supporting and motivating the team, acting as a point of referral on all personal and performance related issues, ensuring prompt and professional resolution

Taking part in creating the team by active participation in the recruitment processes

Performing analysis of accounts and highlighting discrepancies for correction

Conducting investigations and reconciliations of accounts as necessary

Leading the internal control over Financial Reporting compliance and reporting for Accounts Payable testing

Managing the period/quarter/year end processes and delivering all required activities accurately and on time

Ensuring that KPIs for accounts payable are in line with SLAs

Cooperating with various stakeholders

Effectively and promptly identifying and resolving problems

Working on different tasks concurrently, often with tight deadlines

Setting right priorities regarding multiple work and demands.

Identifying, recommending and assisting in implementation of best practices to gain efficiency and driving productivity gains

Ensuring delivery of training in the area of expertise and proper execution of hand-over procedure within the team
Profile
Min. 4 years of experience in various financial/accounting positions

Supervisory experience would be benefitial

University degree or qualifications in Economy, Accountancy or Finance

Demonstrate proficiency of financial accounting and reporting

Good knowledge of accounting controls, ability to work within tight operational deadlines and priorities

Excellent problem-solving skills and cooperation attitude

Strong analytical skills

Strong interpersonal and communication skills with ability to build relationship across various stakeholders

Being business focused and understand key business processes within an organization

Being strongly achievement-orientated person, motivated & able to deliver quality results under pressure
Job Offer
A fantastic opportunity to join freshly started new organization, where you can build your career together with the development of the company

The opportunity to develop your skills by working in a multi-national/ multi-cultural team

Competitive benefit package (incl. sports card, private healthcare, life insurance)

Possibility to work in a highly professional, stimulating and challenging work environment of European Company with great and long-term career prospective

Opportunity to participate in training and development programs

Attractive office location in A class building within a 5-minute walk from public communication

Comfortable working environment

Friendly and supportive company culture
Ogłoszenie archiwalne