AR/VR Unity Programmer
TRANSITION TECHNOLOGIES PSC SP Z O O
więcej
AR/VR Unity Programmer
Kielce, świętokrzyskie

Specjalista

18.02.2019

Ważna jeszcze 2 dni (do

20.03.2019)
Pracodawca ma prawo zakończyć rekrutację we wcześniejszym terminie.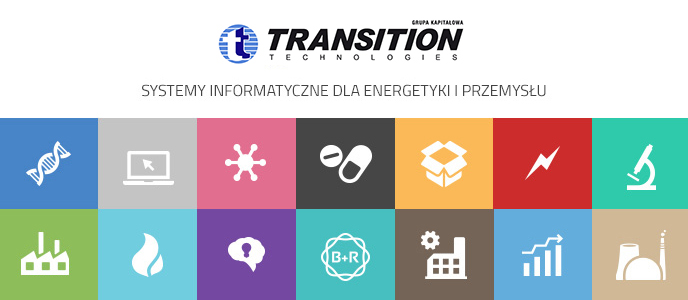 Jesteśmy Grupą Kapitałową o całkowicie polskim kapitale, jednym z największych w kraju producentem i integratorem oprogramowania. Swoje produkty i usługi kierujemy głównie do kręgu odbiorców przemysłowych, sektora energii i gazu oraz automatyki przemysłowej w Polsce i na świecie. Zatrudniamy ponad 1000 osób w dziewięciu oddziałach w Polsce: w Białymstoku, Kielcach, Koszalinie, Lublinie, Łodzi, Olsztynie, Ostrowie Wielkopolskim, Warszawie, Wrocławiu oraz w Niemczech i USA.
Nasi pracownicy to wysokiej klasy specjaliści, m.in.: inżynierowie, automatycy, informatycy, testerzy, programiści Java, C++, C#, .NET, iOS, eksperci Oracle i managerowie IT. Tworzymy zgrany zespół ludzi, który profesjonalnie podchodzi do wykonywanych zadań, chętnie podnosimy swoje kwalifikacje i poszukujemy nowych, innowacyjnych rozwiązań.
Dołącz do nas jako:
AR/VR Unity Programmer
Miejsce pracy: Kielce
Oferujemy:
Multiple growth possibilities including: A wide range of trainings: Technology and soft skills trainings §
Conferences and convents Involvement in interesting projects in a dynamic environment
Multiple chances to work in an international environment with foreign customers, some of which include some of the biggest companies in the world
Being a part of an interesting, highly motivated young team which will form the backbone of the business in our company from the very beginning
Flexible approach to working hours (we are not "corporate")
Social package (Benefit, Xmass bonuses)
Nice and pleasant "family-like" atmosphere without typical corporate pressure Competitive salary
Zakres obowiązków:
Developing AR experiences for AR glasses (Hololens), VR headsets and mobile platforms
Implementing designed features involving interactions between user and objects, UI behavior, data management, and others depending on your interest and skills (no, you don't have to be a wizard with omniscience about 3D app programming)
Work in small feature groups with 2D and/or 3D artists, designers, other programmers
Fighting fire, dragons and monsters when project explodes and ultimate evil starts to crawl into office
Wymagania:
Self-confidence and practical knowledge with C# ("n" years of exp is a tricky requirement so don't be afraid if you don't have it)
At least one project created in Unity (preferred), Unreal, or similar game engine (does not have to be shipped at all, any platform is ok, all but you have to show it to us and describe what you did in it and how)
Ambition, autonomy and creativity in problem solving and learning new technologies on the fly
Good knowledge about best practices for debugging and testing 3D interactive apps (games/editors/utility software or similar)
At least nice orientation and interest in Augmented, Virtual and/or Mixed Reality, both software and hardware solutions
Ability to think, design, and communicate in at least small multidisciplinary group of developers
Self-confidence, not having trouble with constructive criticism about your work, open mind and sense of humor above a rock on the beach is a must have (we are NOT joking)
Mile widziane:
Experience with HoloLens SDK, Mixed Reality Toolkit and/or any of mobile operating systems (Android, iOS, UWP) apps development
Experience in developing software with ARCore/ARKit/Vuforia SDKs
Interest and knowledge about what is 3D scanning and how and when to use it
Practical knowledge in multiplayer/network programming
Knowledge and practical experience in 3D graphics programming using Direct3D/OpenGL ES/Vulkan/Metal graphics APIs
Degree in Information Technology with specialization in interactive apps is a big plus
U NAS SPOTKASZ SIĘ Z


Osoby zainteresowane prosimy o przesyłanie aplikacji klikając w przycisk aplikowania.

Wyrażam zgodę na przetwarzanie przez ogłoszeniodawcę moich danych osobowych, zawartych w mojej ofercie pracy, dla potrzeb niezbędnych do realizacji procesu rekrutacji zgodnie z ustawą z dnia 29 sierpnia 1997 r. o ochronie danych osobowych (t.j. Dz. U. z 2016 r., poz. 922). Jednocześnie wyrażam zgodę na przetwarzanie przez ogłoszeniodawcę moich danych osobowych na potrzeby przyszłych rekrutacji.