Assistant Director - Work Place Services Sourcing
EY Global Delivery Services
więcej
Assistant Director - Work Place Services Sourcing
Wrocław, dolnośląskie

Dyrektor/Prezes

17.07.2018
Pracodawca ma prawo zakończyć rekrutację we wcześniejszym terminie.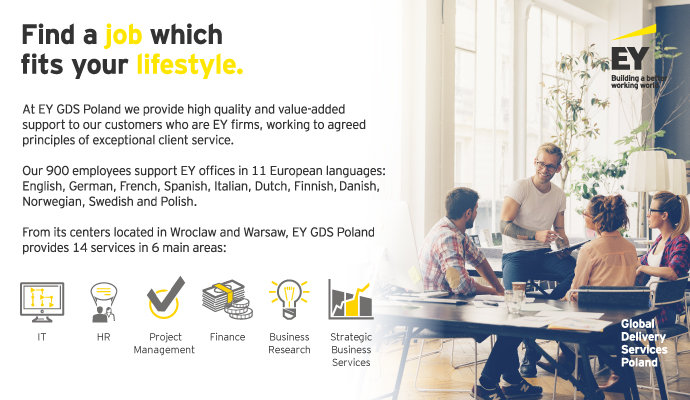 Assistant Director - Work Place Services Sourcing


Workplace: Wrocław
Ref no: WRO001Q2

Job Summary:


GDS Procurement Services is a new service offering that is being setup in collaboration with EY's Procurement organization which is seeking to utilize the location footprint and skills/capabilities available from our Global Delivery Services (GDS).
The GDS
provides enabling services to EY member firms, Service Lines, business support functions and Area/Global entities. These services are provided via the Client Service - Assurance, Advisory, Knowledge, Tax and TAS, and Enablement Services – Procurement Services, IT Services, Finance & Accounting Services, Risk Management Services, People Shared Services,
Markets Enablement Services, Brand, Marketing and communications
. The Client Service and Enablement Services are an important component of EY's Vision 2020 strategy, and has an ever increasing shared services footprint across the world, including five centers in India (Bangalore, Chennai, Gurgaon, Kochi and Trivandrum), and in Argentina, China, Poland and the Philippines. The GDS headcount is currently approx. 15,000 (September 2015) and is predicted to grow to over 30,000 by 2020.
Procurement was established as a globalized function just over six years ago. Its purpose it to drive efficiencies in the way EY member firms select and manage their vendor relationships. This is achieved through a number of channels including creating procurement processes which are
repeatable, can be leveraged, are transparent as well as are aligned to business strategies and goals.
The role of
the Assistant Director - Procurement Services, GDS will be to individually support the regional workplace procurement lead in developing and delivering procurement strategy, sourcing execution, customer engagement and vendor management across the Workplace Services category for the UK&I and Nordics region and hence experience working with suppliers either in UK or Scandinavian markets would be considered preferential (but not essential)
This individual will be:
responsible for implementing Sourcing Strategies for one or more of the Workplace Services category

will form a key member of our Centre of Excellence (COE) structure of which will enable the candidate the opportunity to undertake multi country category reviews, develop strategic sourcing programs

delivers both sourcing projects and demand management initiatives in support of the Workplace strategy

provides strategic Procurement support to the global Real Estate Design & Construction team

increases the strategic value of procurement by delivering value to the bottom line through cost savings and cost avoidance, as well as increasing spend under management

Provides category leadership to local Procurement teams and internal clients as the Subject Matter Expert on industry trends, benchmarking and best practices.

working closely with regional and local stakeholders, agreeing procurement projects and providing Exceptional Customer Service and delivering Value to the bottom line through Cost savings and cost avoidance

leading both sourcing projects and deman

d management initiatives in support of the global category strategies
The role holder will be expected to form lasting relationships with leaders and other key stakeholders/ clients to drive the development of the procurement organization.
Essential Functions of the Job:
Develop strong relationships with key stakeholders within region business units and service lines and report procurement progress via regular meetings
Build a pipeline of Procurement projects for the region in collaboration with local stakeholders and execute local and regional deals in the timelines agreed with key stakeholders
Achieve cost reduction targets, help to develop new cost reduction strategies and improve negotiable spend via sourcing and demand management
Ensure the adequate planning of the team's resources around the deal pipeline and renewals of key contracts
Lead complex RFPs and negotiations and support the team in the analysis of the information and the negotiation of the contract in conjunction with the stakeholders and legal teams.
Oversee and manage the local Capital Works programmes ensuring legal compliance and efficient route to market.
Minimize contractual risks to the firm and manage business relationships with vendors according to EY's Procurement and Independence policies
Work with other Workplace leads to agree regional or global strategies which supports the overall Workplace objectives
Provide accurate monthly reports on his deals and savings
Provide SME support and analytical insight to global Procurement leaders in developing regional and global sourcing strategies for Facilities Management and Design & Construction categories.
Contribute driving and create the standardization of global processes and operations, and ensure compliance to the Procurement policy by education of local EY staff and presentations to stakeholders
Manage all people related activities (performance, compensation, learning) for respective staff including coaching of more junior members
Educate users, team members and stakeholders on these policies to ensure compliance. Challenge and escalate non compliance
Analytical/ Decision Making Responsibilities:
This individual is a key member of the Regional Workplace team responsible for helping to shape and drive Procurement strategies and processes in the local markets
They will address complex matters resulting from sourcing and demand strategies, integration efforts and related operational matters in support of the Global Procurement vision
Knowledge and Skills Requirements:
Able to align efforts with the key stakeholders and influence these leaders, as necessary, and possess a global mindset
Has experience of various Source to Pay ("S2P") processes in order to support the design and implementation of the global S2P system
Strong commercial skills in order to drive sourcing and demand management strategies across a broad array of categories. Advanced skills in procurement, financial analysis and project management are pre-requisite.
Agile and adept at managing multiple concurrent activities. Energetic and driven to achieve results.
Ability to balance the global mind-set with cultural diversity, ensuring global strategies can be successfully implemented locally.
Supervision Responsibilities:
Oversees the quality of the Procurement activities, achievement of business targets, communication and reporting to key stakeholders and the overall performance management cycle as directed by the regional lead.
No direct line supervision required, however, we foresee this role expanding and may include direct line management at a later date
Job Requirements:
Education:
Business degree or equivalent qualifications
CIPS or equivalent procurement qualification
Experience:
At least 5-10 years of relevant progressive experience from a large organization, either a partnership or multi-national corporation
3 – 5 years working experience of Facilities procurement
Proven working experience of a Shared Services Centre operations and/or BPO operations
Fluent in spoken and written English, other languages would be considered a benefit
Certification Requirements:
Proficiency within a procurement or a procurement related speciality
Proficiency in standard workplace technology, e.g. Microsoft office
Other Requirements:
This role is based out of Wroclaw