Big Data Platform Engineer
Atos Global Delivery Center Polska
więcej
Big Data Platform Engineer
Wrocław, dolnośląskie

Specjalista

Umowa o pracę

Pełny etat

21.08.2019
Pracodawca ma prawo zakończyć rekrutację we wcześniejszym terminie.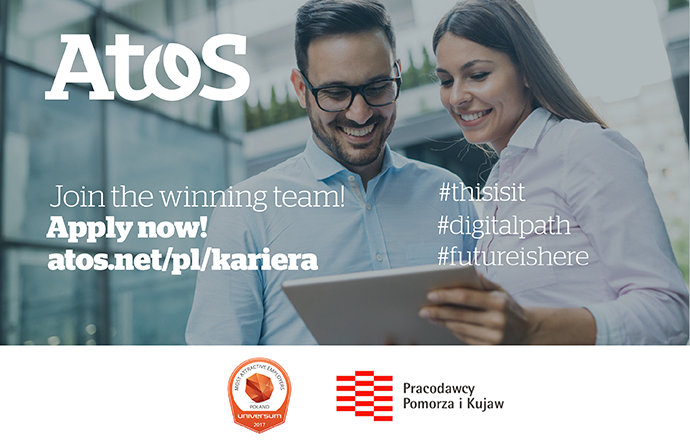 Atos Business & Platform Solutions division employs around 800 people and the number is constantly growing! Our specialists realize worldwide projects, services and control business operations of the global top business players in Europe.
In Business Intelligence and Big Data team we hire more than 80 professionals who are involved in projects for international clients. We take care of the professional development of our employees thanks to challenging and diverse assignments.
As a Big Data Platform Engineer, you will be working on a range of highly important projects for clients worldwide, mainly focused on mixed Cloud solutions, on premises solutions and Hadoop ecosystem. These include automation of operations and managing the deployment of the platform, guide platform architecture, ensuring flexibility and scalability.
Are you ready for this kind of challenge?
Definitely YOU are!
Big Data Platform Engineer
Miejsce pracy: Wrocław

WITH ATOS YOU WILL

:
Get the knowledge about different solutions all over the world in BIG Data World
Work primarily with Cloud technologies such as Google, Azure or AWS
Work closely with a variety of external and internal vendors
Finally, design, create and implement the best solutions in BIG Data environments
Designing, building and maintaining of Big Data environments including Cloud solutions
Creating automation across the Big Data environments
Be active member of engineering DevOps team collaborating with customers all over the world
Participation in R&D projects related to Cloud computing and Big Data
Suggesting new standards and solutions for providing high quality of delivered services
Be a team technical leader in BIG Data solutions for DevOps engineers in Digital world
Tracking trends and latest issues related to the domain of conducted projects
Creating technical documentation, Create processes and procedures in the environments
Support deployment, customizations, upgrades and monitoring via DevOps tools
Job Requirements:
Experience in Linux/Unix systems including installation, configuration, networking, backups, updates and patching;
Experience in Big Data platform solutions, to include the following: Hadoop, HDFS, HBase, Spark
A very strong Java, SQL background and experience but capable of thinking in terms of networks rather than tables
Knowledge of cloud solutions (i.e. Amazon, Google, Azure, Oracle) desired but not a must
Knowledge of different monitoring systems (i.e. Nagios) and different automation tools
Knowledge of Spark streaming, Kafka, Nifi, Flume, ZooKeeper, Hive, Hawq, Cassandra, Impala is a plus
Enterprise Application and information integration desired
Hadoop Hortonworks Certification is a plus
Ability to work occasional weekends and varied schedule. (e.g. during go-live).
Competences and skills:
Inspiring, motivating and positive attitude who does not hesitate taking up any challenge.
Has a positive mind-set who demonstrates a can-do-attitude rather than exhibiting known issues or other blockers as possible disrupting agents in meeting delivery and quality targets.
Ability to communicate effectively both verbally and in writing
Good teamwork and interpersonal skills
Readiness to work with Big Data (processing of terabytes of data reliably in daily manner) and Fast data (processing tenth/hundreds thousands of events per second in cluster/cloud environment)
Very Good English languages skills (at least B2 level)
What we offer:
Competitive salary and MyBenefit system
Private medical care
Private life and travel insurance
Worldwide career opportunities
Remote working
Professional trainings and development programs (incl. foreign languages)
Referral bonus
Relocation allowance
ABOUT US
Leader in digital services with 120,000 employees in 73 countries
Provider of IT infrastructure management services, systems integration, outsourcing and IT consulting
Official global IT partner of the Olympic and Paralympic Games
Almost 5000 people employed in 8 cities: Bydgoszcz, Warszawa, Wroclaw, Opole, Krakow, Gdansk, Rzeszow, Lodz


We take care of your personal data privacy. More information about processing your personal data within recruitment process you can find on our website:

https://atos.net/pl/polska/gdpr

.