Business Transformation Senior Manager - Finance and Accounting/Procurement
Capgemini Polska Sp. z o.o.
więcej
Business Transformation Senior Manager - Finance and Accounting/Procurement
Kraków, małopolskie

pokaż mapę

Kierownik

21.09.2018
Pracodawca ma prawo zakończyć rekrutację we wcześniejszym terminie.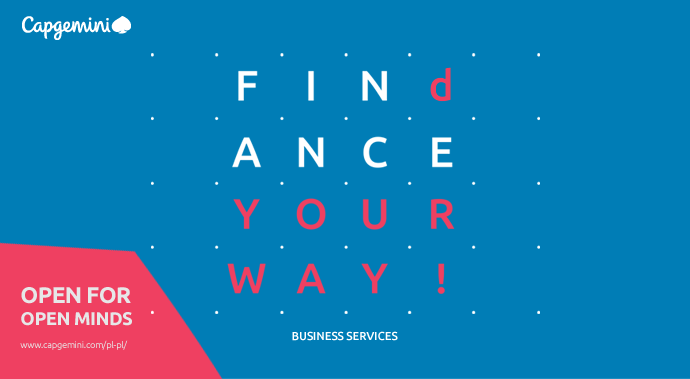 Business Transformation Senior Manager
- Finance and Accounting/Procurement
Location: Kraków
Numer referencyjny: pracuj.pl/BTSMF&A/Eng/KRK

Be Empowered | The opportunity - role description


As an integral part of Capgemini's Business Transformation Services (BTS), you will help guide our Clients towards large-scale transformations using automation and technology solutions at the very forefront of innovation. You will have the opportunity to shape the future of business operations at large and will take responsibility for fine-tuning and orchestrating technology-enabled transformation projects. We seek focused and inspired individuals who have the special power to build the close, trusting relationships that are key to delivering the seamless and efficient transitions that Clients expect from Capgemini. Therefore, your main responsibilities will be:
Plan activities, defines project approach, scope, milestones, success criteria, deliverables, risks, contingencies and allocating appropriate resource requirements ensuring that quality assurance activities are embedded
Ownership relevant project financials (relating to projects under your management), work plan, resource allocation making adjustments when required, monitors progress, assesses risks that may impact outcomes
Proposal development (from client request through to final issue and potentially subsequent project delivery)
Delivery of projects / project streams to time, cost and quality
Build and maintain strong working relationships with key internal and external stakeholders
Convey relevant information to management, ensuring client (internal management or customer) is aware of assignment
Progress/service status. Builds credibility and fosters business-partnering relationships
Work with managers to assess strategic business issues / opportunities
If requested, supports sales pursuits to design transformation plans for BPO clients, working with bid management team, transition management and solution architects
During project delivery
1. Monitor and reports project progress
2. Monitor risks and prepares mitigation plans
3. Key client interface
4. Provide feedback/secure feedback is provided
Provide guidance and advice to individuals ensuring that they obtain opportunities to enhance or support personal and professional growth and learning
Contribute to development of transformation assets documentation (like GEM, GPM)
Develop transformation agenda for existing and new clients
Be Fulfilled | Use your super skills

Capgemini helps organizations worldwide on their journeys toward increased efficiency and competitiveness with innovative technological solutions to demanding problems, solutions which are often recognized as trailblazing, but for us evolution is the only constant, curiosity and discovery our everyday. We believe collaboration is key, and it is from this source that all else springs. It is only through working closely with each other, and closely listening and responding to our Clients that we can achieve the results we're become known for. So, we need you to have:
Leadership skills
5 years of experience in Project/Stream Management or project management certification
Strong process expertise in at least one of the following areas: O2C/P2P/R2R with overall understanding of other towers
Tools: master of MS Office (Excel and PowerPoint), Project Management Tools (e.g.: MS Projects), SAP or Oracle, MsVisio (must have experience with process design and documentation including)
Proven track of respective towers projects delivery
Ability and comfort interacting with management on Client's side
Must be able to demonstrate a level maturity while under constant pressure from the business and technology community
Excellent ability to establish and maintain world class working relationships with all peers and stakeholders
Excellent organizational and time management skills
Fluent English and French or German would be an asset
Ability to travel (international and domestic)
Be Rewarded | The benefits of being with Capgemini
We want you to flourish in an invigorating environment, an environment in which you will feel free to express your ideas and insights, and from which you can draw the energy and the confidence to reach further. You will be exposed to the very latest automation and technology solutions and in concert with us, and with our encouragement, your career can lift into an accelerated flight path. You will gain first-hand knowledge of the latest Finance processes and technologies including RPA and have a unique chance to sculpt the way in which they are applied in the future, while being connected to global thought leaders. We will offer you what we believe is an attractive benefits package:
Challenging and stimulating work in a professional and multinational environment, working with top class clients - well-known brands all over the world
You will have clearly defined career path designed for a rapid career in stable company with an established position in the market and wide range of trainings - over 20 000 online trainings and books also available at home, trainings in classroom, funding for learning foreign languages but also MBA studies and other certifications e.g.:
In addition to the salary, you will receive attractive benefit package (medical care for whole family, life insurance) and a cafeteria plan: online shopping deals, music and sports events tickets, holiday finance and many, many, many more – you choose!
Flexibility is important so we can offer you the possibility to work from home
Relocation support if you would like to move to Kraków
Opportunity to gain skills, knowledge and experience with global teams and work with the best subject matter experts
An inspiring atmosphere; we work together and celebrate together - Capgemini Theatre, employee volunteer program, integration events, sports events (basketball, volleyball) - you will find something for yourself!
Yearly bonus and parking place
As a disabled person you will get professional support. We are open to provide assistive technologies for people with diverse disabilities. We care about inclusion and equal rights approach. We conduct disability awareness trainings. Join our Win with Capgemini Program for people with disabilities.
Be empowered to help the world's leading companies transform the way they do business!
We encourage you to learn more about us:
Making a Difference in Finance Transformation
Having Your Cake and Eating It in Finance and Accounting

Please be advised that Capgemini Poland Sp. z o.o. located in Warsaw, Al. Jerozolimskie 96, is the controller of personal data provided by you in the recruitment applications. Your personal data will be processed in accordance with the Personal Data Protection Act of 29 August 1997 (Journal of Laws2002, No. 101, item. 926 with further amendments) for the purpose of existing and future recruitment processes. Please be advised that in scope of recruitment process your personal data will be processed by the controller and sub-processors located outside European Economic Area including India's entity. Data submission is voluntary. Every person has the right to access their data in order to correct it or delete it"
Please include following statement in your application:
"I hereby authorize Capgemini Poland Sp. z o.o. to process my personal data included in my job application for existing and future recruitment processes (in accordance with the Personal Data Protection August 1997, Journal of Laws 2002, No. 101, item. 926 with further amendments).! also authorize Capgemini Poland Sp z o.o. to sub-process my personal data outside European Economic Area including India's entity, which may also include Capgemini's clients within and outside of EEA.
We protea your privacy. We kindly inform you that we contact only chosen candidates.The recruitment process is conduaed in accordance with the principles of equal treatment in employment. Labor Code, Chapter lla. Art. 183a-183e. Employment Agencies Register - 9595.