Clinical Aplication Specialist IGT- Devices
Philips
więcej
Clinical Aplication Specialist IGT- Devices
Warszawa, mazowieckie

Specjalista

22.01.2019

Ważna jeszcze 0 dni (do

21.02.2019)
Pracodawca ma prawo zakończyć rekrutację we wcześniejszym terminie.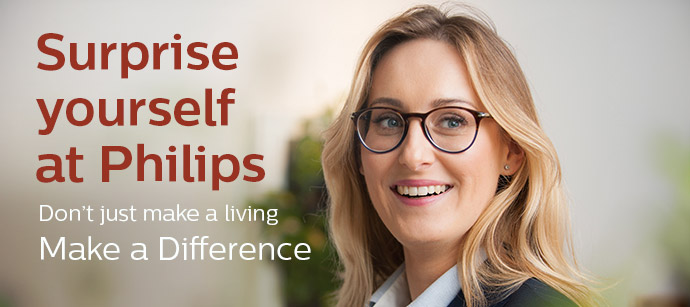 Clinical Aplication Specialist IGT- Devices
Location: Warsaw
300602

Job Description


Our Company
Philips is a global leader in health technology, looking back on a 128 years' history. Our vision is to make life better for people worldwide through meaningful innovation. Our portfolio comprises of Personal Health, Health Systems, Sleep and Respiratory businesses.
You are responsible for:

Primary training and education to customers. Assistance in disseminating technical product information to customers. Assistance in the development and execution of hospital staff training courses.
Training and support Clinical sites on the particular requirements of the Volcano's clinical projects and technologies
Services to existing and prospective customers by helping to define disposable product/service needs and specifications.
Achieving and growing disposable utilization in the assigned territory. Assists in advancing disposable revenue and market position consistent with the territory, division and company goals.
Building solid customer relations by interfacing directly with customers including hospital physicians, Catheter Laboratory personnel, training/education, research, and business office staff.
Cooperation with Marketing and other internal groups to quantify needs and to provide intelligence to management on competitive products and company product enhancements.
Taking care of all customers if a sales manager is on vacation or not available
Keeping abreast of new products in the market and of current and future Company products.
Process and monitor product complaint per company procedures.​
Your profile:
At least 5 years of related experience in the clinical field on the IGT - D.
Bachelor's degree in the technical or medical field.
Structured and logical thinking.
IT savvy and quick to learn.
Willing to travel extensively.
You are fluent in English.
In return, we offer you


A path towards your most rewarding career. Philips is growing its marketing capability enterprise wide. Succeeding in this market-based role in a complex environment will open many doors for your long term career, in other areas in Philips or otherwise. We also believe that we are at our best as a company when you are at yours as a person. Thus, we offer competitive health benefits, a flexible work schedule and access to local well-being focused activities.

Philips Information clause
The processing of your personal data will take place in order to execute the recruitment process on the basis of the applicable law provisions, the legal basis for processing is Art. 6 (1) (c) of the General Data Protection Regulation of 27 April 2016 (hereinafter: "GDPR"). As part of this aim, the data can be used in the profiling process to direct job offers to candidates on qualifications relevant to the job position (Art. 6 (1) (f) of the GDPR). Data processing in a broader scope than it result from regulations of the Labor Code and for the purposes of future recruitment will take place on the basis of the consent expressed in the recruitment form (Art. 6 (1) (a) of the GDPR).
Please be advised that the controller of your personal data is Philips Polska sp. z o.o. with its registered office in Warsaw, Al. Jerozolimskie 195B (02-222 Warsaw) hereinafter referred to as the "Controller" or "Company".
Data Protection Officer (DPO)
The Controller has appointed a Data Protection Officer (DPO) with which you can contact with the following e-mail address: [email protected] in all matters regarding your personal data.
The period of data storage
Your personal data will be stored for a period of 6 months from the date of submitting the application or 1 year from the date of submitting the application with the consent to use it in future recruitment. Personal data will not be processed after your consent has been withdrawn or opposition has been filed, if such permission is granted.
Recipients of data
The recipient of personal data provided by you may be third parties supporting the Company in the recruitment process (consultancy in the field of recruitment, IT support), while these entities process data only in accordance with the Company's recommendations.
The rights of the data subject
You have the right to access your personal data, demand their rectification, removal, objection, limitation of processing, transfer of data to another controller and submission of a complaint to the President of the Office for Personal Data Protection if you consider that the processing of your personal data violates the law.
Providing by you your personal data collected by us on the basis of applicable provisions is voluntary, but necessary to execute the recruitment process. The consequence of not providing personal data will be the inability to participate in the recruitment process.
The consent expressed may be withdrawn at any time. Its withdrawal will not affect the lawfulness of processing your personal data prior to its withdrawal. You can object to profiling at any time. The statement of withdrawal of consent and objection should be sent to the e-mail address: [email protected].
Pełną informację odnośnie przetwarzania Twoich danych osobowych znajdziesz tutaj.