Credit & Collections Analyst with French
Capgemini Polska Sp. z o.o.
więcej
Credit & Collections Analyst with French
Kraków, małopolskie

pokaż mapę

Asystent

2018-03-15
Pracodawca ma prawo zakończyć rekrutację we wcześniejszym terminie.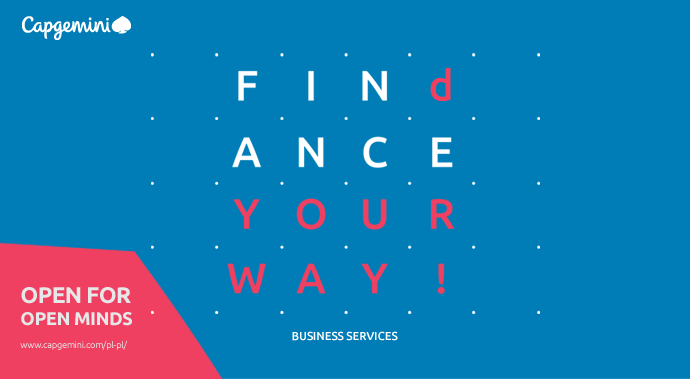 Capgemini is one of the world's foremost providers of consulting, technology and outsourcing services.
Capgemini Business Services department is one of the first and the biggest outsourcing centers in Poland providing services in 30 different languages in the areas of: finance, accounting, banking, procurement, customer care and marketing services. Business Services employs over 4000 specialists in its offices located in Krakow and Katowice.
Coca-Cola European Partners, one of our major clients from food and beverage industry, is looking for a French speaker to join newly created team.
Credit & Collections Analyst with French
Miejsce pracy: Kraków
Numer referencyjny: pracuj.pl/CCA/Fr/KRK

If you...
Are open to start international career
Want to use French language on daily basis
Want to work with ERP system
Speak French at B2/C1 and English at B2 level
...we have a job for you.
We don't require professional experience. You will be working in international environment, where willingness of learning new things is supported by wide range of trainings and courses which are designed to improve your skills and abilities.
Main accountabilities
Providing customer service regarding collection issues, process customer refunds, process and review account adjustments, resolve client discrepancies and short payments
Accountable for reducing delinquency for assigned accounts
Perform other assigned tasks and duties necessary to support the Accounts Receivable Department
Must communicate & follow up effectively with sales dept regarding customer accounts on a timely basis
Establish and maintain effective and cooperative working relationships with dealers and sales
What we offer
You will work in multinational, stable company for c.a. 100 Blue Chip Clients - known, global brands, supported by 6000 professionals in 30 languages.
You will gain space to fulfill your ambitions and develop your career, opportunity to take part in transition projects. We operate according to Lean and Kaizen philosophy.
You will choose your career path (experts or managers) – you will work among professionals (over 900). We will support you to gain knowledge (20 000 online trainings and in class) and get certified (e.g. ACCA, Prince2, PMP). You will have the opportunity to take part in coaching programs and develop your knowledge in experts communities.
You will work in line with high, international work standards and you will have an opportunity to engage in CSR initiatives.
You will be appreciated for your results and professionalism – based on clear rules of promotion. Our company applies a wide choice of perks (free private medical care for you and your family, additional life insurance). We help to keep right proportions between your work and private life (Business Parent Program).
As a disabled person you will get professional support. We are open to provide assistive technologies for people with diverse disabilities. We care about inclusion and equal rights approach. We conduct disability awareness trainings. Join our Win with Capgemini Program for people with disabilities.

Informujemy, że administratorem danych osobowych podanych w zgłoszeniach rekrutacyjnych jest Capgemini Polska Sp. z o.o. z siedzibą w Warszawie przy al. Jerozolimskich 96. Pana/Pani dane osobowe będą przetwarzane zgodnie z ustawą z dnia 29 sierpnia 1997r. o ochronie danych osobowych (t.j. Dz. U. 2002, Nr 101, poz. 926 ze zm.) na potrzeby realizacji procesów rekrutacji prowadzonych obecnie i w przyszłości. Informujemy, że w ramach procesu rekrutacji dane osobowe będą również przetwarzane poza Europejskim Obszarem Gospodarczym, w tym jednostki Capgemini w Indiach. Podanie danych jest dobrowolne. Każda osoba ma prawo dostępu do treści swoich danych ich poprawiania.
Prosimy o dopisanie następującej klauzuli:
"Wyrażam zgodę na przetwarzanie przez Capgemini Polska Sp. z o.o. danych osobowych zawartych w mojej ofercie pracy na potrzeby procesów rekrutacji prowadzonych obecnie i w przyszłości zgodnie z przepisami ustawy z dnia 29 sierpnia 1997r. o ochronie danych osobowych (Dz.U.2016.922 z późn. zm.). Zezwalam również Capgemini Polska Sp z o.o. na przetwarzanie moich danych osobowych poza Europejskim Obszarem Gospodarczym, w tym przez jednostki w Indiach oraz klientów Capgemini obejmujących wewnętrzne oraz zewnętrzne obszary EEA."
Wszystkim zainteresowanym zapewniamy dyskrecję. Zastrzegamy sobie prawo do odpowiedzi tylko na wybrane aplikacje. Proces rekrutacji prowadzony jest zgodnie z zasadami równego traktowania w zatrudnieniu, Kodeks Pracy, Rozdział IIa, art. 183a – 183e.