Data Science - Big Data Miner
T-Mobile
więcej
Data Science - Big Data Miner
Warszawa, mazowieckie

Specjalista

2019-03-05

Ważna jeszcze 13 dni (do

2019-04-04)
Pracodawca ma prawo zakończyć rekrutację we wcześniejszym terminie.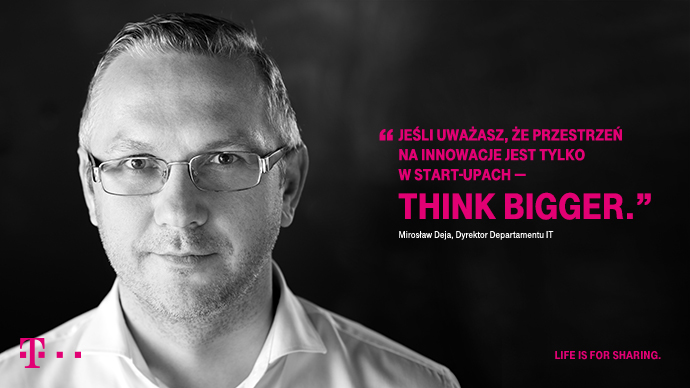 The world is your home. Ours, too. In more than 50 countries around the globe. We bring work and life together; our products enrich life. Deutsche Telekom is one of the largest telecommunications providers in Europe with around 230,000 innovative minds. Become one of them.

What do we do in big data? Each year, we invest several billion euros in the broadband expansion in Germany alone. This new network is the platform on which, among other things, the Internet of Things takes place. We are constantly working on the data-driven improvement of the customer experience. We also pursue the goal of avoiding disruptions in service, for example by detecting potential network failures. Another area of ​​application is the prediction of sales or operating costs.

This is your chance to continue your career in diversified data analytics projects across all business units, to grow professionally and/or technologically and to join us in one of the most important future fields of our industry.
Data Science / Big Data Miner
Miejsce pracy: Warszawa

Your tasks:
As thought leader, you develop suitable product enhancements and roadmaps with product management to drive the IoT data analytics architecture strategy forward. You design, build, and integrate data from various resources into datamarts & warehouses. You build large scale data processing pipelines in the context of top data analytics projects.
You use automated software frameworks for data acquisition, validation, blending and modeling to make sure data is accessible and cleaned for further analysis.
You define big data architecture (ingest, store, analyze, visualize etc.) and specify technical requirements on product design.
You are ambitious in optimizing performance of big data systems and researching how Spark, Kafka, Hadoop (HDFS, Hive), Flink, Cassandra and other distributed systems can work together at scale.
You come up with entirely new ideas to build world class data integration systems one step ahead of the industry
You support in designing efficient and robust ETL workflows (extract, transform, load) on large datasets and creating big data warehouses that can be used for reporting or analysis by Data Scientists.
Your profile:
You have obtained a Bachelor, Master or PhD degree in Business Informatics, Computer Science, Mathematics, Industrial Engineering, Physics, Statistics or equivalent education. In addition to your academic qualification, you have at least 3 years of relevant work experience.
You have advanced experience and expertise in designing and managing big data environments (e.g. Hadoop), evaluating and configuring components (e.g. Spark, DB), customizing and developing algorithms for customer solutions.
You have hands-on experience with Big Data ecosystem in Hadoop, Map/Reduce, Yarn, Apache Spark, Kafka, Nimble, Storm as well as basic knowledge of one of the programming languages, e.g. Python, Java, R, Scala, Javascript.
In the field of software engineering you know agile methods for all steps (design, architecture, development, testing, application).
Basic knowledge of mathematics and statistical methods is required. Experience in two of the following methods is desirable: clustering, classification, modeling, regression, text analysis, pattern recognition, neural networks.
We expect basic understanding of machine learning principles and methods and knowledge of privacy and security challenges and solutions in IoT and data analytics, e.g. privacy by design, anonymization, privacy preserving storage.
Experience in two of the following application areas is required: IoT analytics, time series analytics, social media analytics, site data analytics, safety data analytics, customer data analytics, signal processing, anomaly detection.
You offer visionary thinking when translating business requirements into technological concepts and thinking ahead with new data processing technologies.
Your written and oral communication competencies in English
We are offering:
flexible start-up hours and the possibility of home office;
private medical care;
an additional day off for birthday or name-day;
re-financing for sport / recreation;
social benefits / T-Mobile employee offers;
free parking;
friendly work atmosphere in a professional team;
tools necessary for work: laptop, telephone.