EMEA AML Project Manager
Citi Service Center
więcej
EMEA AML Project Manager
Warszawa, mazowieckie

Kierownik

04.01.2015
Pracodawca ma prawo zakończyć rekrutację we wcześniejszym terminie.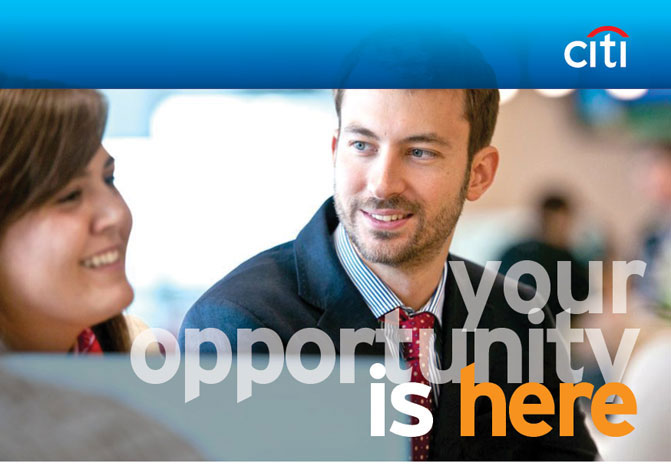 Citi Service Center (CSC)
is an initiative to establish a network of service centers providing high quality services to other entities operating within the

Citi

Group.
Citi Service Center Poland
was founded in 2005, and it currently employs over 3000 highly qualified staff in three locations: Warsaw, Olsztyn and Lodz. CSC cooperates with other Citi entities from all over the world.

Currently we provide services to over

60 countries in Europe, Asia, Africa, both Americas and Australia

. Our employees use over 24 languages every day. Working in our organization involves working on international projects, in an international and dynamic environment as well as learning the top quality organizational culture.
Candidates interested in this job position are asked to apply online:
or by the Citi Careers Apply button below:
Read more about career opportunities at: careeratciti.pl or facebook.com/citigradsemea

www.citibankinternational.pl
Citi Service Center Poland
Work place: Warszawa
EAPM/1014/ML

Responsibilities:
Manage projects assigned to achieve a specific set of business goals in AML area

Follow global AML project management procedure in managing, reporting and documenting projects

Effectively manage virtual and multicultural project teams

Define roles and expectations for those involved in the project(s)
Implement project management infrastructure disciplines for each project, including:
Develop and maintain a structured plan, adher to the defined governance structure

Provide regular performance and status reports to the required stakeholders and contribute to status meetings

Manage project quality, include project work plans and program work plan, analyze quality issues and implement continuous improvement activities

Manage risks and issues by identifying, analyzing,tracking, managing, escalating, and resolving /mitigating risks and issues that impact the program's ability to meet the program goals and commitments

Monitor and control project financials

Monitor and control all changes to project requirements and deliverables

Manage project interdependencies to ensure successful delivery

Manage project stakeholders
Pass all audits and reviews successfully with no material deficiencies

Propose and implement improvements in project area in the team and department

Build effective and long-term relationships with all project stakeholders

Manage project constrains-scope, time, quality in pro-active way
Requirements:
Proven track record in project management, with a minimum of 3 years of experience

Fluent English knowledge

Knowledge of AML Operations processes, Compliance, AML policy, financial services, investment & retail banking products / services – back and middle office operations as an asset

Communication: have the ability to convey complex ideas easily; clearly articulate what must be accomplished; keep the team to move toward a common goal; and to foster an environment that allows team members to communicate openly and honestly. Adjust communication tools to audience, presentation for global/leaders forum

Leadership: understand the vision and direction of the project and aligne the team to work towards it. Skills include delegate, coach, motivate and lead by example

Conflict & Crisis Management: listen and respond to the needs; anticipate the potential areas of conflict, while to diffuse situations where conflict has risen

Teamwork: create a team atmosphere where the team believes that "we are all in this together"

Learn and Develop: open and ready to learn fast project management

Flexibility & Creativity: think in original and imaginative ways widens the scope to solve problem when issues arise and encourages project teams to find the best solution and outcomes, easily adapt to the needs of the project using the "project manager toolbox" effectively

Problem Solving and Decision-Making Self-control Negotiation: a breadth of skills are needed from analysis of information to make decision in establishing the desired outcome from the negotiation
We offer:
Opportunity of professional development in an international, dynamic and well-established company

Acquiring the unique AML knowledge from the best professionals in the market

Cooperating with international Citi entities from all over the world

Being a part of global initiatives
Please be informed that we will contact selected candidates only.
You are kindly requested to include the following clause in your application: "I hereby give my consent to the processing of my personal data included in my job application for the purpose of the recruitment process and after its completion for the purpose of future recruitments (pursuant to the Personal Data Protection Act as of 29 August 1997, Journal of Laws No. 133, item 883).

© 2013 Citigroup Inc. All rights reserved. Citi and Arc Design and Citibank are trademarks and service marks of Citigroup Inc. or its affiliates, used and registered throughout the world.