Engineering - Platform - Cloud Platforms Developer - Associate
Goldman Sachs Poland Services Sp. z o.o.
więcej
Engineering - Platform - Cloud Platforms Developer - Associate
Warszawa, mazowieckie

pokaż mapę

Specjalista

17.07.2018
Pracodawca ma prawo zakończyć rekrutację we wcześniejszym terminie.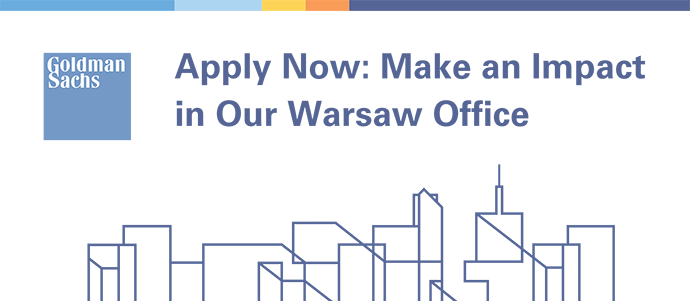 ABOUT GOLDMAN SACHS
The Goldman Sachs Group, Inc. is a leading global investment banking, securities and investment management firm that provides a wide range of financial services to a substantial and diversified client base that includes corporations, financial institutions, governments and individuals. Founded in 1869, the firm is headquartered in New York and maintains offices in all major financial centers around the world.
Engineering - Platform - Cloud Platforms Developer - Associate
Location: Warszawa

RESPONSIBILITIES AND QUALIFICATIONS
Job Summary
Build out and maintain the Goldman Sachs cloud platform: develop the necessary tooling and UIs in order to efficiently manage and scale the cloud platform; provide service APIs to other technology teams; integrate with cloud vendors' APIs; develop the software infrastructure required to enable end-to-end deployment of application processes in the cloud, from IDE through QA to production.
Gain a full understanding of how Goldman Sachs' cloud platform enables applications to utilize cloud technologies to achieve efficiency, scalability, and portability.
Understand and evaluate open source and commercial cloud technologies, integrate those into the Goldman Sachs technology infrastructure.
Liaise with other Goldman technology teams: help them to utilize cloud technologies; make use of their software services.
Goldman Sachs is a meritocracy where you will be given all the tools to help you develop your career.
At Goldman Sachs, you will have access to excellent training programs designed to improve multiple facets of your skills portfolio.
We value internal mobility. The chance to take on new challenges in the firm over time will ensure that you remain stimulated and will help in your continued professional and personal development.
Basic Qualifications
2-10 years Java development experience (depending on the role).
Proficiency in Object Oriented design and analysis.
Solid understanding of core Java concepts, common APIs and design patterns.
Experience of test-driven development, hands on experience with testing frameworks such as JUnit.
Motivated and self-directed.
Good communication and interpersonal skills.
Demonstrable history of successful project delivery.
Preferred Qualification
Experience of working with cloud platform APIs and vendors.
Experience of other programming languages: Python, Go, C#, C++
Linux system administration experience.
Network administration experience.
Experience of using Java libraries: Spring; Hibernate; Mockito; Jackson; Hamcrest
RDBMS experience: SQL programming; DB2; Sybase; Postgres.
No-SQL experience: MongoDB; HBase.
Elasticsearch experience.
Web services development: RESTful APIs; Swagger; Jersey; Glassfish
Web UI development: Javascript; CSS; AngularJS.
MORE ABOUT THIS JOB:
What We Do
At Goldman Sachs, our Engineers don't just make things – we make things possible. Change the world by connecting people and capital with ideas. Solve the most challenging and pressing engineering problems for our clients. Join our engineering teams that build massively scalable software and systems, architect low latency infrastructure solutions, proactively guard against cyber threats, and leverage machine learning alongside financial engineering to continuously turn data into action. Create new businesses, transform finance, and explore a world of opportunity at the speed of markets.
Engineering, which is comprised of our Technology Division and global strategists groups, is at the critical center of our business, and our dynamic environment requires innovative strategic thinking and immediate, real solutions. Want to push the limit of digital possibilities? Start here.
Who we look for

Goldman Sachs Engineers are innovators and problem-solvers, building solutions in risk management, big data, mobile and more. We look for creative collaborators who evolve, adapt to change and thrive in a fast-paced global environment. Focus on developing an integrated approach for the firmwide cloud infrastructure. This includes capability build-out, provisioning, and adoption of an integrated experience across all compute platforms within GS as well as enabling innovative commercial opportunities through public cloud access and Cloud Platforms client APIs.
We are looking for talented Java developers to implement and maintain the platforms that enable applications to utilize the firm's private, public and hybrid cloud infrastructure. You will gather requirements, participate in technical design sessions, and interact with other technology teams across the firm to deliver the required functionality. The role will allow you to gain an understanding of cloud technologies and concepts including application modelling, containers, Docker and Kubernetes. The successful candidate will participate in all phases of a project life cycle and work with extremely bright, motivated individuals, who focus on Java development and strive for continuous process improvement.