Environment - Health and Safety (EHS) Manager
Asco Numatics Spółka z ograniczoną odpowiedzialnością
więcej
Environment - Health and Safety (EHS) Manager
Łódź, łódzkie

pokaż mapę

Kierownik

08.05.2019
Pracodawca ma prawo zakończyć rekrutację we wcześniejszym terminie.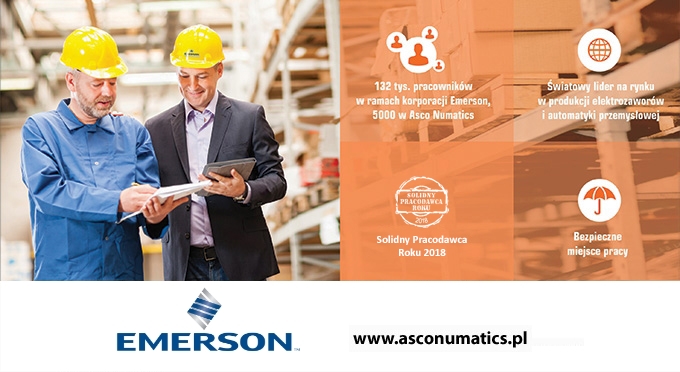 Firma Emerson (NYSE: EMR), z siedzibą w St. Louis, Missouri (USA), to globalny lider łączący technologię i inżynierię zapewniające innowacyjne rozwiązania dla klientów na rynkach przemysłowym, komercyjnym i konsumenckim na całym świecie. Emerson dostarcza rozwiązania w ramach dwóch segmentów biznesowych: Automation Solutions (sterowanie procesami, automatyka przemysłowa, technologie montażowe, aparatura elektryczna i oświetleniowa), oraz Commercial & Residential Solutions (rozwiązania komercyjne i mieszkalne). Więcej informacji znaleźć można pod adresem
www.Emerson.com
.
Marka ASCO™ jest światowym liderem na rynku w zakresie produkcji elektrozaworów i automatyki przemysłowej, należy do amerykańskiego koncernu Emerson, który łączy najnowsze technologie, inżynierię i najbardziej innowacyjne rozwiązania.
W Zakładzie Produkcyjnym w Łodzi oferujemy ciekawą pracę w stabilnej i dynamicznie rozwijającej się firmie zajmującej się produkcją elektrozaworów, siłowników i podzespołów do nich. Główny profil produkcji stanowi obróbka skrawaniem i montaż.
Environment, Health and Safety (EHS) Manager (Europe)
Miejsce pracy: Łódź

Job Description:
The key responsibilities of the EHS Manager Europe will be:
to ensure a safe work environment, protecting our employees, visitors and the environment, and

to ensure compliance to legislative, regulative and Emerson corporate EHS requirements through guiding the development, implementation and oversight of the organization's Environmental, Health & Safety (EHS) programs.
Also, will be responsible for reviewing continuously the effectiveness of the EHS management systems implemented. EHS Manager will liaise closely with the European Management Team and the local Country Management teams in all of European Sites.
Job Responsibilities
Develop European policies and procedures to drive a culture of safety throughout the organization.

Proactively engage with Management teams to ensure ownership and accountability for EHS improvement and to develop and influence a positive EHS culture within the organization through effective improvement activities.

Identify and recommend equipment, process and procedural changes to minimize and/or eliminate workplace hazards.

Harmonize and standardize the European processes, tools and activities and create synergies within the EHS community. Work with leadership to identify, share, and implement best practices.

Review EHS major projects and high-risk job Safety Analyses (JSA) to ensure that hazards

and risks are adequately identified and mitigated prior initiate those tasks.

Provide continuous leadership in reducing the operating cost related to EHS for the facilities worldwide through energy conservation, waste minimization and injury prevention.

Ensure that all new projects undertaken within the organization has considered the EHS Impact and has obtained all required authorizations/permits to keep project completion on time. Apprised of and involved in equipment review and approval under mgmt. of change, safety by design, prevention by design structure.

Lead annual EHS planning and reporting and develop EHS strategic roadmap, goals and objectives for the sites in partnership with global management.

Review and prevent environmental impact, exposure, and ensure implementation of Emerson environmental management practices.

Where required, lead comprehensive EHS inspections, assessments and/or audits, make recommendations, and provide adequate following and advice for corrective actions to ensure compliance.

Serve as the European system administrator for all EHS tools.

Responsible for strong action planning to achieve global metrics, auditing and key indicators to ensure consistency, compliance and EHS continuous improvement.

Analyze performance trends and identify opportunities for continuous improvement.

Identify opportunities to integrate new and impactful leading metrics for EHS performance.
Basic Qualifications:
Higher level education or university background, diploma in Engineering / Safety Science / Occupational Health or related technical field.

10+ years' experience minimum in EHS area.

Practical knowledge of EHS regulatory compliance and industry trends.

Familiarity with ISO 45001 (or previous 18001 or 14001 systems).

Professional organization certifications: CSP, CIH or European Occupational Safety and Health Manager professional designations.

Knowledge of general safety policies and procedures as well as experience in auditing from an EHS perspective.

Demonstrates a sense of urgency relating to eliminating workplace exposures and incidents to reduce associated costs and within medical necessity.

Demonstrated communication, leadership and influencing skills.

Ability to influence and challenge current practices through process knowledge and personal relationships.

Excellent interpersonal skills, must have the ability to work with people from different backgrounds and culture.

Fluency in written and spoken English, any other languages are preferred.

Member of, interaction in, or volunteer with local or national professional organizations preferred.

Willing to travel

across the European area.
We offer:
Attractive remuneration package including the company car and yearly bonus.

Competitive base salary.

Steady employment with a work agreement in the international company which value work-life balance.

Support in the initial stage of employment by participation in the "New Employee Induction Program".

Internal and external trainings.

Multikarnet gym membership.

Attractive prices of the medical package and group insurance.