EY GDS Advisory, Supply Chain & Operations, Procurement Advisory Manager
EY Global Delivery Services
więcej
EY GDS Advisory, Supply Chain & Operations, Procurement Advisory Manager
Wrocław, dolnośląskie

Kierownik

21.06.2018
Pracodawca ma prawo zakończyć rekrutację we wcześniejszym terminie.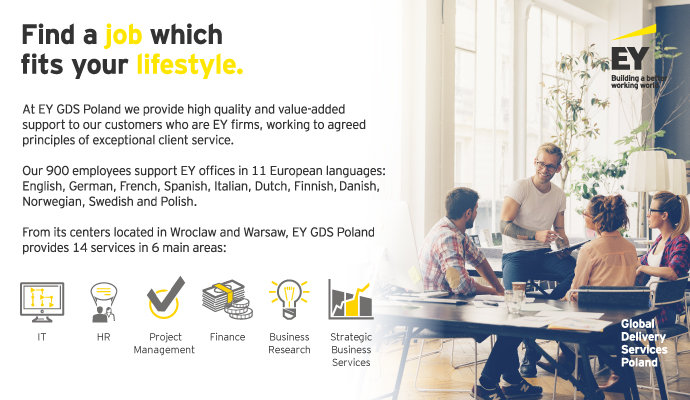 EY GDS Advisory, Supply Chain & Operations, Procurement Advisory Manager
Workplace: Wrocław
Ref no: POL000KI

EY Global Delivery Services means 26.000 specialists providing globally IT, HR, finance, project management and strategic business services to EY member firms. In addition we deliver support and solutions to clients from all over the world.

The objectives of a world-class procurement organization are far beyond the traditional belief that procurement's primary role is to purchase goods and services in response to internal needs. Procurement is about achieving a clear understanding of business requirements and developing plans to optimize them. Supply chains and operations are undergoing radical restructuring as they meet the challenge of improving performance in a world of unprecedented complexity and opportunity. They must balance increasing needs for agility and responsiveness against driving down costs and improving cash.

As one of our supply chain, procurement advisory professionals, you will deliver some of the most significant and class-leading procurement management projects globally with a strong focus on Europe, especially Germany, Switzerland and Austria to support clients transforming and sustaining their business performance. You will help our clients becoming a trusted advisor to their business, driving suppliers to innovate, providing analytics-backed insights and protecting the business from risks. By plugging into our market-leading global network, you will gain the experience you need to become an exceptional Supply Chain & Operations, Procurement advisor.

The opportunity

We offer you the opportunity within EY GDS to join our international and multidisciplinary Supply Chain & Operations team to get the chance to give advice to leading organizations in all industries, helping them improve their procurement performance. Our team focuses on procurement transformations in areas including designing procurement operation models, procurement strategy, procurement processes (Source to Contract (S2C) and Procure to Pay (P2P)) optimization and digitalization/technology optimization, supplier relationship management and procurement performance management. In order to equip you with the right skills you will undergo a thorough boot camp to prepare you for your tasks, which will be conducted partially in Poland and partially in Germany with the German lead Supply Chain & Operations team.
Your key responsibilities

As a Manager in our EY GDS procurement advisory team you will contribute to enhance the overall effectiveness of the procurement process for GDS SC&O Procurement function. An important part of your role will be to actively establish, maintain and strengthen internal and external relationships. You will also identify potential opportunities to collaborate with existing projects/engagement leaders from GSA procurement, and support these as appropriate. In line with EY's commitment to quality, you will confirm that work is of high quality and is reviewed by the next-level reviewer. As an influential member of the team, you will help to create a positive learning culture, coach and counsel junior team members and help them to develop.
Main tasks include:
Support our Procurement Advisory team in managing its client engagements
Assist in designing future procurement operating models, looking for leading practices in organisational set up, demand-to-pay processes and supporting technology
Support the evaluation, design and implementation of procurement tools like SAP Ariba
Assist in developing/driving procurement activities for each of the items or services within a spend category through vendor negotiations, process improvements, and compliance.
Co-lead cross-functional sourcing teams that look at areas of spend responsibility.
Support tenders and/or negotiations by running analyses.
Possess in-depth knowledge of related business industries.
Do supply market research. Understand supplier and industry economics.
Assist GSA procurement advisory team with creating and managing internal and external benchmarking processes. Evaluate and rate suppliers.
Assist GSA procurement advisory team in developing scorecard and performance measures that effectively evaluate sourcing strategy success.
Coordinate vendor relations and supplier quality assurance; tactical report cards, with line of business functional authorities.
Assist with establishing contract administration standards for each item/vendor as appropriate for spot checking invoices, etc., and assist business units in the preparation of business case support for major initiatives.
Implement changes resulting from changes in sourcing strategies successfully.
Support the GSA procurement advisory team in communicating results to clients.
Skills and attributes for success
Excellent Master's or Bachelor's degree in Engineering, Business Administration, Supply Chain, Logistics or related discipline
Professional experience (at least 7 years), ideally at least 3 years within procurement and/or consultancy
Very good analytical and problem-solving skills
Very good command of English and very strong command of German (written and oral)
Ability and flexibility to travel
Ideally knowledge of procurement enabling technologies, such as SAP S/4-Procurement, SAP-Ariba or other leading procurement cloud-technology providers
Strong analytical skills
Experience in managing transformation projects, especially in procurement
Experience in leading transformation teams
Strong team player with drive and enthusiasm
Strong communication and presentation skills (including PowerPoint presentations)
What we are looking for
An ideal candidate should be able to work effectively as a team member, sharing responsibility, providing support, maintaining communication and updating senior team members on progress. Flexibility to adapt to a variety of project types, working hours and work environments and locations would be a key success factor for this role. We would highly value your personal drive and positive work ethic to deliver results within tight deadlines and in demanding situations.
What working at EY GDS offers
This role offers you the exceptional opportunity to work for leading companies across Europe, especially Germany, Switzerland and Austria to develop your full potential as part of our international and multidisciplinary Supply Chain & Operations team and with the promise that no matter how long you stay, the unique EY experience last a lifetime.
If you can confidently demonstrate that you meet the criteria above, please contact us as soon as possible.
Apply now to make your mark.