Facility Management Manager District
IKEA Retail Janki
więcej
Facility Management Manager District
Warszawa, mazowieckie

plac Szwedzki 1, 05-090 Janki, Polska

pokaż mapę

Specjalista

Umowa o pracę

Pełny etat

08.08.2019

Ważna jeszcze 4 dni (do

28.08.2019)
Pracodawca ma prawo zakończyć rekrutację we wcześniejszym terminie.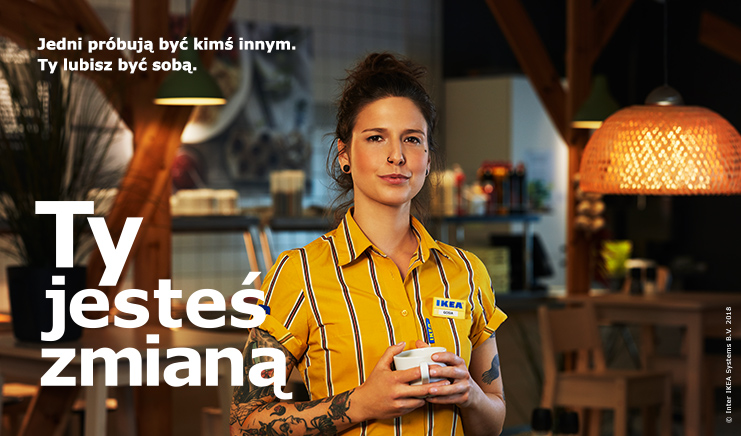 FACILITY MANAGEMENT MANAGER DISTRICT, REAL ESTATE, INGKA GROUP, WARSAW/JANKI
You see things a little differently. So do we. Leadership at IKEA is simple, clear and humble. We're not fans of bureaucracy and complicated hierarchy. We invest in your passions and encourage you to grow with them. Come see things a little differently with us.
You are service minded and customer driven. You are open to new solutions with a passion for doing business, always keeping sustainability in mind. Leading business and people together inspires you and you strive to deliver results within a given framework. You strive for contributing to an environment where the IKEA culture is a strong and living reality that embraces the diversity of co-workers and customers.
You have worked in a multi-unit facilities management organization, preferably in a high-volume retail sector and also possess experience from a managerial position. You have proven skills in developing people and provide support, coaching, training, and career direction to others. Moreover you have the ability to communicate confidently and clearly in English and Polish. Preferably you have technical education related to property management To be successful in this role you have proven project management, , and change management experience. You have proven experience in working with sustainability and the environment from a facility management perspective.
You have knowledge in following areas:
Budgeting (e.g. OPEX, CAPEX)
Business risk management
Project Management
Sustainability aspects in Facility Management (FM)
FM market as well as standards & rules
FM hard (technical) services
FM soft services (e.g. cleaning, landscaping, etc.)
IT tools relevant for FM
We believe you:
demonstrate general leadership ability and effectiveness and explore alternatives to reach outcomes acceptable to all parties.
strive to provide guidance and feedback to maximise performance of individuals and/or group
when networking you have the ability to build and maintain a system of strategic business connections.
apply business knowledge and leverage digital best practices to achieve organisational goals and objectives
identify short-term objectives and steps to achieve them.
Your responsibilities:
Main aim for the role is to lead people and the FM business in a specific district to optimize the value and efficiency of each property in a sustainable way according to the Real Estate scope in IKEA.
You will:
lead and manage the execution of FM within the district through the site FM Managers
enable and secure best operation to the business
be responsible to make sure that each property is managed throughout its lifetime including safety, compliance, maintenance and improvement to ensure a safe and operational environment for the business, co-workers, customers and other stakeholders
implement relevant property management innovations, digital and technical solutions that meet the needs of the business and the many people needs
be responsible to optimize the efficiency of each property in a sustainable way
ensure that co-workers and external partners, when needed, has up-to-date awareness and understanding of all FM frameworks, guidelines and initiatives
safeguard that forecasts, follow-ups, budgets, 5 year rolling plan etc. are delivered from all sites.
support and implement the structure for contract and supplier management together with the IKEA procurement organisation to improve efficiencies/costs/equipment and quality
manage and develop the team's competence, performance and resource management incl. recruitment


In this role you will report to the Facility Management Manager, Cluster level.
This role is located in Warsaw/Janki.
Real Estate, Ingka - As engaged, open minded and curious experts in all parts of the real estate business we take responsibility for the real estate business at Ingka Group as a trustworthy, appreciated and wanted business partner. We secure new and maintain existing physical locations in order to meet the needs of the many people. We provide strategic insight based on our knowledge and understanding of the real estate portfolio in Ingka. We take the lead in delivering safe, compliant, sustainable and innovative property solutions – with Democratic design and life cycle cost on top of our mind. We actively maintain and secure that our properties are kept in relevant shape for the business.
We want
that you would stay with us for a longer time - we provide a contract of employment,
that you would develop and build your skill with us – together we will create a development path that will suit your needs,
to ensure the safety of you and your family - we provide medical care, Pension Plan and Accident Insurance,
to appreciate your achievements,
to give you the opportunity to choose additional benefits ex. cafeteria programme (including eg. Multisport card).

The home furnishing market is expected to triple in Poland by 2035 and IKEA is at the forefront of this growth. With strong expansion plans, we are creating opportunities for innovative, forward-thinking individuals who want to develop themselves, people and the business! We grow and we need you!