Financial Controller
Asco Numatics Spółka z ograniczoną odpowiedzialnością
więcej
Financial Controller
Łódź, łódzkie

Specjalista

07.03.2019
Pracodawca ma prawo zakończyć rekrutację we wcześniejszym terminie.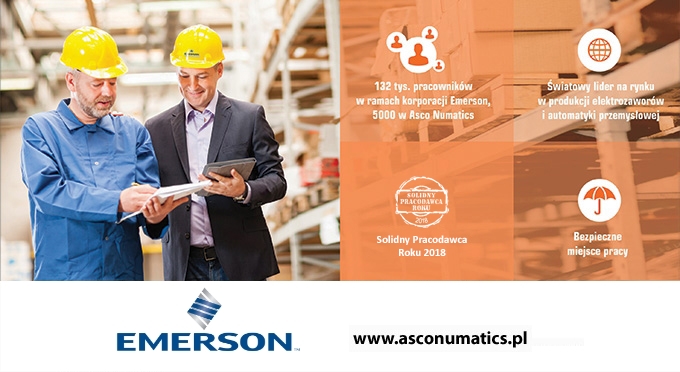 Firma Emerson (NYSE: EMR), z siedzibą w St. Louis, Missouri (USA), to globalny lider łączący technologię i inżynierię zapewniające innowacyjne rozwiązania dla klientów na rynkach przemysłowym, komercyjnym i konsumenckim na całym świecie. Emerson dostarcza rozwiązania w ramach dwóch segmentów biznesowych: Automation Solutions (sterowanie procesami, automatyka przemysłowa, technologie montażowe, aparatura elektryczna i oświetleniowa), oraz Commercial & Residential Solutions (rozwiązania komercyjne i mieszkalne). Więcej informacji znaleźć można pod adresem
www.Emerson.com
.
Marka ASCO™ jest światowym liderem na rynku w zakresie produkcji elektrozaworów i automatyki przemysłowej, należy do amerykańskiego koncernu Emerson, który łączy najnowsze technologie, inżynierię i najbardziej innowacyjne rozwiązania.
W Zakładzie Produkcyjnym w Łodzi oferujemy ciekawą pracę w stabilnej i dynamicznie rozwijającej się firmie zajmującej się produkcją elektrozaworów, siłowników i podzespołów do nich. Główny profil produkcji stanowi obróbka skrawaniem i montaż.
Financial Controller
Miejsce pracy: Łódź

Job Description
The employee is responsible for providing timely analysis and management reporting in the controlling field by providing support for the business unit. Ensure perfect execution of ongoing control, planning and analysis processes. Active participation in the Finance Department, ensuring the business unit objectives are met.
Job Responsibilities
Responsible for reporting on the hours spent in production, identify the errors and propose corrective measures. Monthly reports on the efficiency at factory level

Responsible for calculating and setting the standard cost for raw materials and finished products. Active participation during fiscal year end for COGS calculation

Responsible for analyzing the differences between standard cost and purchase price. Communication with suppliers and internal supply chain is needed in order to correct error

Product costing (standard vs actuals)

Product mix analysis

Responsible for weekly and monthly reporting on stocks, analyses on the stock variances and offer support to the inventory manager to optimize the stock.

Responsible for weekly and monthly reporting on inventory, inventory counts and cycle counts, investigate cycle counting variances

Responsible for reporting on Raw and Wip Material

Participate at month-end closing by ensuring the timely and accurate preparation of reports for the management: variances on Labor and Material, exchange rate variances, acquisition versus manufacturing of products and its impact on the business unit

Prepare reports required by different departments inside the organization / management, needed for analysis and business decision-making

Active collaboration with departments of Engineering, Manufacturing, Sales, Procurement at all levels, depending on requirements and circumstances in France, in Cluj and within Emerson organization

Participate in all internal and external audits (Emerson …)
Basic Qualifications
Economics graduate, with at least 3 years relevant work experience in controlling (preferably in industry)

Excellent communication skills

Microsoft Excel - advanced level

Knowledge of an ERP system is an advantage

Strong team player with the ability to work on own initiative is essential

English level – average

A letter of reference from one of the previous employers (will be an advantage)
We offer:
Attractive remuneration package

Development opportunity in the challenging matrix international environment

Stable corporate vision and well established company values

Support in the initial stage of employment by participation in the "New Employee Induction Program"

Multikarnet gym membership co-financed by the Employer

Attractive prices of the medical package and group insurance