Group Financial Reporting Analyst
Eurofins GSC Poland Sp. z o. o.
więcej
Group Financial Reporting Analyst
Katowice, śląskie

pokaż mapę

Specjalista

16.04.2019

Ważna jeszcze 22 dni (do

16.05.2019)
Pracodawca ma prawo zakończyć rekrutację we wcześniejszym terminie.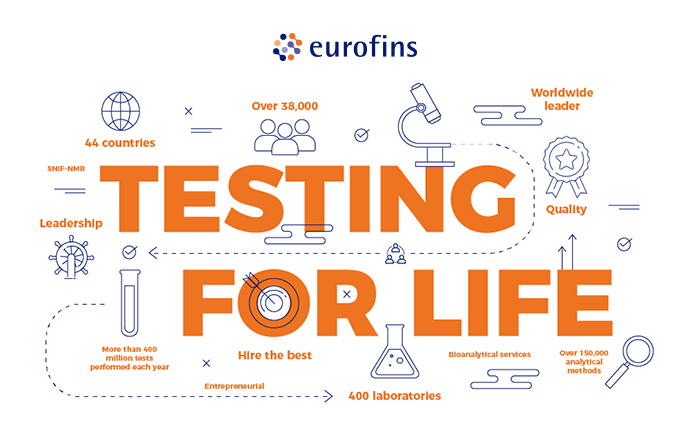 The food we eat, the air we breathe, the water we drink, the everyday products we use, we are testing for you, to keep your family safe, making our world a better place... We are a quiet hero who is, day in, day out, testing for life. We are a worldwide leader in a laboratory testing with over 30 - year history while we built a global group of 800 laboratories in more than 45 countries with over 47 000 employees all around the world. Join us and make life a better place.
Group Financial Reporting Analyst
Katowice

Job Description
Manage the timely and accurate delivery of Group Financial Reports to Eurofins Leaders.
Controlling & validation of the Group Financial Reports by reviewing, performing variance analysis and providing clear explanations on significant deviations between periods and versions actualities.
Development, implementation & maintenance in the Group Financial Reporting tool (Cognos TM1).
Analyze internal customers' dynamic reporting requirements and cooperate with Development Team in order to transfer these requirements into new system functionalities.
Maintenance of the financial data and system functionalities, such as access rights, company structure updates in Cognos TM1/Controller.
Maintain financial master data, reporting templates and distribution lists of Group Financial Reports.
Support and train the finance user community on the Group Financial Reporting tools (Cognos TM1/BI).
Other responsibilities
Drive continuous improvement of Group Financial Reporting activities, procedures looking for increased efficiencies and better information for management decision -making.
Provide ad hoc support to senior leadership.

Qualifications
Minimum 2-3 years of relevant experience in controlling / financial reporting.
Master Degree in Finance/Accounting or equivalent.
VBA knowledge is a must.
Strong Excel skills including experience with financial/operational model building.
English (fluent written and spoken).
Very structured with strong organizational skills.
Very accurate, highly reliable and eye for detail.
High level of energy, drive and passion to succeed.
Ability to work in an autonomous manner in a fast changing organization.
Good interpersonal and communication skills.
Team player enjoying working in a small team.
Work under pressure and deadlines in a fast paced organization.
First experience with Financial Reporting tools, Cognos TM1 / BI experience is a plus.

WHY US?
FLEXIBLE WORKING HOURS: START BETWEEN 7-9:00
HOME OFFICE
ATTRACTIVE COMPENSATION
CAFETERIA SYSTEM
PRIVATE HEALTH CARE
WORK OFFERING STABILITY AND DEVELOPMENT
LIFE INSURANCE
ANNUAL BONUS
INTERNATIONAL WORK ENVIROMENT
INTERNAL REFERRAL PROGRAM
INSPIRING, CREATIVE ATMOSPHERE AND GREAT PEOPLE
CHANCE TO BUILD PROCESSES AND STANDARDS

Wyrażam zgodą na przetwarzanie przez Administratora moich danych osobowych w celu przeprowadzenia procedury rekrutacji na w/w stanowisko oraz na potrzeby przyszłych rekrutacji prowadzonych przez Administratora.
Przyjmuję do wiadomości, że w dowolnym momencie mogę odwołać udzieloną zgodę, pisemnie na adres Administratora danych lub mailowo na adres: hr[email protected], a wycofanie zgody nie wpływa na zgodność z prawem przetwarzania, którego dokonano na podstawie zgody przed jej wycofaniem.
Mam świadomość, że wyrażenie niniejszej zgody jest dobrowolne, jednakże bez jej wyrażenia nie jest możliwe uwzględnienie mojej aplikacji w procesie rekrutacji.
Administratorem Twoich danych osobowych jest Eurofins GSC Sp. z o.o. z siedzibą w Katowicach. Dane zbierane są dla potrzeb przeprowadzenia na Pani / Pana rzecz procedury rekrutacji na w/w stanowisko, zaś w przypadku wyrażenia zgody na rekrutację ciągłą na przyszłe rekrutacje. Masz prawo dostępu do treści swoich danych oraz ich poprawiania. Podanie danych osobowych jest dobrowolne i wymaga wyraźnej zgody, ale jest konieczne do przeprowadzenia procedury rekrutacji.
Szczegółowe informacje dotyczące przetwarzania danych osobowych może Pani / Pan otrzymać tutaj.