Group IT Buyer
Eurofins GSC Poland Sp. z o. o.
więcej
Group IT Buyer
Katowice, śląskie

Specjalista

12.06.2019
Pracodawca ma prawo zakończyć rekrutację we wcześniejszym terminie.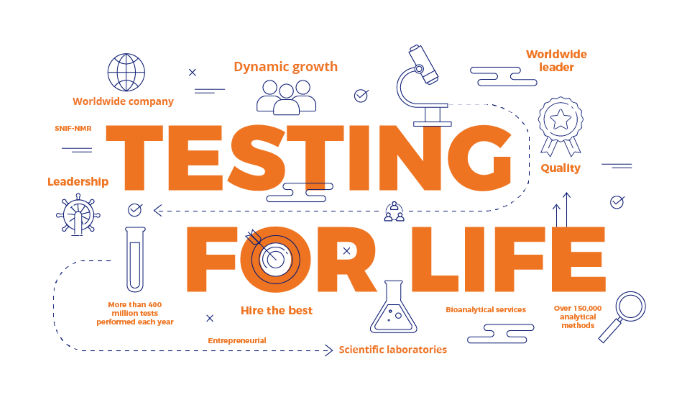 Eurofins Scientific is an international life sciences company which provides a unique range of analytical testing services to clients across multiple industries. The Group believes it is the world leader in food, environment, pharmaceutical and cosmetics products testing and in agroscience CRO services. It is also one of the global independent market leaders in certain testing and laboratory services for genomics, discovery pharmacology, forensics, CDMO, advanced material sciences and for supporting clinical studies. In addition, Eurofins is one of the leading global emerging players in specialty clinical diagnostic testing. In 2018, Eurofins generated 4.2 billion Euro proforma turnover, from 800 laboratories across 47 countries and employs about 45.000 staff.
Group IT Buyer
Katowice

Job Description
Buyer shall perform assignments related to the procurement of IT goods and services as well as negotiation and implementation of global/regional agreements. The role will be called on to run both global and local projects, so strong negotiation and communication skills are required. Buyer coordinates purchasing activities with stakeholders requests to achieve the result in a cost effective and timely manner. Acquires and maintains understanding of purchased IT products, where performs cost analysis, recommends cost saving proposals with alternative sourcing and vendor evaluation criteria.
Works on issues of moderate scope where analysis of situations or data requires a review of relevant factors. Exercises judgment within defined procedures and practices but with a great amount of autonmy to determine appropriate action. Buyer will be a part of team working on IT strategy building, so not only does analytical thinking is priority but visionary aspect is required as well. Have passion for results and looking for excellent growth? Join us.
As Buyer, your daily responsibilities are:
Negotiate, develop and manage IT scope
Support the end-to-end sourcing process including searching for new supplier options
Construct, present, and promote IT project specific procurement strategy to foster the goal of delivering the project "on time, on budget"
Communicate, follow-up and maintain the commercial agreements in portfolio
Achieve your KPIs
Negotiate with suppliers on all commercial terms with team support
Ability to research and identify capable vendors or contractors
Prepare business recommendation for IT projects
Draft agreements using contractual templates or supplier contracts
Work with stakeholders and the Procurement Team to prepare RFP specifications and structure
Develop innovative sourcing alternatives to inject competition and mitigate risk in goods and/or service
Lead on procurement projects to drive continuous improvement for the Group
Build IT strategy together with a Procurement Team
Manage a variety of procurement processes and systems such Coupa (purchasing tool)

Qualifications
Personal skills
A proven negotiations record in a global, multinational, strategic procurement environment
Process oriented in global company with independent entities
The ability to operate effectively in an environment with tight deadlines and finite resource and uncertainty
The ability to achieve the ends in quickly changing business environment
The ability to handle multiply projects at the same time with some uncertain requirements
Good stakeholder management skills with the ability to engage with, and influence, internal and external stakeholders
Out of the box thinking
Strong customer service orientation and problem solving skills
Strong written and verbal communication skills
Cultural awareness and pro-active behavior
Strong negotiation and analytical skills
Analytical thinking
Visionary
Self esteem

Education
Bachelor or Master of business processes (Economy, Administration, Business, Finance), Engineering

Language skills
Excellent written and spoken English
Any additional language is an asset

Previous experience
1-3 years of professional procurement experience (IT category experience will be a strong asset)
Experience with Coupa will be a strong asset

WHY US?
FLEXIBLE WORKING HOURS: START BETWEEN 7-9:00
HOME OFFICE
ATTRACTIVE COMPENSATION
CAFETERIA SYSTEM
PRIVATE HEALTH CARE
WORK OFFERING STABILITY AND DEVELOPMENT
LIFE INSURANCE
ANNUAL BONUS
INTERNATIONAL WORK ENVIROMENT
INTERNAL REFERRAL PROGRAM
INSPIRING, CREATIVE ATMOSPHERE AND GREAT PEOPLE
CHANCE TO BUILD PROCESSES AND STANDARDS

Wyrażam zgodą na przetwarzanie przez Administratora moich danych osobowych w celu przeprowadzenia procedury rekrutacji na w/w stanowisko oraz na potrzeby przyszłych rekrutacji prowadzonych przez Administratora.
Przyjmuję do wiadomości, że w dowolnym momencie mogę odwołać udzieloną zgodę, pisemnie na adres Administratora danych lub mailowo na adres: [email protected], a wycofanie zgody nie wpływa na zgodność z prawem przetwarzania, którego dokonano na podstawie zgody przed jej wycofaniem.
Mam świadomość, że wyrażenie niniejszej zgody jest dobrowolne, jednakże bez jej wyrażenia nie jest możliwe uwzględnienie mojej aplikacji w procesie rekrutacji.
Administratorem Twoich danych osobowych jest Eurofins GSC Sp. z o.o. z siedzibą w Katowicach. Dane zbierane są dla potrzeb przeprowadzenia na Pani / Pana rzecz procedury rekrutacji na w/w stanowisko, zaś w przypadku wyrażenia zgody na rekrutację ciągłą na przyszłe rekrutacje. Masz prawo dostępu do treści swoich danych oraz ich poprawiania. Podanie danych osobowych jest dobrowolne i wymaga wyraźnej zgody, ale jest konieczne do przeprowadzenia procedury rekrutacji.
Szczegółowe informacje dotyczące przetwarzania danych osobowych może Pani / Pan otrzymać tutaj.