Head of Project Management Office – Contract Logistics
Kuehne+Nagel Sp. z o.o.
więcej
Head of Project Management Office – Contract Logistics
Warszawa, mazowieckie

Kierownik

19.06.2018
Pracodawca ma prawo zakończyć rekrutację we wcześniejszym terminie.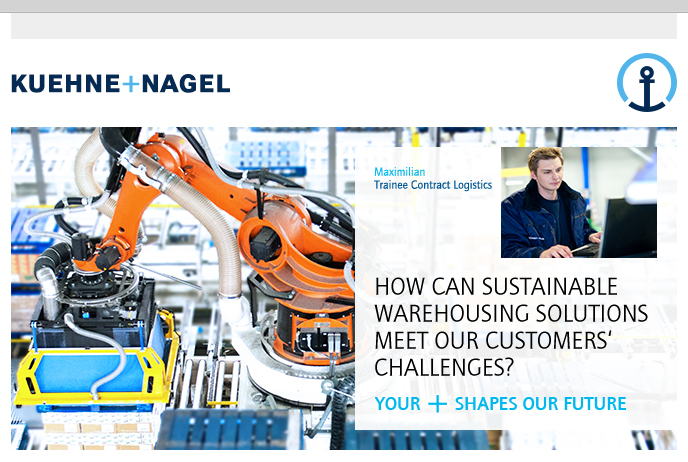 Head of Project Management Office – Contract Logistics
Warszawa

Mission
Leads a team of Project Managers to ensure successful implementation of contract logistics projects for a new and existing customers. Gets engagement of the stakeholders and delivers projects with predictable consistency, efficiency while providing transparent status and financial reporting to top management of company and customer.
Your duties and responsibilities
+ Country level control, overview and reporting of all project management activity within Contract Logistics
+ Prioritization of projects portfolio and adequate allocation of project resources
+ Recruitment and training of project management project managers and team members
+ Reporting of national project management activities to the corporate project management
+ Support of business development / contract management during the progress of the project
+ Tactical project support (in particular but not limited to: ensure strong project mandate, participation in steering meetings, guarantee sponsorship and proper project funding)
+ Management of all project relevant elements like staffing, material/information flows, equipment, etc
+ Development and management of project plans
+ Support the operational processes after implementation, as required
+ Ensuring transferability of knowledge to other implementations
+ Ongoing continuous development of the project management program by identifying and employing best practice in liaison with the regional project management manager
Your experience and skills
+ Senior managerial level with min. 10 years of Programme /Project Management proficiency in a service related environment. Contract Logistics experience is a strong plus but not mandatory.
+ Excellence in project / programme management, Prince 2 / PMI or equivalent certification will be a strong plus
+ Concept development and process mapping based on customer requirements, familiarity with VOC, VSM and lean thinking
+ Good understanding of IT solutions
+ Knowledge of Finance / Controlling in order to ensure good follow up of project budget
+ Understanding of outsourcing projects and earlier operational experience in Contract Logistics would be an advantage
+ Excellence in building customer relationship and management of senior stakeholders
+ Fluency in cooperation with local, regional and corporate / international environment
+ Expierience in building relationship with third parties (other LSP's, consultants, etc.)
+ Highly developed negotiation skills
+ Fluent in in spoken and written Polish and English
+ Geographical flexibility; projects mainly within Poland
What we offer
+ To work in the most innovative logistics organization, as part of the most innovative division in Kuehne+Nagel
+ Job security in a large, stable company with an international environment
+ Attractive salary

Administratorem danych osobowych jest spółka Kuehne+Nagel Sp. z o.o. z siedzibą w Gądki 62-023, ul. Spedycyjna 1.
Dane kontaktowe inspektora ochrony danych: [email protected]
Dane zbierane są dla potrzeb obecnej rekrutacji, a w przypadku wyrażenia przez Panią/Pana wyraźnej i dobrowolnej zgody również na potrzeby przyszłych rekrutacji.
Podanie danych w zakresie określonym przepisami ustawy z dnia 26 czerwca 1974 r. Kodeks pracy oraz aktów wykonawczych jest dobrowolne, ale konieczne do przeprowadzenia rekrutacji. Podanie dodatkowych danych osobowych jest dobrowolne i wymaga Pani/Pana wyraźnej zgody.
Przysługuje Pani/Panu prawo do wycofania zgody w dowolnym momencie, przy czym cofnięcie zgody nie ma wpływu na zgodność przetwarzania, którego dokonano na jej podstawie przed cofnięciem zgody. Dane osobowe będą przetwarzane aż do ewentualnego wycofania przez Panią/Pana zgody na przetwarzanie danych w procesie rekrutacji, nie dłużej jednak niż do zakończenia rekrutacji, w której bierze Pani/Pan udział.
Posiada Pani/Pan prawo dostępu do swoich danych osobowych, ich sprostowania, usunięcia lub ograniczenia przetwarzania, prawo do przenoszenia danych oraz prawo wniesienia skargi do organu nadzorczego.