HR Business Partner
NB Polska Sp. z o.o. Gniezno
więcej
HR Business Partner
Gniezno, wielkopolskie

Specjalista

2018-08-09
Pracodawca ma prawo zakończyć rekrutację we wcześniejszym terminie.
he VELUX Group is one of the strongest brands in the building industry. We create better living environments with daylight and fresh air through the roof – for life, work and play.
NB Polska Sp. z o.o. – one of the biggest production company within VELUX group is currently looking for an HR Business Partner, who will support our Window and Hardware factories in Gniezno.
If you are a real HR-passionate with business acumen who wants to be empowered, then join us and have an impact on our business development
Scope of responsibility:
Implementing HR strategy in line with the business strategy and our unique corporate culture
Advises and supports leaders in strategic and operative HR matters with coaching methodology
Leading yearly people cycle/performance management and succession planning
Planning the development of managers and all employees, identifying necessary competencies and talents
Supporting the implementation of organizational changes and fostering fast integration of new managers (Change management in the organization)
Evaluation and advice on the impact of strategic plans on the development, motivation and turnover of employees in the long run
Matching training policy to business needs
Recruiting for senior positions and specialists
Provide input for the development on salaries and benefits
Reports to HR Manager in Gniezno
Your qualifications:
University degree
Minimum 5 years of experience in HR on a senior level position in the international company
Knowledge of modern HRM tools
Experience in relations with TU
Knowledge in the field of labor law
Fluent in English at a level enabling unconstrained written and verbal communication
Initiative, independence, communicativeness
Your opportunities:
In the VELUX Group, you will get an interesting and varying job with ample opportunities to influence your own development. We believe in empowering people, and we support this through sharing knowledge, delegating responsibility and continuously focusing on employee development. Moreover VELUX offers you:
Interesting, challenging and independent work
Opportunity to collaborate in the international environment
Scandinavian working culture
Working with an experienced team of managers
Development, support, training
Flexible working hours and extra 8 days off during the year
Application and contact
If the position raised your interest, please send your CV in English and in Polish with motivation letter to the following e-mail address, not later than the 30st of September 2018.
If you have any questions regarding the position please contact us on the email above.
We look forward to receiving your application.
Please add the clause

Na podstawie art. 7 ust. 1 RODO oświadczam, iż wyrażam zgodę na przetwarzanie przez NB Polska sp. z o.o., moich danych osobowych w celu przeprowadzenia procedury rekrutacji na stanowisko HR Business Partner. Wyrażam nadto zgodę na przetwarzanie ww. danych osobowych w sposób zautomatyzowany. Ponadto oświadczam, iż zapoznałem się z przedłożoną mi informacją w zakresie przetwarzania moich danych. Powyższa zgoda została wyrażona dobrowolnie zgodnie z art. 4 pkt 11 RODO.

..............................................
(data i podpis kandydata do pracy)
Poznaj nas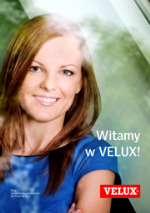 Nasza firma rozpoczęła działalność w 1941 roku w Danii. w 1942 roku jej założyciel, inżynier Villum Kann Rasmussen, wynalazł współczesne okno do poddaszy. Obecnie VELUX jest jedną z najsilniejszych marek na światowym rynku materiałów budowlanych, a nasze produkty są sprzedawane niemal na całym świecie. Grupa VELUX ma fabryki w 11 państwach i przedstawicielstwa handlowe w blisko 40 krajach, a nasza oferta obejmuje szeroki asortyment okien do poddaszy, świetlików, okien do płaskiego dachu, kołnierzy aluminiowych a także rolet wewnętrznych i zewnętrznych. Na całym świecie zatrudniamy około 10 tys. pracowników, z czego w polskiej spółce handlowej i trzech fabrykach pracuje 1500 osób.