HR Business Partner
Groupon
więcej
HR Business Partner
Katowice, śląskie

Specjalista

07.01.2019
Pracodawca ma prawo zakończyć rekrutację we wcześniejszym terminie.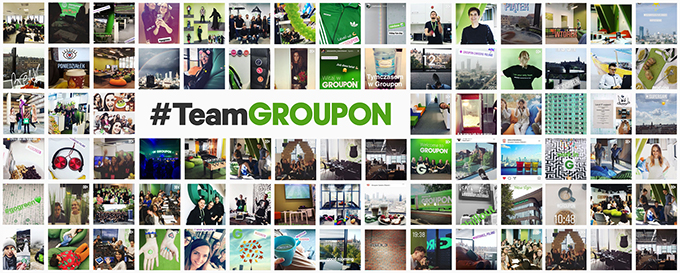 An e-commerce company, Groupon inspires its users to visit interesting places close-by, travel and discover new activities, while offering a wide range of products as well. It also provides its partners with tools and support, which help them to develop and manage their businesses.
In less than eight years of operating in Poland, Groupon grew from a company that hired less than ten people and fit in a small room into a leader of local trade, and is currently a place where more than 1000 employees have the opportunity to develop their skills and competences in a friendly atmosphere. With offices in Warsaw and Katowice, our global Shared Service Center entity is constantly growing supporting Groupon business within all sorts of operations. We believe that great companies are made by great people.
Groupon is currently looking for candidates for the position of:
HR Business Partner
Miejsce pracy: Katowice

WHAT THE JOB IS ABOUT
We are looking for a HR Business partner to operate as primary point of contact for business leaders and managers across all departments of Shared Cervices Centre based in Katowice. The HRBP will be working on implementing the appropriate HR strategies supporting business agenda.
Responsibilities:
Provide day-to- day operational HR solution driven support for entire Katowice site (more than 350 employees)
Work with the internal client base to support the development of talent and succession planning via development programs and on-the job
Coach internal client base in their roles to become effective in managing performance, conduct, difficult personalities, engagement and learning and development
Analyze and report on company HR data being solution focused
Actively identify gaps, propose and implement changes to cover risk
Escalate problems where they are not being actively managed
Work with and support client base with change management projects
Contribute to and support the HR strategy in line with business objectives
Requirements:
Relevant University degree
2 years experience as HRBP
Experience working in a shared services center environment
Fluent English
BENEFITS
Attractive Groupon discounts
Training & development programmes
Prosimy o dopisanie klauzuli: Wyrażam zgodę na przetwarzanie moich danych osobowych dla potrzeb procesu rekrutacji, zgodnie z ustawą z dnia 29.08.1997 r. o ochronie danych osobowych (tj. Dz. U. z 2002 nr 101, poz. 926)

Administratorem Danych osobowych, przetwarzanych w celu prowadzenia procesu rekrutacyjnego jest Groupon Sp. z o. o., z siedzibą w Warszawie, al. Jerozolimskie 123a. W zależności od rodzaju prowadzonego procesu zatrudnienia, dane osobowe mogą zostać udostępnione spółce Groupon Shared Services Poland Sp. z o. o. z siedzibą w Warszawie, al. Jerozolimskie 123a. Podanie danych jest dobrowolne, aczkolwiek niezbędne do prowadzenia procesu rekrutacji. Przysługuje państwu prawo dostępu do swoich danych oraz do ich poprawiania. Jeżeli chcecie Państwo, by wasze dane były wykorzystane w kolejnych procesach rekrutacyjnych przez powyższe spółki, prosimy o zamieszczenie klauzuli zgody.