HR Consultant
SII Sp. z o.o.
więcej
HR Consultant
Warszawa, mazowieckie

Specjalista

11.01.2019
Pracodawca ma prawo zakończyć rekrutację we wcześniejszym terminie.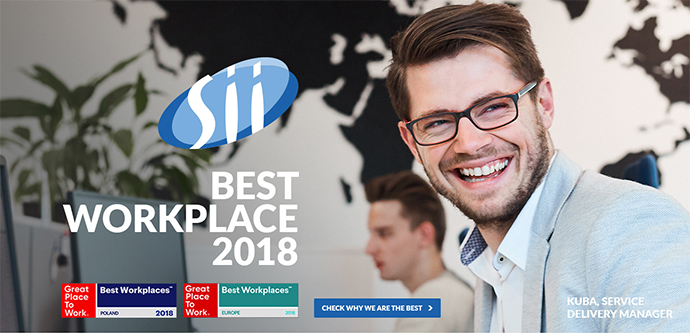 HR Consultant
Location: Warszawa

The challenges waiting for you:
In connection with the development of a new business line for SII - BPO & Business Consulting in the area of ​​HR - we are looking for proactive people willing to take on a new challenge, full of passion for working with clients.
Providing in-depth knowledge and expertise in HR Operations processes, tools and solutions in areas of: recruitment, onboarding, evaluation processes & competences models, trainings & development, retention, engagement& motivation, HR efectivness & analytics
Benchmarking with other HR consulting companies and HR applications offered on the market
Providing support in Sii business consulting offering creation and modification
Support in marketing materials creation: dedicated landing pages, PPT, leaflets, etc.
Taking active part in the sales process concerning HR business consulting services and act as a Subject Matter Expert in HR area
Providing sales people with support in the HR offering area: processes, tools, solutions, knowledge, trainings
Participating in the pre-sales process: designing and estimating potential solutions to customers' needs possible in the best quality and accepted margin
Participating in designing and implementing of HR solutions and services offered to customers
Supporting customer's managers in the definition of project strategy, objectives, decision criteria etc.
Estimating costs and risks associated with the implementation of solutions
Creating and maintaining project documentation
Ensuring consistent and appropriate follow-up on the resolution of issues to sales people and other people engaged in the projects
Working with internal resources, third parties and vendors to successfully delivery projects tasks
Required skills:
Fluency in English is a must
4 years of experience in HR consulting area preferably in services sector (360 ° consultancy)
University degree, preferably in human resources, management or related
Very good knowledge of HR processes
Deep knowledge in at least two of the following areas: recruitment, onboarding, evaluation processes & competences models, trainings & development, retention, engagement& motivation, HR efectivness & analytics
Ability to influence
Readiness for business trips
Self-motivation, proactivness and determination to achieve goals
Ability to learn fast
Excellent interpersonal and communication skills
Your benefits:
You will join the Leader. With over 4 000 specialists, Sii is actually the fastest growing, most successful & undisputed number 1 IT & Engineering services company in Poland!
You will work on challenging & fascinating international projects run for hundreds of prestigious customers from various sectors & industries
We will guarantee you many career development opportunities, facilitated by our Job changer application which allows you to change a project, the area of your activity or a place of work
You will cooperate with the best experts in talented & passionate teams on most advanced cutting-edge technologies
You will work in Great Place to Work company with amazing atmosphere and authentic values. You will meet new fantastic friends here!
We will support your personal dreams and initiatives within Passion Sponsorship Program and Power Volunteers Program
We will invite you to awesome integration meetings, interest groups and meetups
You will enjoy comfortable, top class, modernly designed office in the best location
Remember to attach the following personal data processing consent:

"I hereby grant consent for the processing of my personal data contained in this CV by Sii sp. z o.o. with its registered office at Al. Niepodległości 69, 02-626 Warsaw ("Sii") for the purposes of recruitment carried out by Sii. At any time, you may withdraw your consent for processing, but such withdrawal shall not affect the legal compliance of any processing which occurred before you withdrew your consent. Sii does not make any automated decisions regarding the processing of personal data in recruitment process. Detailed information on the processing of your personal data is specified in the Privacy Policy."

Please note that we will contact only selected candidates.