HR Director Services
Diebold Nixdorf Sp. z o.o.
więcej
HR Director Services
Warszawa, mazowieckie

Warszawa, Polska

pokaż mapę

Dyrektor/Prezes

Pełny etat

16.08.2019

Ważna jeszcze 21 dni (do

15.09.2019)
Pracodawca ma prawo zakończyć rekrutację we wcześniejszym terminie.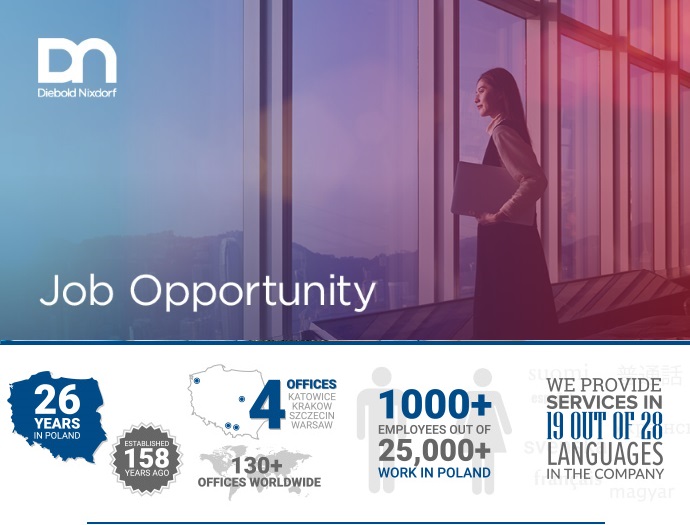 Diebold Nixdorf is one of the world's leaders in delivering payment technology and services for banks and trading companies. Diebold Nixdorf employs around 25 000 people in over 130 countries. Our installed devices amount to over 2 million ATMs and cash systems in 25 languages.
Diebold Nixdorf has been present in Poland since 1990 with head office in Warsaw as well as regional services in Krakow, Katowice, Wroclaw and Szczecin.
HR Director Services, Poland
Miejsce pracy: Warszawa

About the role:
The HR Director Services is full time role, based in the Warsaw office. The main responsibility of the person in this role will be overseeing the entire polish HR services team that is looking after an 800+ employee's global shared service operations, in two locations are Warsaw and Szczecin.
The person will be reporting directly to our Head of HR CEE with matrix reporting to the HR VP Services based in Europe for the Services vertical.
Currently there are 4 HRBPs in the Poland HR team, reporting into this role.
This strategic HR leader is required to:
Strategize, plan, develop, lead, direct and drive the HR function forward for Services in Poland which requires someone highly tactful in communication, influencing, leadership and people management skills.
Having full HR ownership in Services Poland, he/she is required to review and continuously improve current HR policies and practices in line with corporate HR policies, and ensure consistency across all local & global business units hosted in Poland.
Plan, own and execute HR-related programs and initiatives and drive the implementation in alignment with corporate and business strategy.
Be responsible for the day-to-day HR operational activities, including: employee engagement, learning and development, talent management and succession planning, performance management, compensation and payroll, recruitment, policy interpretation, harmonization and implementation.
Influence and drive the team in the development of the organization's strategic plan, culture, mission, vision and goals in providing HR leadership and transformation initiatives by being actively engaged in change management.
Create an efficient Services HR team that supports the business by centralizing recruitment, payroll, and other HR functions.
Partner with the business verticals to provide HR services, including counseling, coaching and guidance while ensuring compliance with all applicable laws and company's policies.
Develop a trusted advisor relationship with the businesses.
Lead and participate in succession management and workforce planning.
Continually reinforce positive employee relations and drive employee engagement.
Function in a highly matrixed environment.
Manage, develop and coach his/her own HR team to ensure the HR team is high-performing and effective.
About the person:
At least 10 years of solid Human Resources experience from an international environment and ability to function within a matrixed reporting environment.
Large employee headcount management experience (exceeding 800) with strong people management skills.
Strong local HR knowledge with a solid understanding of local labor laws and regulations.
Effective communication, business partnering & stakeholder management skills across all levels of the organization.
Independent, able to recommend solutions and solve ambiguous problems.
Strong influencing and leadership skills with the ability to facilitate change.
Possesses a progressive mentality with a can-do attitude to make sustainable HR changes.
Creates value through proactive approaches that will affect performance outcome.
Our benefits:


Diebold Nixdorf BPO Sp. z o. o. with its registered office in Warsaw (02-305) at ul. Aleje Jerozolimskie 142B registered in the Register of Business Entities kept by the District Court for M. St. Warszawy in Warsaw XIII Commercial Division of the National Court Register under KRS number 0000033383 (hereinafter referred to as the "Company"), is the controller of your personal data.