IT Controls and Compliance Manager
Arla Global Financial Services Centre Sp. z o.o.
więcej
IT Controls and Compliance Manager
Gdańsk, pomorskie

Kierownik

2019-01-18
Pracodawca ma prawo zakończyć rekrutację we wcześniejszym terminie.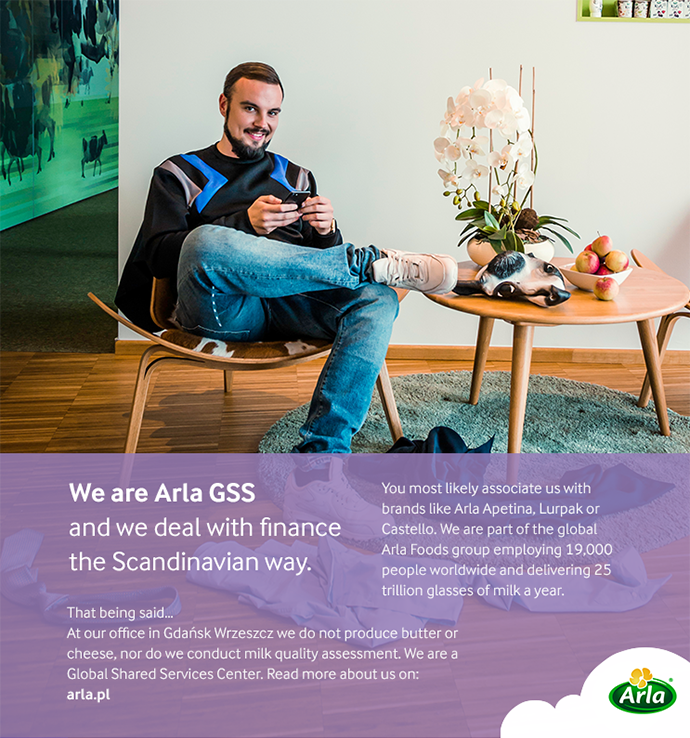 Join us as
IT Controls and Compliance Manager
LOCATION
:
Gdansk Wrzeszcz (Neptun Office)
what can you expect from us
Flexible working
hours
Fast career
development
Great
atmosphere
Modern
workplace
No dress code
zone
Chillout
zone
Tens of
benefits
International environment
This is your opportunity to join global organisation and shape the way we work with information security risk. In this role you would develop and support implementation of internal control framework, identify information security risks through assessments and monitor progress and effectiveness of remediation efforts.
Define IT Control requirements and follow-up on compliance
As our new IT Controls and Compliance Manager, you would be responsible for development and maintenance of the information security policies and standards followed by Information- and Cyber Security awareness training and evaluation campaign.
You will actively manage Segregation of Duties (SoD) conflicts in SAP, developing corresponding SoD ruleset and working with IT and business management to remediate SoD conflicts.You will also secure the implementation of Arla's data protection compliance programme with IT management as well as key vendors and ensure that effective monitoring is in place.
In your main area of responsibility will be:
Maintain and develop ruleset used to manage SoD conflicts in SAP
Liaise with the business to design and implement necessary process changes and mitigating controls to remediate existing SoD conflicts
Support design, implementation and evaluation of the Information Security and Data Privacy Control Frameworks
Perform information security and data privacy reviews of Arla Global IT, International IT and key IT suppliers and data processors
Support execution of external IT audit to help identify relevant information security issues and formulate effective and feasible remediation actions
Liaise with Arla partners to assess results of their audits and support prioritization of remediation actions
Define, maintain and support implementation of the information security and data privacy policies and standards
Support data security awareness programme and training activities
Data security experience and strong communication skills
Your strong personal impact enables you to engage and influence stakeholders at all levels of the organisation. Whether it be a colleague working with operational implementation or our general council, you are a trusted and valued partner who understands both technical and business requirements. This allows you to explain complex concepts to business colleagues and senior stakeholders in
a clear and concise manner that ensures buy-in.
To do so, you have:
More than 3 years of experience in information security risk management, audit or consulting position in a complex, international organisation,
Bachelor educational level,
One of the following qualifications: CISM, CRISC, CISA, CISSP, ESL would be an asset,
Experience in working with SAP GRC Access Control would be a plus.
Joining Arla you will gain among others:
Work in an international team
Friendly atmosphere & comfortable work place
Relocation package
Application and contact
If you want to seize this exciting opportunity, please apply as soon as possible. We process applications on a continuous basis and close the job opening once the right candidate has been found.

Find out your future workplace
Wyrażam zgodę na przetwarzanie moich danych osobowych zawartych w przesłanych przeze mnie dokumentach przez Arla Global Financial Services Centre spółkę z ograniczoną odpowiedzialnością, z siedzibą w Gdańsku (80-244) przy Al. Grunwaldzkiej 103A, w celach niezbędnych do realizacji procesu rekrutacji, przeprowadzonego przez Arla GFSC Sp. z o.o.
Klauzula informacyjna
Zgodnie z art.13 RODO, informuje się, iż Administratorem państwa danych osobowych, przetwarzanych w związku z prowadzonym procesem rekrutacji jest Arla GFSC Sp. z o.o. z siedzibą w Gdańsku (80-244) przy Al. Grunwaldzkiej 103A. Dane kontaktowe do Administratora w sprawie ochrony danych osobowych: [email protected] Dane osobowe przetwarzane są w celu realizacji projektu rekrutacji. Podstawą prawną przetwarzania danych osobowych jest przepis prawa (art. 22(1) k.p.) oraz zgoda (Art. 6 ust. 1 a RODO). Dane osobowe mogą być przekazywane (ujawniane) organom publicznym wyłącznie na mocy obowiązujących przepisów prawa. Dane osobowe mogą być ujawniane procesorom, czyli podmiotom przetwarzającym dane na zlecenie Administratora danych w toku procesu rekrutacji ze względu na wykorzystywane metody i narzędzia. Dane przechowywane będą w przypadku osób, z którymi zostanie zawarta umowa o pracę przez czas trwania umowy, a następnie w oparciu o obowiązujące przepisy prawa, natomiast dane osób, z którymi nie zostanie zawarta umowa o pracę przez okres 1 roku kalendarzowego, następnie dane zostaną zanonimizowane. Informuje się o następujących przysługujących prawach:
a. prawo wycofania zgody na przetwarzanie danych,
b. prawo dostępu do danych osobowych,
c. prawo żądania sprostowania danych osobowych,
d. prawo żądania usunięcia danych osobowych,
e. prawo żądania ograniczenia przetwarzania danych osobowych,
f. prawo do przenoszenia danych osobowych danych przetwarzanych na podstawie umowy lub na podstawie zgody (Kontakt do administratora: [email protected]).
g. prawo wycofania zgody co jednak nie ma wpływu na zgodność z prawem przetwarzania, przed jej wycofaniem,
h. prawo wniesienia skargi do organu nadzorczego. Organem nadzorczym jest Prezes Urzędu Ochrony Danych osobowych z siedzibą w Warszawie (00-193) przy ul. Stawki 2.
Podanie danych jest dobrowolne, jednak niezbędne do realizacji celów, do jakich będą zebrane. Informuje się, iż w procesie realizacji postanowień umowy nie występuje i nie są podejmowane decyzje w oparciu o zautomatyzowane profilowanie. Administrator danych nie przewiduje zmiany celu przetwarzania danych osobowych.
Pełną informację odnośnie przetwarzania Twoich danych osobowych znajdziesz tutaj.