IT Project Manager
Miquido Sp. z o.o. Sp.k.
więcej
IT Project Manager
Kraków, małopolskie

Ostatnia 1C

pokaż mapę

Kierownik

Pełny etat

02.08.2019

Ważna jeszcze 8 dni (do

01.09.2019)
Pracodawca ma prawo zakończyć rekrutację we wcześniejszym terminie.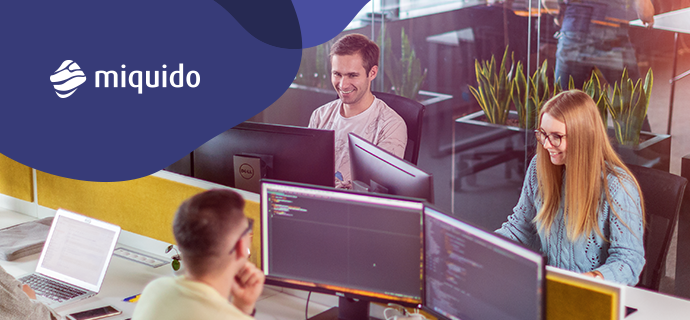 IT Project Manager
You + Miquido =
leading 1-3 project teams, which are developing top-notch complete software solutions (Mobile, Frontend, Backend, AWS, R&D, Design) for our customers
defining the requirements and user stories, together with the customer and the team
owning the project backlog, managing tasks estimation process
organizing daily teamwork, using Agile methodology
being people leader with 'no task too big, no task too small' approach (from administrative duties to career planning & feedback meetings)
being the main point of contact for the customer, presenting demos and status updates (some business travel might be involved), establishing smooth cooperation & great long-term relationship
combining the best of two worlds - business & technical, ensuring timely and successful project delivery
You can be the perfect match for us if you have:
2+ years of relevant Project Manager/Product Owner/Scrum Master experience in IT, most preferably in a software house environment
knowledge of the ins and outs of Agile methodologies, including awareness/practice of how to choose the best techniques for the specific team & project
deep understanding of the software development process - steps, risks, quality issues immaculate communication skills both in Polish and English and can easily adjust your communication, depending on who you are talking to (C1 level in English is a MUST)
proven track of successful cooperation with customers (preferably international)
people skills: are emphatic, but also can give constructive feedback, know how to keep the team's morale up and motivate co-workers, can negotiate and convince others
It can be love at first sight if you have also:
technical background and/or keen interest in new technologies & IT development
taken ownership of the project's budget before
used Jira and Confluence or another task management tool
What do we offer?
training budget
(3000 PLN per year)
flexible working hours and a possibility to work remotely from time to time
private health insurance, MyBenefit platform, subsidized MultiSport Card and other goodies
attractive salary: 8,400 – 11,800 PLN net b2b or 7,000 – 10,000 gross job contract
ambitious, creative, talented & highly experienced team
contributing to projects for clients all over the world
relocation package (4000 PLN gross)
support from and knowledge-sharing with the whole PM team (meetings, trainings)
free in-office English lessons with a native speaker
chillout room with table soccer, ping-pong, and PS4 Pro console
unforgettable company trips and bonding events






Your true story starts here
We reserve the right to reply only to selected applications.
According to article 13 of Regulation (EU) 2016/679 of the European Parliament and of the Council from 27 April 2016 on the protection of natural persons with regards to the processing of personal data and on the free movement of such data, and repealing Directive 95/46/EC (General Data Protection Regulation) Miquido Sp. z o.o. hereby informs that:
We value your trust in providing us your data, thus we are striving to use commercially acceptable means of protecting it. Below you will find the necessary information about the data we collect and process when you click the "Aplikuj teraz" button and send us your CV.
The controller of your personal data is Miquido Spółka z ograniczoną odpowiedzialnością sp. k. with its seat in Krakow, Zabłocie 43a, 30-701 Kraków, Poland ("Miquido", "We", "Our" or "Us").
In all cases regarding your personal data you can contact Us:
by mail – our address is Zabłocie 43a, 30-701 Kraków, Poland,
by phone - +48 570 881 123,
by e-mail: [email protected]
Personal data of Candidates
We will process your personal data that you submit in order to:
carry out the recruiting process you are taking part in now – on the grounds that such processing is necessary to take steps at your request prior entering into a contract with Miquido,
inform you of future job possibilities or contact you in the future and carry out other recruiting processes in the future – on the grounds of your consent,
exercise or defence of legal claims, whether in court proceedings or in an administrative or out-of-court procedure – on the grounds of Our legitimate interests as a data controller.
Your following personal data: name, surname, job position you are applying for, information on how you found Us, date and time of sending Us your request and all information that you provide us with by sending your CV or during recruitment process will be processed for the purposes indicated above. Your personal data may also be transferred only to our data processors that we cooperate with on the basis of a contract or other legal act or to other companies that are affiliated with Miquido (i.e. parent company of Miquido) on the grounds of Our legitimate interests as a data controller.
Your personal data will be kept:
from the day you submit them and up to the day we finish reviewing your application and give you feedback about the results of your submission, not later than the end of the recruiting process – in case you have not given us your consent to process it for further recruiting processes,
from the day you submit them and for the next 3 years or up to the day you withdraw your consent – in case you have given us your consent to process it for further processes,
from the end of each recruiting process you have taken part in and up to the day of the end of the limitation process of any of Our of your claims – solely for the exercise or defence of legal claims.
You have the right to:
access your personal data and to obtain the rectification of inaccurate data, deletion or restriction of processing,
in case when the legal basis of processing your data is Our legitimate interest as a data controller you have the right to object to processing of your personal data,
receive a copy of your personal data,
in case your personal data is processed on the basis of your consent you have the right to withdraw your consent at any time – this will not affect the lawfulness of processing based on consent before its withdrawal,
in case your personal data is processed on the basis of your consent you have the right to receive the personal data concerning you, which you have provided to Us, in a structured, commonly used and machine-readable format and have the right to transmit those data to another controller,
to lodge a complaint with a supervisory authority and to an effective judicial remedy.
In order to execute any of the abovementioned rights please contact Us in one of the ways indicated at the beginning of this document.
Providing your personal data is voluntary, but necessary in order to take part in any of the recruiting processes carried out by Miquido.
Pełną informację odnośnie przetwarzania Twoich danych osobowych znajdziesz tutaj.