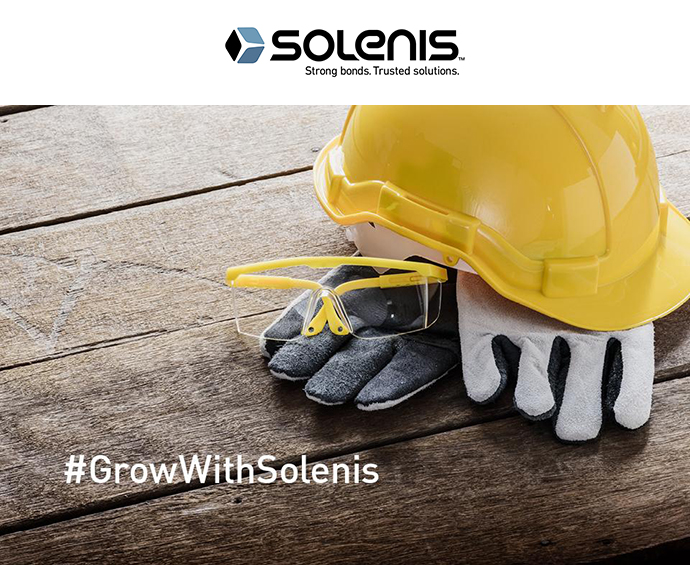 Solenis is a leading global producer of specialty chemicals for water-intensive industries, including the pulp, paper, oil and gas, chemical processing, mining, biorefining, power and municipal markets. The company's product portfolio includes a broad array of process, functional and water treatment chemistries as well as state-of-the-art monitoring and control systems. These technologies are used by customers to improve operational efficiencies, enhance product quality, protect plant assets and minimize environmental impact. Headquartered in Wilmington, Delaware, the company has 41 manufacturing facilities strategically located around the globe and employs a team of approximately 5,200 professionals in 120 countries across five continents. For additional information about Solenis, please visit
www.solenis.com
|
Twitter
.
Junior Controller (North-West Europe)
Miejsce pracy: Warszawa
86412

Job Description
We are currently looking for Junior Controller to our EMEA Controllers group region North-West.

Main responsibilities:
Manage local statutory reporting, including cooperation with auditors
Support Accounting Team and provide oversight of month end closing activities (US GAAP)
Support Tax Department in meeting tax requirements according to legally required timelines
Manage local statistical reporting
Identify country specific legal & statutory requirements (e.g. content, format, filing due dates, penalties)
Review monthly balance sheet reconciliations
Analyse fluctuations in P&L and BS
Effectively cooperate with other teams, such as Payroll, AP, Cash Application, VAT, Credit Control
Ensure process documentation is up to date
Strive to improve financial processes
Requirements:
3+ years of experience in audit or financial reporting
Fluency in English both written and spoken
Bachelor's degree in Finance, Accounting, or similar area
Professional level knowledge of accounting practices
Working knowledge of office applications such as Excel, Outlook and Word
Strong analytical skills
Very good communication skills
Personality: self-reliant, proactive, hands on mentality, team player, multi-tasking, able to work with deadlines under pressure
Nice to have:
Fluency in Dutch – written and spoken
Working knowledge of ERP systems (SAP preferred)
We offer:
Promising career path in a multinational environment
Competitive benefits package (Medicover, Multisport and more)
ACCA training
Flexible working arrangements
Nice atmosphere
Company meetings and events every few months
Fruits and massages in the office


Solenis is a leading global producer of specialty chemicals for water-intensive industries, including the pulp, paper, oil and gas, chemical processing, mining, biorefining, power and municipal markets. The company's product portfolio includes a broad array of process, functional and water treatment chemistries as well as state-of-the-art monitoring and control systems. These technologies are used by customers to improve operational efficiencies, enhance product quality, protect plant assets and minimize environmental impact. Headquartered in Wilmington, Delaware, the company has 41 manufacturing facilities strategically located around the globe and employs a team of approximately 5,200 professionals in 120 countries across five continents. For additional information about Solenis, please visit
www.solenis.com
|
Twitter
.
Junior Controller (North-West Europe)Numer ref.: 86412
Job Description
We are currently looking for Junior Controller to our EMEA Controllers group region North-West.

Main responsibilities:
Manage local statutory reporting, including cooperation with auditors
Support Accounting Team and provide oversight of month end closing activities (US GAAP)
Support Tax Department in meeting tax requirements according to legally required timelines
Manage local statistical reporting
Identify country specific legal & statutory requirements (e.g. content, format, filing due dates, penalties)
Review monthly balance sheet reconciliations
Analyse fluctuations in P&L and BS
Effectively cooperate with other teams, such as Payroll, AP, Cash Application, VAT, Credit Control
Ensure process documentation is up to date
Strive to improve financial processes
Requirements:
3+ years of experience in audit or financial reporting
Fluency in English both written and spoken
Bachelor's degree in Finance, Accounting, or similar area
Professional level knowledge of accounting practices
Working knowledge of office applications such as Excel, Outlook and Word
Strong analytical skills
Very good communication skills
Personality: self-reliant, proactive, hands on mentality, team player, multi-tasking, able to work with deadlines under pressure
Nice to have:
Fluency in Dutch – written and spoken
Working knowledge of ERP systems (SAP preferred)
We offer:
Promising career path in a multinational environment
Competitive benefits package (Medicover, Multisport and more)
ACCA training
Flexible working arrangements
Nice atmosphere
Company meetings and events every few months
Fruits and massages in the office
Ogłoszenie archiwalne