Junior HR systems specialist
DGS Poland Sp. z o.o.
więcej
Junior HR systems specialist
Szczecin, zachodniopomorskie

Specjalista

05.01.2019
Pracodawca ma prawo zakończyć rekrutację we wcześniejszym terminie.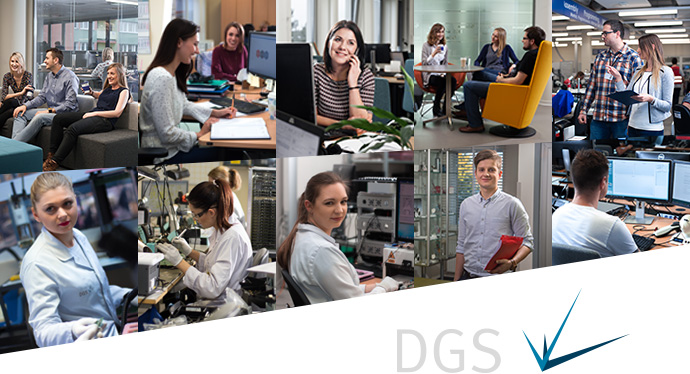 Junior HR systems specialist
DGS w Polsce funkcjonuje od 2007 roku. Początkowo firma działała pod nazwą Oticon Polska Production i wytwarzała aparaty słuchowe w zakładzie produkcyjnym w Mierzynie. W trakcie 10-letniej działalności firma rozwinęła nie tylko produkcję zaawansowanych technologicznie aparatów słuchowych i urządzeń diagnostycznych, ale także usługi IT, HR, rozwoju oprogramowania, zapewnienia jakości, finansów i logistyki. Ze względu na dynamiczny rozwój oraz kompetentną kadrę, w 2015 roku zdecydowano o utworzeniu nowej organizacji, która rozpoczęła świadczenie wspólnych usług dla firm należących do światowej grupy William Demant. Obecnie DGS w Polsce zatrudnia łącznie ponad 2 500 osób i wciąż rozszerza swoją działalność, poszukując nowych pracowników.
Stabilna umowa, świetne warunki do rozwoju kariery zawodowej i przyjazna atmosfera.
To podstawa. Ale to nie wszystko – oferujemy dużo więcej.

Prywatna opieka medyczna

Domki letniskowe w Danii

Bezpłatne autobusy
Bilety do kina
Imprezy firmowe
Parking samochodowy i rowerowy

Stołówka firmowa

Karta sportowa i siłownia
As a Junior HR Systems Specialist you will help support the ongoing implementation, administration, and further development of the cloud application SuccessFactors in William Demant Holding (WDH) companies globally. You will be part of a local HR team in Szczecin and will also interact regularly with our HR team in Denmark as well as our SuccessFactors implementation partner and the system vendor (SAP). You will support HR administrators, super users, personnel managers, and general system users by investigating and resolving system-related questions and issues. You will be expected to develop and maintain a high level of expertise in multiple SuccessFactors modules, including (but not limited to) Employee Central; Performance and Goal Management; Learning Management; and Recruitment.
Job Duties:
Perform 1st/2nd line support, managing requests within IT service desk system: investigate and resolve issues and/or assign to appropriate support staff; ensure sure timely contact with stakeholders and resolution of issues
Interact with and support superuser community globally, providing problem resolution and training as needed
Develop knowledge/expertise in different SuccessFactors modules and functionalities for purpose of primary and/or backup task responsibility
Work with product vendor and implementation partner to complete change requests, problem resolution, system upgrades and/or ongoing maintenance
Provide support as needed for ongoing implementation and development projects
Support IT requirements for change and release management processes
Collaborate and share knowledge regularly with local work team as well as HR counterparts abroad
Required Experience, Skills & Education
Prior experience providing 1st-2nd level support for an IT or HRIS application
Preferred: experience working with SuccessFactors or similar HR cloud system
Effortless communication in English (written and verbal)
Microsoft Office, including MS Excel and/or Access. Data analysis and analytical skills will be considered an advantage but not required
Educated at Bachelor or Masters level in IT, Business Administration, or other relevant discipline
In addition to the above requirements, we are searching for a candidate who:
Likes working in a team environment
Is self-driven, proactive and focused on continuous improvement
Is customer service oriented;
Analytical, likes to troubleshoot and solve issues
Is interested in HR processes
Is available for travel to Denmark occasionally (estimated 15 days per year)
Job offer located in Szczecin
We look forward to hearing from you!
Dowiedz się więcej – kliknij na "Aplikuj teraz"
---
Oferty z dopisaną klauzulą: Zgodnie z Ustawą o Ochronie Danych Osobowych z dnia 29.08.1997 r. (Dz. U. nr 101, poz. 926) wyrażam zgodę na przetwarzanie moich danych osobowych zawartych w ofercie dla procesu rekrutacji w DGS Polska Sp. z .o.o., prosimy przesyłać za pomocą przycisku "Aplikuj".
Uprzejmie informujemy, że nadesłanych dokumentów nie zwracamy. Jednocześnie zastrzegamy sobie możliwość do kontaktu tylko z wybranymi kandydatami.