Learning Coordinator
Capita (Polska) Sp. z o.o.
więcej
Learning Coordinator
Kraków, małopolskie

Kierownik

13.06.2019
Pracodawca ma prawo zakończyć rekrutację we wcześniejszym terminie.

Capita is a leading business services provider with over 70,000 employees, operating in the UK, Europe, India and South Africa. Capita Polska supports clients across a range of sectors, including education, transport, health, life and pensions, insurance, and other private and public sector organisations. Recognised as most dynamically developing BPO in Poland, awarded by Outsourcing Stars and CEE Awards.


We are currently looking for talented individuals to grow with our team at the position of:
Learning Coordinator
Workplace: Kraków
Department: Capita Learning Services

Capita Learning Services provide a range of training and development services, including managed learning solutions, e-learning packages, coaching and mentoring services, which are designed to provide measurable business performance benefits to our clients and their staff.
Responsibilities:
Working with a team of other Learning Coordinators, who are focused on delivering market-leading levels of customer service.
Working with Capita Learning Services' prestigious client bases, which includes many internationally recognised brands.
Working closely with our UK operations to support in the delivery of complex training programmes.
Providing advice and guidance to our Clients in relation to their learning and training needs.
Providing support, via email and phone, to our Clients with the day to day management of various learning activities.
Supporting our Clients in booking training and other learning & development activities.
Sourcing suitable solutions to meet our Client's learning and development requirements, via our network of approved suppliers.
Liaising with our suppliers to ensure the successful delivery of services to our clients.
Maintaining and managing personal workload effectively to achieve all targets.
Supporting any other business tasks that may be required.
Requirements:
Have experience of working with customers in English
Have excellent English skills (oral and written)
Have strong communication skills
Understand and take pride in delivering great customer service.
Are proactive, with strong multi-tasking and prioritisation skills. Hold a university degree.
Are able to work in line with our rotating shift patterns:
Option 1 – Client from the United States:
Monday to Friday - 09:00 till 17:00
Monday to Friday - 16:00 till 00:00 (Out of Hours Payment and Taxi provided)
Option 2 – Clients from the United Kingdom:
Monday to Friday - 09:00 till 17:00
Monday to Friday - 10:00 till 18:00
Monday to Friday - 11:00 till 19:00
Benefits:
A fantastic opportunity to work with a number of well-known brands. These include UK-based public-sector organisations, key players within the motoring industry, banks and many other organisations that are household names
An opportunity to develop your skills by working in a truly multinational and multicultural team
True work-life balance (8-hour workday with a 30-minute lunch break included)
Great atmosphere
Work place in the city centre at Lubicz 23 – about 2,500 paces from the main square
Diversity - we support a wide variety of industries, customers, projects and geographies - thus, you have many options to choose from
Access to free in-house English classes, with our dedicated English Trainer
Social activities after work – you can find something for yourself
Opportunity to become one of the internal Trainers
A multinational environment, with strong ties to UK business culture
LuxMed medical healthcare
Multisport Plus or Classic and MultiKafeteria benefit systems
Free Fruit Mondays

If this sounds like you, please send your CV
via Apply now button below.
By clicking on the relevant "Apply" or "Apply now" button or by submitting your application to Capita (Polska) Sp. z o.o. (employer and data controller) by other means, you allow the Employer to process your personal data included in the application for the purpose of conducting a recruitment process for the position indicated in the advertisement.


If you would like us to retain your CV on file, please make sure that your CV contains the following consent:


I hereby give my consent to the processing of my personal information by Capita (Polska) Sp. z o.o. with its registered seat at ul. Lubicz 23, 31-503 Kraków, as a data controller for the purpose of future recruitment processes for a period of 12 months from the date of sending my CV. I am aware of the possibility to withdraw my consent at any time and that the withdrawal does not affect the legitimacy of the processing that was conducted prior to the withdrawal.


The data controller of your personal data is Capita (Polska) Sp. z o.o. with its registered seat at ul. Lubicz 23; You may contact the data protection officer at the following email address:
[email protected]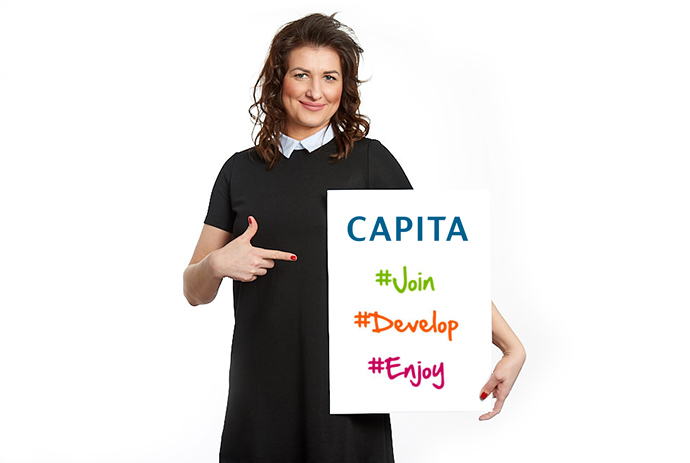 What is the purpose of and basis for our processing of your data?
Your personal information will be processed for the purpose of conducting the recruitment process in order to assess the qualifications, aptitudes and abilities required for the position for which you have applied and/or future recruitment processes on the basis of your voluntary consents expressed by yourself in the CV provided.
Your personal data will be transferred to recipients participating in the recruitment and employment process, i.e. to companies handling the legalisation of residence/ employment, providing occupational health and safety training services, HR and payroll services, as well as to companies related to Capita Group. Your personal information will not be transferred to any third country, i.e. outside the European Economic Area (EEA) or an international organisation.
What is the basis for processing your personal data?
A provision of law (Art. 221 par. 1 of the Labour Code) and the processing necessary for the conclusion of an employment agreement – in terms of the following data: name and surname; parents' names; date of birth; place of residence (correspondence address); education; employment record to date.
Your consent to process the data provided on the CV and in the cover letter in case you are providing us with data other than: name and surname; parents' names; date of birth; place of residence (correspondence address); education; employment record to date.
Our legitimate interest – in terms of data collected during the interview as well as results of the qualification tests. We have a legitimate interest in verifying your abilities and aptitudes – we require this to assess whether you are a suitable person for the post in question.
For how long will your personal data be stored from the day of sending your CV?
for a period of 6 months if you give your consent to the processing of your personal data in the current recruitment process for which you applied,
for a period of 12 months if you give your consent to the processing of your personal data for the purpose of future recruitment processes.
What are your rights?
You have the right to access the content of your data as well as the right to rectify the data, delete them, restrict their processing, the right to transfer the data, to object to their processing, and to withdraw the consent at any time without affecting the lawfulness of the data processing;
You have the right to file a complaint to the supervisory authority GIODO/the Inspector General for Personal Data Protection if you believe that the processing of the personal information concerning yourself breaches the provisions of the General Data Protection Regulation of the 27th of April 2016.
The provision of your personal data and the consent to process the personal data is a condition to participate in recruitment processes conducted by Capita (Polska) Sp. z o.o. The failure to provide the personal information will result in the lack of possibility to consider your application in recruitment processes.
Your personal information will not be processed in an automatised manner nor in a profiling form.