Local Product Owner
Nokia Networks
więcej
Local Product Owner
Kraków, małopolskie

Specjalista

14.06.2018
Pracodawca ma prawo zakończyć rekrutację we wcześniejszym terminie.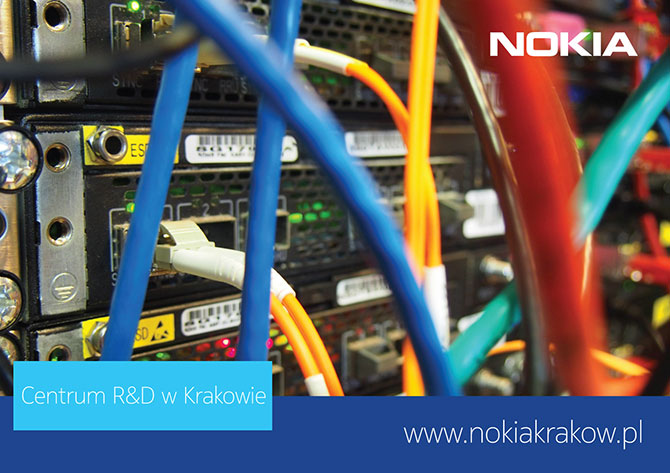 Local Product Owner
Miejsce pracy: Kraków
Nokia invests in technologies important in a world where billions of devices are connected. We are focused on three businesses: network infrastructure software, hardware and services, which we offer through Nokia Networks; and advanced technology development and licensing, which we pursue through Nokia Technologies. Each of these businesses is a leader in its respective field
Our Nokia Networks business is the world's specialist in mobile broadband. From the first ever call on GSM, to the first call on LTE, we operate at the forefront of each generation of mobile technology. Our global experts invent the new capabilities our customers need in their networks. We provide the world's most efficient mobile networks, the intelligence to maximize the value of those networks, and the services to make it all work seamlessly.
Nokia European Software & Engineering Center hires dedicated, enthusiastic and passionate people, who create the largest ITC R&D in Poland. Apply and experience the adventure of a lifetime!!!
Position Description:
Fulfillment of the Product Owner role for the Feature Teams Cluster consisting of up to 4 Feature Teams with Requirements Specification, Development and Entity Testing competencies

Maintaining and prioritizing the Feature Teams Cluster backlog in order to maximize the return of investment and mitigate potential risks

Preparation to and participation in the key meetings requiring Product Owner's attendance (Sprint Review, Sprint Planning, Product Backlog Refinements)

Taking responsibility for the planning and reporting of the status of features allocated to the Feature Team Cluster as required by the Nokia LTE R&D Way of Working

Fulfillment of the role of a Leading Local Product Owner across the whole LTE R&D organization for features led by the Development Site Krakow that are allocated to the Feature Team Cluster

Work in close alignment with other key technical and non-technical roles for features led by the Development Site Krakow that are delivered by the Feature Team Cluster

Providing additional information on features delivered by the Feature Team Cluster to the Head of Development Site Krakow, Program and Product Management

Joint work with the Area Product Owner and Local Product Owners on prioritization of the overall Development Site Krakow backlog, maximizing the return of investment and mitigating risks for features allocated to the site in ongoing Programs as well as initial planning of features and Feature Team Cluster organization in future Programs

Occasionally, taking responsibility for specific aspect of work that is applicable to all Development Site Krakow Feature Teams like for example bringing support for a new hardware platform

Position is located in Krakow and remote work is not possible due to daily interactions with local teams

Copyright work pay 60% ("Tax Break" program)
Position Requirements:
At least 3 years of work experience in large scale Research & Development of Embedded Systems software

Previous work on the Cellular Network Base Station (BTS) software and / or knowledge of the LTE eNB / E-UTRAN domain will be considered as significant advantages

Good knowledge of one of the following 2 main areas coming from at least 2 years of actual work experience

Knowledge of the Scrum framework and principles based on either

Work as a Specification Engineer, Developer or Tester in a Scrum / Feature Team

Work in one of cross Scrum / Feature Teams roles (Scrum Master, Product Owner, Line Manager, etc.)

Project Management experience coming from leading large scale R&D Software projects

Excellent communication and collaboration skills

Sense of ownership for the assigned work

Motivation to drive end to end feature development across organizational boundaries

Strong time management skills and flexibility necessary to accommodate periodic bursts of increased workload
What we offer:
an opportunity to develop the cutting edge technologies defining the future of mobile networks.
an experience of working with international teams from all over the world.
competitive salary & bonuses, medical care for you and family, life insurance, lunch cards and more...

If you are interested in this job offer send your CV in English using the link below:
Looking for other opportunities? Visit our career portal:
Please add to attached documents the following clause:
"Oświadczam, że wyrażam zgodę na przetwarzanie danych osobowych zawartych w mojej ofercie pracy dla potrzeb przyszłych procesów rekrutacji Nokia Solutions and Networks Sp. z o.o. z siedzibą w Warszawie przy ul. Domaniewskiej 39A (zgodnie z ustawą z dnia 29.08.1997 r. O Ochronie Danych Osobowych, Dz. Ustaw nr 133 poz. 883 z późn. zm.)".
"I hereby authorize Nokia Solutions and Networks, located in Warsaw 02-672, ul. Domaniewska 39a, to process the attached personal information strictly for the purposes of job recruitment pursuant to the Personal Data Protection Act of 29 August 1997 (Journal of Laws (Dz.U.) No. 133, item 883)."
We will contact only with selected candidates.