Logistics Operations Specialist with English and French
Kuehne+Nagel Sp. z o.o.
więcej
Logistics Operations Specialist with English and French
Bielany Wrocławskie (pow. wrocławski), dolnośląskie

Specjalista

08.08.2018
Pracodawca ma prawo zakończyć rekrutację we wcześniejszym terminie.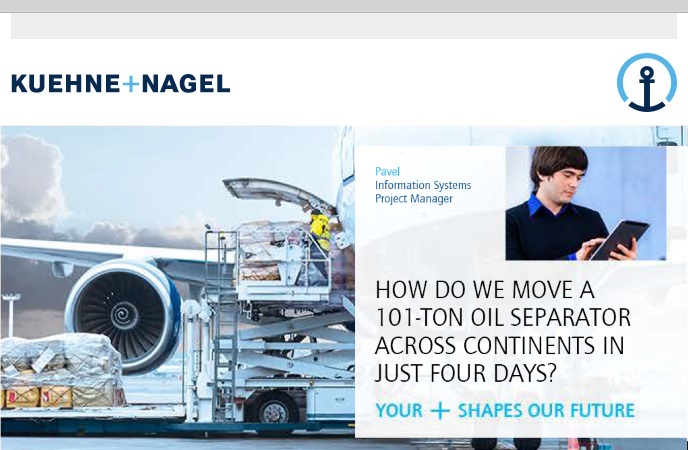 Logistics Operations Specialist with English and French
Bielany Wrocławskie (pow. wrocławski)

Mission
The person on this position will be responsible for complex customer service in the international shipments. This job is perfect opportunity learn about specific aspects of working in the seafreight, airfreight, and overland businesses for leading logistics operator that is Kuehne+Nagel company.
Your duties and responsibilities
+ determination of procedure and conditions of transport orders
+ planning international shipments for the clients of the Centre of Logistics services
+ arrangement and supervision of implementation of shipment services
+ arrangement of professional consultations in matters of shipment services for the Clients
+ complex customer service in the international shipments (determination of the terms of the transportation process; coordination and monitoring of shipment processes ordered by the Clients; current and effective solving of the problems regarding shipments/delays, crisis situations, failures, taking care of high standard of implemented transport services/no complaints from the client)
+ monitoring of the quality of the services provided by subcontractors
+ optimization of the processes related to transport arrangement
Your experience and skills
+ very good knowledge of English and French language
+ working experience in similar position or in Customer Service
+ client oriented approach with emphasis on his needs
+ proactive behavior
+ very good knowledge of MS Office
+ perfect work organization
+ ability to work under pressure of time, ability to manage stressful situations
+ analytical skills
+ initiative
+ propriety
What we offer
Kuehne+Nagel is a large, stable company with an international environment that offers a perspective of self development and professional career. You will find here good working atmosphere in dynamic team consisting of specialists and possibility to gain experience in logistics field.


In the Kuehne + Nagel we believe in people and their passions. We are heavily focused on development of our employees and supporting them in achieving extraordinary goals. We know no limits – we are operating from the ground, on the water and in the air… Your + shapes our future.

Administratorem danych osobowych jest spółka Kuehne+Nagel Sp. z o.o. z siedzibą w Gądki 62-023, ul. Spedycyjna 1.
Dane kontaktowe inspektora ochrony danych: [email protected]
Dane zbierane są dla potrzeb obecnej rekrutacji, a w przypadku wyrażenia przez Panią/Pana wyraźnej i dobrowolnej zgody również na potrzeby przyszłych rekrutacji.
Podanie danych w zakresie określonym przepisami ustawy z dnia 26 czerwca 1974 r. Kodeks pracy oraz aktów wykonawczych jest dobrowolne, ale konieczne do przeprowadzenia rekrutacji. Podanie dodatkowych danych osobowych jest dobrowolne i wymaga Pani/Pana wyraźnej zgody.
Przysługuje Pani/Panu prawo do wycofania zgody w dowolnym momencie, przy czym cofnięcie zgody nie ma wpływu na zgodność przetwarzania, którego dokonano na jej podstawie przed cofnięciem zgody. Dane osobowe będą przetwarzane aż do ewentualnego wycofania przez Panią/Pana zgody na przetwarzanie danych w procesie rekrutacji, nie dłużej jednak niż do zakończenia rekrutacji, w której bierze Pani/Pan udział.
Posiada Pani/Pan prawo dostępu do swoich danych osobowych, ich sprostowania, usunięcia lub ograniczenia przetwarzania, prawo do przenoszenia danych oraz prawo wniesienia skargi do organu nadzorczego.