Logistics Service Manager
Action Poland Sp. z o.o.
więcej
Logistics Service Manager
Osła (pow. bolesławiecki), dolnośląskie

Kierownik

17.09.2018
Pracodawca ma prawo zakończyć rekrutację we wcześniejszym terminie.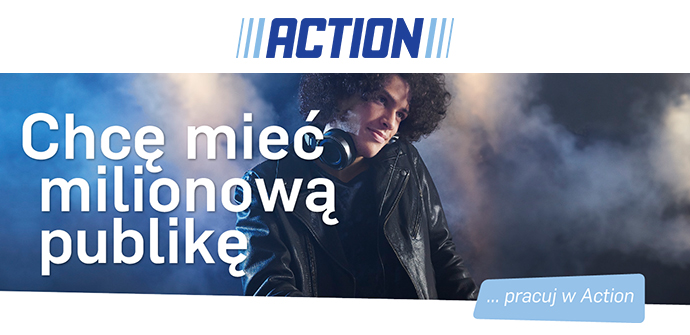 Action przyciąga do swoich sklepów w całej Europie miliony klientów. A ich liczba nieustannie rośnie. To doskonała szansa, by pokazać na co Cię stać.


Action to szybko rozwijający się międzynarodowy dyskont z produktami niespożywczymi, w którym zatrudnionych jest już 35 000 pracowników w ponad 900 sklepach w Holandii, Belgii, Niemczech, Francji, Luksemburgu, Austrii, a teraz również w Polsce.


Oferta Action obejmuje ponad 6000 różnych produktów, głównie niespożywczych. Wciąż staramy się zaskakiwać klientów różnorodnym i zmiennym asortymentem, przy zachowaniu bardzo dobrego stosunku ceny do jakości. Właśnie to było celem założycieli w 1993 roku i tak samo jest do dnia dzisiejszego.


Nasi ludzie to nasza największa siła, a my wierzymy, że stwarzanie dobrych warunków pracy leży u podstaw sukcesu Action. Oznacza to budowanie silnej kultury organizacyjnej. Niezależnie od roli, jaką pełnisz w organizacji, masz swój udział w rozwoju Action i doświadczeniach naszych klientów. To właśnie obietnica, jaką składamy i Tobie. Nasz sukces jest przedłużeniem Twojego sukcesu.


Ale Action to coś więcej niż produkty na półkach, wspaniali ludzie, którzy obsługują naszych klientów i siła nabywcza europejskiego giganta sprzedaży detalicznej… co tak naprawdę robimy? To bardzo proste: oferujemy naszym klientom więcej niż oczekują za mniej niż się spodziewają.


Chcesz mieć milionową publikę? Jesteś osobą z inicjatywą, a satysfakcję klientów stawiasz na pierwszym miejscu? Dołącz już dziś do zespołu Action na stanowisku:
Logistics Service Manager
Miejsce pracy: Osła (pow. bolesławiecki)
Wymiar czasu pracy: pełen etat

Purpose
The Logistics Service Manager monitors the Logistic Service Provider (LSP) and supports the incorporation of the Action way of working in order to optimize the performance of the DC and to ensure contractual commitments with the LSP in the outsourced DC.
Monitors efficient and standardized operations in the DC by the LSP, thus ensuring European transport to stores and inter-DCs are delivered at low cost and for the best quality and service.
Responsibilities
Contract and Relation Management
Ensures that key performance indicators agreed with the LSP are met.
Ensures that LSP delivers their services according to the Action way of working.
Monitors and drives the LSP to deliver efficient warehousing and transport operations, delivering on time to stores and inter DCs as agreed upon in the SLA.
Ensures that Action is fulfilling its part of the contract to support the execution of the LSP.
Manages the relationship and effective way of working between the LSP and the internal Action organization.
Operational Management DC
Monitors, evaluates and reports on budget of the DC and other financial parameters
Approves monthly invoicing in line with contractual agreement and assesses, approves and challenges extra cost or investment as appropriate.
Ensures timely and effective communication to the stores.
Ensures Action property and equipment is in full working order and managed appropriately.
Build and maintain a local network of relevant partners for on-site services such as material handling equipment and waste management.
Ensures compliance to labor/environment/safety legislation and regulations.
Project Management
Monitors and delivers business process improvements and procedures for logistic operations in line with process improvements of all distribution centers' process improvements.
Issues priorities and adjust planning in case of incidents. If necessary escalates these to the Manager Logistics Region.
Ensures sufficient and capable resources (own department as well as other disciplines) to realize the projects in the most effective manner.
People Management
Clearly steers a team (consisting of the Process Management Employee; Logistic Services Support Employee, and Quality Control Officer), takes the lead, gives clear working instructions, plans employees and activities in such a manner that targets are successfully met.
Position requirements
Educational level at Master or Bachelor's degree in Logistics combination with at least 8 years of relevant working experience and 3 years of management experience.
Experience in the industry or retail branch and an international environment is preferable.
Excellent business level English.
SAP knowledge in WMS
Actively involved in the international organization.
Is willing to travel to different work locations depending on requirements.
Makes proposals for efficient and effective working methods with the least possible complexity and implements these.
Demonstrates a high level of pragmatism.
Is very organized, is able to structure activities and projects, sticks to agreements within deadlines and according to guidelines.
Works efficiently and effectively, also when under time pressure.
Works effectively with others to achieve common targets.
Has excellent influencing skills to effectively manage the team and the relationship with the LSP
We provide you the following remuneration
A competitive salary
Comprehensive Luxmed package
Employee discount for purchases at Action
Personal development
As Action is evolving and expanding rapidly throughout Europe, our teams are growing at the same pace and there will be multiple opportunities for personal growth in the future.
Action will yearly open new Distribution Centers internationally. This rapid growth makes us a successful organization, continuously expanding in scale. Your responsibilities on an international basis in the Supply Chain will increase accordingly. Not only does Action grow, but you will also have numerous possibilities to grow and develop yourself at our company.
We invite you to apply only via CV in English.

Zastrzegamy sobie prawo do kontaktu z wybranymi Kandydatami. Prosimy także o dopisanie następującej klauzuli: "Wyrażam zgodę na przetwarzanie moich danych osobowych zawartych w mojej ofercie pracy dla potrzeb niezbędnych do realizacji procesu rekrutacji zgodnie z ustawą z dnia 29 sierpnia 1997 r. o ochronie danych osobowych (Dz. U. z 2002 r. Nr 101, poz. 926, ze zm.)".