Manager Fulfillment Center Process Stability
zooplus Polska Sp. z o.o.
więcej
Manager Fulfillment Center Process Stability
Krosno Odrzańskie, Zielona Góra, lubuskie

pokaż mapę

Kierownik

18.09.2018
Pracodawca ma prawo zakończyć rekrutację we wcześniejszym terminie.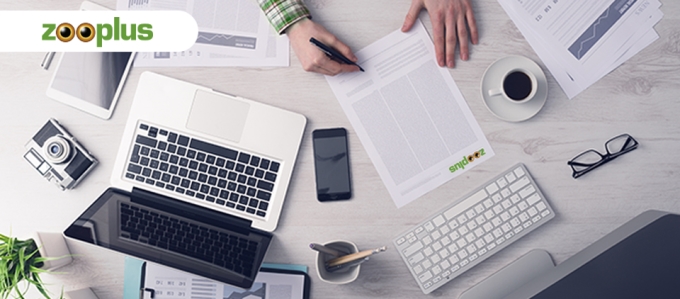 Number 1 in Europe!
zooplus AG was founded in Munich in 1999 and today it is Europe's leading online retailer of pet supplies. The sales reached EUR 1,111 million in the 2017 financial year with 22% annual sales growth. The company's business model has been launched successfully in 30 European countries. That is all possible due to highly autonomous teams, flat organization structure and constant strive for using cutting-edge technologies. Based on the continued vigorous growth anticipated in the European e-commerce market, zooplus expects its dynamic performance to continue.
Our employees are the key to our success!
The zooplus team currently consists over 650 interdisciplinary specialist and managers from more than 30 countries who work at 13 international sites in the Sales & Marketing, IT, Operations and Administration departments. So we can remain successful against our competitors in the future too, we are looking for individuals who can develop our business and help create a positive corporate culture by not only demonstrating versatile professional and methodological expertise, but also by showing a passion for performance, analysis and a solution-based approach. This includes dealing with rapid changes, intensive networking and an in-depth understanding of technology, the digital market and the business model's value-added chain.
Manager Fulfillment Center Process Stability
Workplace: Krosno Odrzańskie

Job description
manage relationship and liaison between Management logistics service provider and zooplus
monitoring the performance, KPIs and supplier reports of our service provider and leading corrective actions
analyzing service levels and cost
drive Continuous improvement of warehouse processes in cooperation with the logistics service providers
managing and developing a team of logistics ambassadors/ team leads
end-to-end responsibility as subject-matter expert for FC network related processes

develop standards, request and support design metrics, KPIs, tools and dashboards
train other FC managers on the processes
lead processes related regular metrics reviews and benchmarking with all FC managers

support new FC launches
close cooperation with headquarter and cross-functional teams across Europe.
drive zooplus quality expectations and quality standards together with our external Logistics-Service-Provider
controlling and improving material flow processes
contributing in the development of new processes, continuous improvement projects and standardisation and implemention of them
responsible for inventory levels of consumables and optimize them, monitor the delivery times
direct reporting to the Regional Manager Fulfillment
Requirements
degree in economics or engeneering with logistics/ SCM specialization or comparable education
profound methodological competence in the areas of process and material flow analysis respectively intralogistics
analytical, process oriented and data driven Excel proficient
knowledge of logistical and administrative processes and systems
hands on mentality and willingness to take on ownership
high mobility, willing to travel
self starter and result-oriented work attitude
excellent in English language spoken & written; German preferable
excellent communication skills and stress resistance
strong in the areas of planning and organizing and good knowledge from the standard MS Office programs
at least 5 years working experience in 3rd party logistics on provider and/or customer side (e-commerce/ B2C preferred) or experience leading as site leader of a warehouse
What we are offering you
Become a part of our success story and seize the opportunity to take on a real challenge in a dynamically growing company where there is huge scope for development and short decision-making processes. We are offering you a versatile, international-facing role in our motivated team with colleagues from all over Europe.
4 extra days off
Mobile phone
Training budget
Language courses
Multisport
Medical care
Discount in zooplus shop
Flexible working hours
Prosimy o upewnienie się, że przesyłany przez Państwa dokument aplikacyjny zawiera tylko takie informacje, które mogą być istotne w kontekście zatrudnienia.
Prosimy o dodanie następującej klauzuli:
Potwierdzam zapoznanie się z informacją o przetwarzaniu danych osobowych kandydatów do pracy wskazaną w ogłoszeniu o pracę dotyczące stanowiska, na które aplikuję. Wyrażam zgodę na przetwarzanie moich danych osobowych, zawartych w przesłanych przeze mnie dokumencie aplikacyjnym, przez zooplus Polska sp. z o.o. z siedzibą w Krakowie (30-002), Ul. Prądnicka 6a, dla potrzeb niezbędnych do realizacji procesu rekrutacji. Mam prawo wycofać udzieloną zgodę w dowolnym momencie. Cofnięcie zgody nie wpłynie na zgodność z prawem przetwarzania, którego dokonano na podstawie takiej zgody przed jej cofnięciem.
Informacja o przetwarzaniu danych osobowych kandydatów do pracy jest dostępna:
Obowiązek informacyjny
Administratorem danych jest zooplus Polska Sp. z o. o. z siedzibą w Krakowie przy ul. Prądnickiej 20a, 30-002, NIP: 6772370361, REGON: 122628617;
Administrator danych w celu należytej ochrony danych osobowych wyznaczył Inspektora Ochrony Danych, z którym można się skontaktować pod adresem e-mail: [email protected];
Dane osobowe będą przetwarzane wyłącznie w celu realizacji procesu rekrutacyjnego. Podstawą prawną przetwarzania danych jest uprawnienia do żądania danych niezbędnych do podjęcia działań przed zawarciem umowy w zakresie wskazanym w art. 22 1 kodeksu pracy, a w pozostałym zakresie zgoda na przetwarzanie danych osobowych, która w każdym czasie może być odwołana;
Odbiorcami danych osobowych Pracownika będą: zooplus Polska Sp. z o.o. i zooplus AG
Dane osobowe będą przechowywane przez okres 6 miesięcy od zakończenia procesu rekrutacyjnego;
Ma Pan/Pani prawo do:

dostępu do treści swoich danych oraz ich sprostowania, usunięcia lub ograniczenia przetwarzania,
wniesienia sprzeciwu wobec przetwarzania,
przenoszenia danych,
cofnięcia zgody na przetwarzanie danych w dowolnym momencie,
wniesienia skargi do Urzędu Ochrony Danych Osobowych, gdy uzna Pani/Pan, iż przetwarzanie danych osobowych Pani/Pana dotyczących narusza przepisy ogólnego rozporządzenia o ochronie danych osobowych z dnia 27 kwietnia 2016 r. (Dz.U. Dz.U.UE.L.2016.119.1).

Podanie danych osobowych jest dobrowolne, jednocześnie niepodanie informacji wskazanych w art. 221 § 1 Kodeksu pracy spowoduje, iż otrzymane dokumenty aplikacyjne kandydatów do pracy nie będą przez Administratora danych rozpatrywane.
Pełną informację odnośnie przetwarzania Twoich danych osobowych znajdziesz tutaj.