Manager - Global Account Finance Advisor
EY Global Delivery Services
więcej
Manager - Global Account Finance Advisor
Wrocław, dolnośląskie

Kierownik

2017-10-20
Pracodawca ma prawo zakończyć rekrutację we wcześniejszym terminie.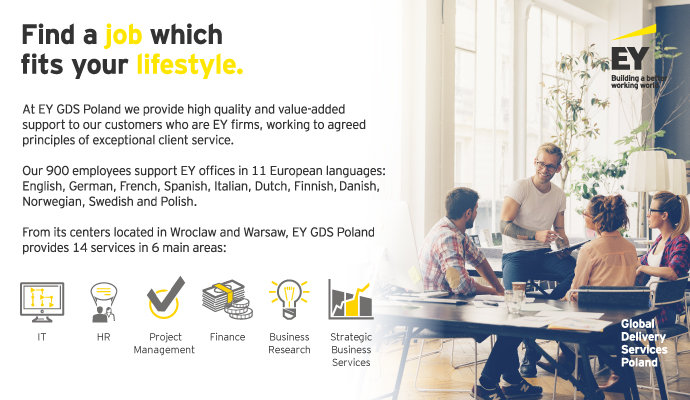 Manager, Global Account Finance Advisor
Workplace: Wrocław
Ref no: WRO001BM

Job summary:
The Global Account Finance Advisor is a finance professional with robust knowledge and experience that is dedicated to one or more of the most complex global accounts serviced by EY. The Global Account Finance Advisor will provide insight into the account's global financial performance as well as forward thinking modeling and advice to support financial decisions. Additionally, the Global Account Finance Advisor will introduce implementation frameworks for key financial processes in order to optimize global performance while providing a clear view of the account performance to account, regional and finance management teams.
Essential functions of the job:
Financial planning and performance:
Deliver margin modeling and advice to support account strategy plans. Continually measure success.
Advise on, model and ensure stretching and achievable targets in the annual revenue plan, ensure effective ownership across leadership.
Advise on performance and forecast expectations against plan throughout the year, deliver insights and recommendations to achieve optimal financial performance.
Validate quality of financial data.
Margin optimization:
Model and advise on where to improve margin, agree on targets for improvement, continually measure success.
Set, socialize and promote adherence to framework to manage and maximize margin across all engagements.
Analyze margin performance throughout the year, make recommendations for optimization.
Provide robust margin modeling in support of largest and most complex pursuits.
Analyze engagement margin drivers and collaborate to course correct or maximize results.
Contract Management:
Set and socialize framework to apply MSA/rate cards and other client procurement requirements for the best margin outcome across all engagements.
Support largest and most complex pursuits and engagements to apply MSA/rate card and other client procurement requirements for the best margin outcome.
MSA/Rate Card Development:
Advise on and deliver margin modeling to support negotiation and decision making.
Account revenue planning:
Facilitate and develop plan and secure ownership with key stakeholders.
Account client and engagement set up:
Set, socialize and advise on framework to be applied across all engagements.
Working Capital Management:
Constantly analyze and advise on potential inventory exposure and risk which might impact margin.
Knowledge Share and Development:
Work with G360 finance community, share policies, expertise, ideas and successes. Bring leading practices to own accounts.
Client centric business focused reporting:
Leverage global leading practice and support on reporting, and on all other account and engagement processes for the benefit of own accounts.
Analytical/Decision Making Responsibilities:
Strong analytical skills are essential for the Global Account Finance Advisor role. Common areas where the Global Account Finance Advisor would apply these skills are:
Analysing large quantities of data in order to form and communicate a crisp view of the global account performance landscape.
Continuously advising the account leadership team on expected financial performance vs. plan based upon analytics such as trend analysis and modelling of forward looking scenarios.
Providing financial modelling and advice to support pricing decisions.
Analysis of cause and effect correlations.
Developing financial forecast scenarios for account performance based on information such as sales pipeline, resourcing, etc.
Assessing the drivers of financial results with constant focus on improvement and rapid course correction where necessary.
Requirements:
Bachelor's degree (or equivalent based on local country) in accounting, finance, business administration, or equivalent experience preferred
7+ years of experience in a professional atmosphere in a finance/business capacity with at least 3 years of supervisory, forecasting and budgeting experience
Very good command of English
Highly effective at virtual teaming
Able to prioritise workload and deliver outputs within strict deadlines with minimum supervision
Understands the financial and commercial drivers of portfolio performance ie understand the price to value of the work being performed, how the external marketplace affects the price and therefore the internal leverage needed to optimise margin
Demonstrates skills required to be able to analyse and interpret data and spot where there is greatest financial opportunity and risk
Understands the value of modelling margin and structuring the largest and most complex engagements and tailoring knowledge to the specific needs of an individual pursuit or engagement
Able to absorb and advocate to key stakeholders guidelines and policies
Demonstrates high degree of interest in gaining a strong knowledge of the business ie Service Line, geography and industry requirements
Excellent questioning, commercial and listening skills