Manual Tester
SII Sp. z o.o.
więcej
Manual Tester
Gdańsk, pomorskie

Specjalista

Pełny etat

09.08.2019

Ważna jeszcze 17 dni (do

08.09.2019)
Pracodawca ma prawo zakończyć rekrutację we wcześniejszym terminie.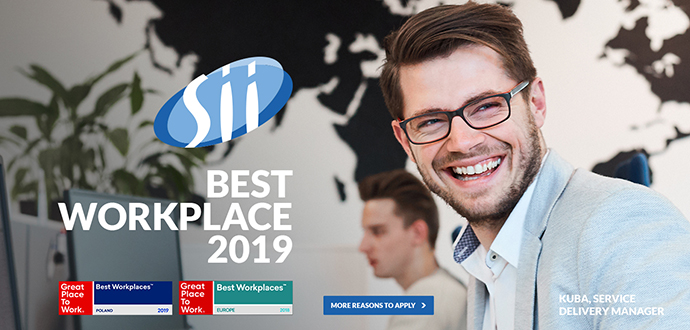 Manual Tester
Location: Gdańsk

The challenges waiting for you:
Testing Services Competency Center at SII - who are we?
Maybe you have heard that we have the biggest test center in Poland. But did you know that we…
Are recognized by the British Testing Magazine and ComputerWorld as a top testing service provider?
Have over 200 local and international clients?
Are currently completing more than 300 projects?
Do you want to be a tester working for one of the biggest food processing companies or the largest producer of organic products? How about testing in various sectors like payment, identification technology, access control or hotel security automation? We also have projects in the pharma sector in case you're into the novelties, clinical trials and new diagnostic tools. Any of those sound interesting?
Essential responsibilities:
Plan and document test efforts
Manual testing of web applications
Analyze test results and submit corresponding defects/tasks for developers
Work with Agile team
Required skills:
At least 2 years of experience in manual testing of web applications
Experience in test methodologies
Practical knowledge of SQL
Nice to have some experience with Postman and Soap UI
Experience working in the international team, so a good level of English is a must
Your benefits:
You will join the Leader. With over 4 000 specialists, Sii is actually the fastest growing, most successful & undisputed number 1 IT & Engineering services company in Poland!
You will work on challenging & fascinating international projects run for hundreds of prestigious customers from various sectors & industries
We will guarantee you many career development opportunities, facilitated by our Job changer application which allows you to change a project, the area of your activity or a place of work
You will cooperate with the best experts in talented & passionate teams on most advanced cutting-edge technologies
You will work in Great Place to Work company with amazing atmosphere and authentic values. You will meet new fantastic friends here!
We will support your personal dreams and initiatives within Passion Sponsorship Program and Power Volunteers Program
We will invite you to awesome integration meetings, interest groups and meetups
You will enjoy comfortable, top class, modernly designed offices in the best locations
Remember to attach the following personal data processing consent:

"I hereby grant consent for the processing of my personal data contained in this CV by Sii sp. z o.o. with its registered office at Al. Niepodległości 69, 02-626 Warsaw ("Sii") for the purposes of recruitment carried out by Sii. At any time, you may withdraw your consent for processing, but such withdrawal shall not affect the legal compliance of any processing which occurred before you withdrew your consent. Sii does not make any automated decisions regarding the processing of personal data in recruitment process. Detailed information on the processing of your personal data is specified in the Privacy Policy."

Please note that we will contact only selected candidates.