Marketing Trainee
Philips
więcej
Marketing Trainee
Warszawa, mazowieckie

Specjalista

13.06.2018
Pracodawca ma prawo zakończyć rekrutację we wcześniejszym terminie.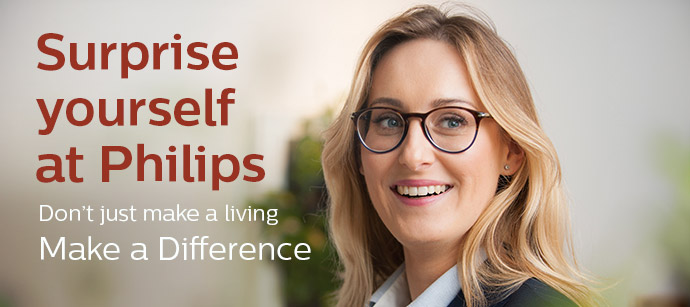 Marketing Trainee
Location: Warsaw
280239

In this role, you have the opportunity to

Work at Philips - leading health technology company focused on improving people's health and enabling better outcomes across the health continuum – from healthy living and prevention, to diagnosis, treatment and home care.
Start great adventure in Marketing Department at Philips and work with multinational team from Central and Eastern Europe (CEE) region which consists of 18 countries.
You are responsible for
Creating marketing materials dedicated to consumers and customers
Helping organizing international events for Key Opinion Leaders (KOLs)
Preparing launching new products in different international markets
Controlling marketing budget
Analyzing market data and concluding from it
Supporting general business on daily basis
You are a part of
Marketing Department within Sleep & Respiratory Care growing business located in Warsaw, but responsible for CEE region.
To succeed in this role, you should have the following skills and experience
Post-graduate or last year student from marketing, economy or sociology
Have first experiences from internship (could be summer internship)
Fluent English (spoken and written)
Fluent Polish
Confident in using MS Office tools (Excel, Powerpoint - advanced Word, Outlook)
Not afraid of data and analysis
Great interpersonal skills and good in building relations to work in multinational team
Self-disciplined and able to work under pressure and short deadlines
Interested in developing in marketing/business role
In return, we offer you


Exciting opportunity to join the multinational team and develop marketing and business capabilities dealing with leading solutions from Sleep & Respiratory Care portfolio during 12 months trainee period.

Philips Information clause
The processing of your personal data will take place in order to execute the recruitment process on the basis of the applicable law provisions, the legal basis for processing is Art. 6 (1) (c) of the General Data Protection Regulation of 27 April 2016 (hereinafter: "GDPR"). As part of this aim, the data can be used in the profiling process to direct job offers to candidates on qualifications relevant to the job position (Art. 6 (1) (f) of the GDPR). Data processing in a broader scope than it result from regulations of the Labor Code and for the purposes of future recruitment will take place on the basis of the consent expressed in the recruitment form (Art. 6 (1) (a) of the GDPR).
Please be advised that the controller of your personal data is Philips Polska sp. z o.o. with its registered office in Warsaw, Al. Jerozolimskie 195B (02-222 Warsaw) hereinafter referred to as the "Controller" or "Company".
Data Protection Officer (DPO)
The Controller has appointed a Data Protection Officer (DPO) with which you can contact with the following e-mail address: [email protected] in all matters regarding your personal data.
The period of data storage
Your personal data will be stored for a period of 6 months from the date of submitting the application or 1 year from the date of submitting the application with the consent to use it in future recruitment. Personal data will not be processed after your consent has been withdrawn or opposition has been filed, if such permission is granted.
Recipients of data
The recipient of personal data provided by you may be third parties supporting the Company in the recruitment process (consultancy in the field of recruitment, IT support), while these entities process data only in accordance with the Company's recommendations.
The rights of the data subject
You have the right to access your personal data, demand their rectification, removal, objection, limitation of processing, transfer of data to another controller and submission of a complaint to the President of the Office for Personal Data Protection if you consider that the processing of your personal data violates the law.
Providing by you your personal data collected by us on the basis of applicable provisions is voluntary, but necessary to execute the recruitment process. The consequence of not providing personal data will be the inability to participate in the recruitment process.
The consent expressed may be withdrawn at any time. Its withdrawal will not affect the lawfulness of processing your personal data prior to its withdrawal. You can object to profiling at any time. The statement of withdrawal of consent and objection should be sent to the e-mail address: [email protected].
Pełną informację odnośnie przetwarzania Twoich danych osobowych znajdziesz tutaj.