Media/Traffic Coordinator
Viacom International Media Networks
więcej
Media/Traffic Coordinator
Warszawa, mazowieckie

pokaż mapę

Specjalista

09.04.2019

Ważna jeszcze 13 dni (do

09.05.2019)
Pracodawca ma prawo zakończyć rekrutację we wcześniejszym terminie.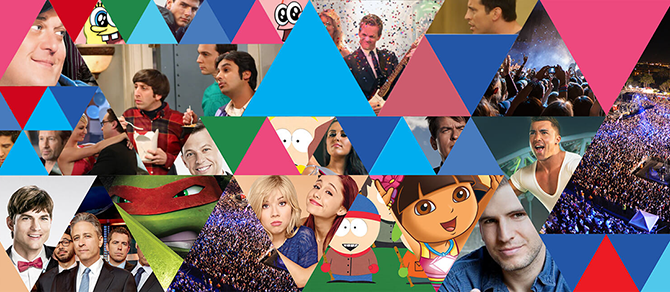 Why Viacom International Media Networks? Sure, you will have challenging tasks, responsibilities, and freedom for your ideas, just like in other companies – but the difference is in the details. At Viacom International Media Networks, you are not only bringing in your personal Know How, but also your individual passion. Since we all share a love for great stories, we have gathered the best storytellers and committed ourselves to bring the best possible stories to our audience all across the world. In the pursuit of telling all the new stories as well as the loved classics, we have grown to become the largest media network in the world. Become a part of us and work for our famous brands like MTV, Comedy Central, Nickelodeon, Vh1, and Paramount. You will have the opportunity to discover your true talent in an innovative and passionate work environment that fits your lifestyle and fandom.
We are currently looking for Media Coordinator, who will join our newly created Global Content Services team in Warsaw! You will work closely with our teams all over the world on supporting key areas of our business: Media Content Operations and Distribution, and Language Operations. This includes all operational needs for content registration, sourcing, processing, and delivery to various internal and external endpoints.
Media/Traffic Coordinator
What will you do?
Collaborate with brands and production teams to facilitate the ordering, tracking and distribution required localization of content, including subtitling, dubbing and access services
Ingest, register, quality check, and grade all ingested content including its metadata before it is delivered on linear or non-linear platform
Tracks TX and needed by dates for all linear and non-linear platforms through network grids and internal tracking/scheduling systems for processing, billing, and delivery
Communicate status of content delivery to internal and external partners as needed
Escalate any network related problems on or off air as appropriate
Provide operational support to team/department projects as required by the supervisor, including updating SOPs
Assist brands with creation, maintenance and packaging of all scheduling components, video files and ancillary files for linear and various platforms
Assist brands with requests for new or missing assets from external departments and regional contacts
Troubleshoot issues as they arise through all stages of content preparation, asset creation, and delivery
Assist with special projects as needed to support internal departments, affiliates, linear and digital initiative
Who are you?
Coordinator with 1+ years of relevant work experience (BIG plus for that!)
Master of MS Office applications (Excel rules!)
Fluent English speaker
Ninja of prioritization your work under pressure and tight deadlines
Independence and attention to details is your middle name
Problem solver with experience in process and quality analysis, as well as troubleshooting minor operational problems
Future Content Ops Expert open for flexible scheduling (yes, shifts may happen!)
What is your additional plus?
Superior customer service skills with experience working with clients in multiple time zones in a 24-hour environment
Experience in the digital media or broadcast media industry
Familiarity with related media operations equipment
Knowledge of entertainment media acquisition, production, packaging, delivery and distribution workflows including Rights, Scheduling, Digital Asset Management and Finance Systems
In return, what will you receive?
A boost to your career in the fast-paced media industry with plenty of opportunities for personal and professional development
Competitive salary and great benefits package: private healthcare, fitness card, and lots of team building events
A challenging job in multicultural teams on international projects
Brand new office located in the strict city center (2 mins walk from Metro Politechnika) with cool fun zones
Last, but not least, you will do great stuff for the global brands, such as Comedy Central, MTV, Nickelodeon or Paramount!
Sounds just like you?
Send us your CV and motivation letter in English by clicking APLIKUJ and let the adventure begin!

BEFORE YOU APPLY – PLEASE READ AND SHARE YOUR PERSONAL DATA CONSCIOUSLY / Information in Polish is here: https://viacom.tech/careers/rodo/
Dear Applicant! Please keep in mind that your job application may contain your personal data such as, for example: name, surname, contact details (e-mail, mobile phone), education, professional experience etc.
Your response to this job advertisement and providing us with your job application (CV/ Cover letter) shall mean that you agree to the processing of your personal data included therein, for purposes of conducting the recruitment process related to the job position you are applying for.
You have a right to withdraw the consent any time what will not affect the lawfulness of processing made on basis of the consent prior to its withdrawal.
Keep in mind that providing us with information regarding your professional qualifications, obtained certificates or trainings/ courses you had may increase your chance in the recruitment process. This is only you, however, who decides what data to provide us with.
Important notice regarding your personal data – please read!
1. Who is the data controller of your personal data?
The controller of your personal data, as well as entity whom you provide your job application with, is VIMN Poland sp. z o.o. with its registered office at Mokotowska 19, 00-560 Warsaw, e-mail: [email protected]/ [email protected], hereinafter referred to as: "VIMN". You can also contact our Data Protection Officer under: [email protected]
2. What is the purpose of processing of your personal data?
VIMN shall process your personal data for purposes of the performance of recruitment process related to the job position you are applying for.
3. What is the legal basis of the processing?
Your personal data included in the job application you provided us with shall be processed on basis of a consent you gave us by responding to this job advertisement (i.e. article 6 section 1 a of the GDPR*). This is you who decides what personal data to disclose. If we decide to invite you to the next level of the recruitment process, as well as if we decide to offer you the job position, and that will meet your interest, we will be processing your personal data in order to take steps prior to the conclusion of the contract (legal basis: article 6 section 1 b of the GDPR).
4. Who will have access to your personal data?
According to the binding provisions of Law, we are authorized to share your personal data with entities that process them on our behalf and in our name, such as: the owner of the internet platform via which you are applying to us, as well as the service provider of the server where we host our e-mail box by which we may contact you during the recruitment process. Additionally, access to your personal data shall have all the persons that are engaged in the recruitment process we are conducting now (i.e. our employees and/or subcontractors). Bearing in mind that we are a part of an international capital group Viacom Inc., an access to your personal data may also have other entities belonging to the group, including also the companies localized in the United States of America (USA) which (i.e. the entities) belong to the Privacy Shield and ensure an adequate level of protection of your personal data.
5. How long we shall keep your personal data?
Your personal data will be kept and processed for the period necessary to conduct the recruitment process you are taking part in, unless you withdraw your consent to the processing of your data before the recruitment process is finished. In such a circumstance, we will erase your data and shall stop their processing earlier.
6. The rights you have in connection to your personal data being processed
You have a right to request from VIMN: (i) an access to your personal data, (ii) their rectification, (iii) erasure or (iv) restriction of processing or (v) to object to the processing, as well as (vi) the right to data portability. In order to notify us of the above please contact us at: [email protected]
7. You can withdraw your consent to the processing of your personal data
As we will be processing your personal data on basis of the consent you granted to us, you can withdraw it any time what will not affect the lawfulness of the processing we made on basis of the consent prior to its withdrawal. In order to withdraw the consent, please reach us at: DataPrivacyRight[email protected]
8. Lodging a complaint to the Supervisory Authority
You have the right to lodge a complaint to the supervisory authority which is the President of the Office for the Protection of Personal Data ("Prezes Urzędu Ochrony Danych Osobowych", formerly: "Generalny Inspektor Ochrony Danych osobowych"), www.uodo.gov.pl
9. Providing us with your personal data is voluntary
Please, remember that providing us with your personal data is voluntary, same as voluntary is your take part in the recruitment process we are conducting now. Providing us with your data is, however, necessary for us to include your application in the recruitment process.
10. Automated decision-making, including profiling
Your personal data shall not be subject to an automated decision making process, nor profiling.
*What does the "GDPR" mean?
GDPR is an abbreviation from the Regulation (EU) 2016/679 of the European Parliament and of the Council of 27th April 2016 on the protection of natural persons with regard to the processing of personal data and on the free movement of such data, and repealing Directive 95/46/EC.