PL/SQL Developer
Quad/Graphics Europe Sp. z o.o.
więcej
PL/SQL Developer
śląskie

Specjalista

10.01.2017
Pracodawca ma prawo zakończyć rekrutację we wcześniejszym terminie.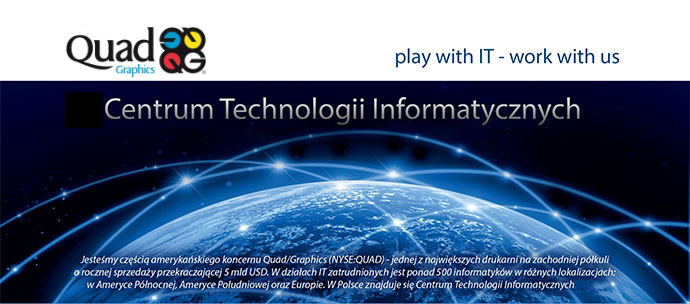 PL/SQL Developer
Miejsce pracy: cała Polska

Job description:
We are forming a new team of developers who will take on a challenging role to convert 1,000+ applications from a Sybase DB platform to an Oracle DB platform.
This team will consist of .Net developers, Sybase PowerBuilder developers, PL/SQL developers and experienced Oracle Database Administrators from Poland and the US.
To do this conversion we will need to upgrade all applications to the latest frameworks, add data access unit tests, manipulate T-SQL, handle situations that Sybase can support which Oracle cannot, test and manipulate all triggers, procedures, and functions, and build new C# WCF methods to reduce cross team data access.
This team will utilize SCRUM with 2 week sprints in order to tackle the large workload. It is expected that this project will take 18 to 36 months to complete in full.
If you are looking to expand your skillset this is the project which will heavily polish your resume for future roles.
Requirements:
Required Skillset
Speaks English
Significant experience and expertise with Oracle SQL (mainly DML, DDL) and PL/SQL
Ability to collaborate with development team as an SQL developer to help resolving issues with complex SQL statements
Ability to step through complex SQL statements
Experience with ANSI standard SQL
Plus Skillset
Experience with Sybase SQL (mainly DML, DDL) and T-SQL
Salesforce Agile Accelerator
SCRUM or Agile development
We offer:
B2B contract
Home office work or in one of our offices in Gdańsk, Bydgoszcz or Piła
Work in international environment
American work style

Jeżeli jesteś zainteresowany/-a powyższym stanowiskiem,
wyślij swoje CV za pomocą przycisku:

Informujemy, iż skontaktujemy się tylko z wybranymi kandydatami.
Prosimy o dopisanie klauzuli: "Wyrażam zgodę na przetwarzanie przez Quad/Graphics Europe sp. z o.o. z siedzibą w Wyszkowie, przy ul. Pułtuskiej 120, moich danych osobowych zawartych w ofercie pracy dla potrzeb niezbędnych do realizacji procesu rekrutacji na stanowisko PL/SQL Developer. (zgodnie z ustawą z dn. 29.08.97 roku o Ochronie Danych Osobowych Dz. Ust Nr 133 poz. 883. Wyrażam zgodę na przetwarzanie moich danych osobowych na potrzeby innych rekrutacji przeprowadzanych w przyszłości"