Principal Java Developer
Luxoft Poland sp. z o.o.
więcej
Principal Java Developer
Warszawa, mazowieckie

pokaż mapę

Specjalista

19.03.2019
Pracodawca ma prawo zakończyć rekrutację we wcześniejszym terminie.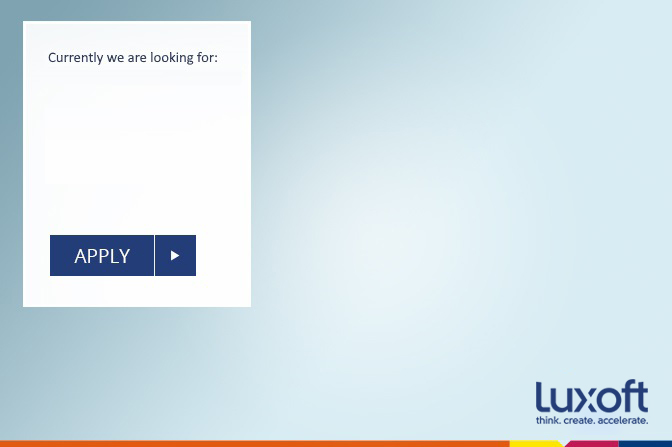 Luxoft is a global leader in high-end software development.

Over 13160 employees in 30 locations. It was recently recognized as Leading Central and Eastern European Service Provider in the 2010 Global Services 100 list. Luxoft is famous for flexible delivery models, world's best IT talent pool, best-of-breed processes and highest security and quality standards. Luxoft is trusted long-term partner for world class leaders such as Avaya, Boeing, Dell, Deutsche Bank, IBM.

Principal Java Developer
Workplace: Warszawa

Luxoft is a global IT service provider of innovative technology solutions that delivers measurable business outcomes to multinational companies. Its offerings encompass strategic consulting, custom software development services, and digital solution engineering. Luxoft enables companies to compete by leveraging its multi-industry expertise in the financial services, automotive, communications, and healthcare & life sciences sectors. For more information, please visit the website.
Project Description
We are team consisting of 14 FTE based out of Warsaw and responsible for development and support of critical banking system of one of the globally systematically important banks.

Application is running in production for several years already, and transferred to Poland 2 years ago.

Besides business as usual activities we aim to introduce test automation, Developer environment automation and DevOps(CI/CD, CM, Infrastructure as a Code, Static Code testing, TDD, BDD) practices and architectural refactoring.

We operate in a complicated enterprise environment which is additional challenge for a team.
Responsibilities
We are searching for person passionate about automation and architecture with lean mindset and ability to ram the doors to pull decisions in enterprise environment.
Your main goals would be:
Analyzing application and development process for possible improvements
Creating automatic deployments for dev and staging environments
Implementing configuration management
Implementing CI/CD pipelines
Integrating auto tests, test data and health checks
Implementing static code testing
Migration to microservice architecture
Implementation of containerization and orchestration
Development of new features
Application support and bug fixing
Refactoring
We would expect heavy focus on automation in first 6-12 month with shift to more development responsibilities afterwards. Application is mission critical for customer so we would follow evolutionary approach rather than revolutionary.
We would also like to engage you as a technical interviewer for new roles.
Skills
MUST
Excellent English
Expertise in Java
Experience with reingeeniring and automation of legacy systems in corporate environment
Experience with JavaEE and Spring
Experience with Maven and Gradle
Experience with Microservices and CQRS
Experience with Websphere, Tomcat, Jboss e.t.c.
Experience with Sonarqube
Automated tests: JBehave, Cucumber, Hoverfly, Mountebank, Jmeter, Gatling
Experience with Bash and Powershell
Version control SVN and Git
Good understanding of Agile and Lean mindset
Any of this might be also helpful: Spring(Boot, Web, Cloud, Sleuth), Kafka, JMS, Consul, Ribbon, Hystrix, Prometheus, Splunk, Zipkin, Elastic
NICE TO HAVE
- Experience with distributed cache
- C#..Net development
- Experience with Azure
- Experience with CI/CD setup (TeamCity, Jenkins, Bamboo e.t.c.)
- Experience with CM Tools (Ansible, Transporter)

If you are interested in the above position, please apply by submitting your CV in English.