Program Menedżerski – Mars Engineering Leadership Experience
Mars Polska sp. z o.o.
więcej
Program Menedżerski – Mars Engineering Leadership Experience
Sochaczew, mazowieckie

Praktykant/Stażysta

10.05.2019
Pracodawca ma prawo zakończyć rekrutację we wcześniejszym terminie.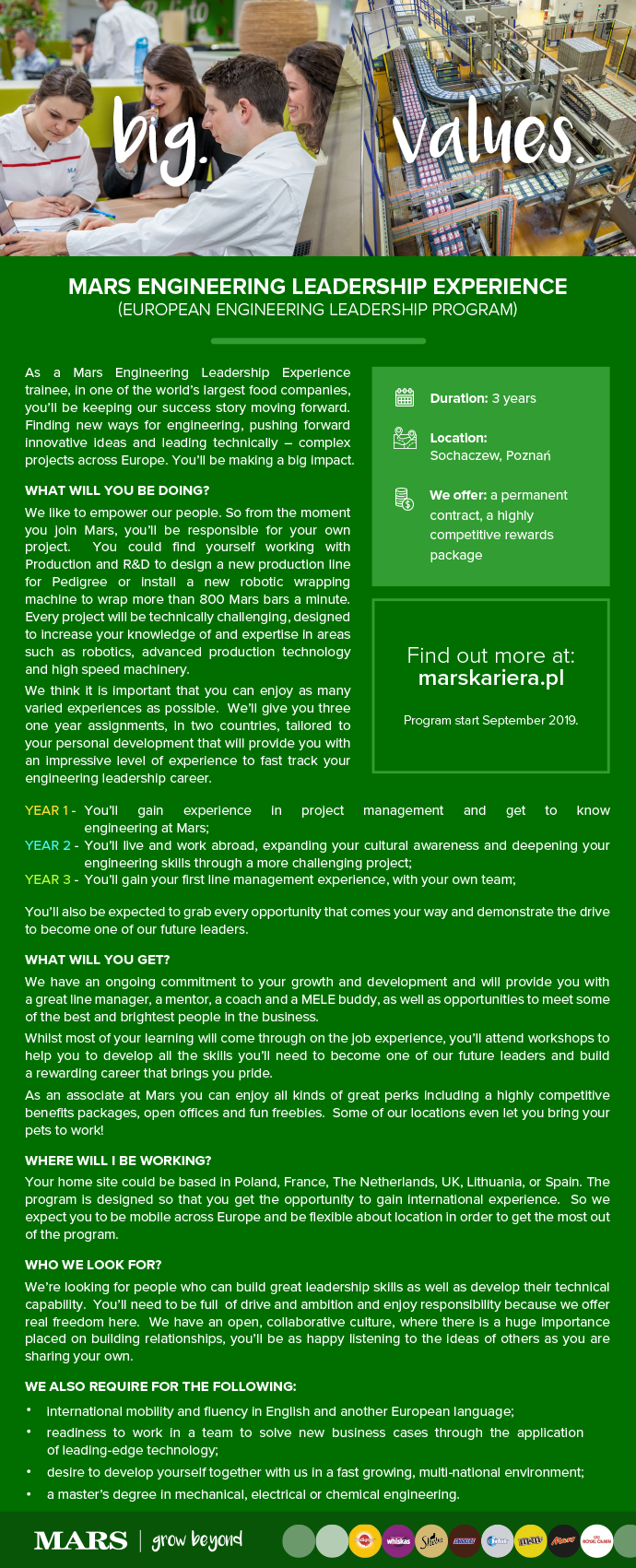 MARS ENGINEERING LEADERSHIP EXPERIENCE
(EUROPEAN ENGINEERING LEADERSHIP PROGRAM)
Miejsce pracy: Sochaczew

Duration: 3 years
Location: Sochaczew, Poznań
We offer: a permanent contract, a highly competitive rewards package
As a Mars Engineering Leadership Experience trainee, in one of the world's largest food companies, you'll be keeping our success story moving forward. Finding new ways for engineering, pushing forward innovative ideas and leading technically – complex projects across Europe. You'll be making a big impact.
What will you be doing?
We like to empower our people. So from the moment you join Mars, you'll be responsible for your own project. You could find yourself working with Production and R&D to design a new production line for Pedigree or install a new robotic wrapping machine to wrap more than 800 Mars bars a minute. Every project will be technically challenging, designed to increase your knowledge of and expertise in areas such as robotics, advanced production technology and high speed machinery.
We think it is important that you can enjoy as many varied experiences as possible. We'll give you three one year assignments, in two countries, tailored to your personal development that will provide you with an impressive level of experience to fast track your engineering leadership career.
Year one - you'll gain experience in project management and get to know engineering at Mars;
Year two - you'll live and work abroad, expanding your cultural awareness and deepening your engineering skills through a more challenging project;
Year three - you'll gain your first line management experience, with your own team;
You'll also be expected to grab every opportunity that comes your way and demonstrate the drive to become one of our future leaders.
What will you get?
We have an ongoing commitment to your growth and development and will provide you with a great line manager, a mentor, a coach and a MELE buddy, as well as opportunities to meet some of the best and brightest people in the business.
Whilst most of your learning will come through on the job experience, you'll attend workshops to help you to develop all the skills you'll need to become one of our future leaders and build a rewarding career that brings you pride.
As an associate at Mars you can enjoy all kinds of great perks including a highly competitive benefits packages, open offices and fun freebies. Some of our locations even let you bring your pets to work!
Where will I be working?
Your home site could be based in Poland, France, The Netherlands, UK, Lithuania, or Spain. The program is designed so that you get the opportunity to gain international experience. So we expect you to be mobile across Europe and be flexible about location in order to get the most out of the program.
Who we look for?
We're looking for people who can build great leadership skills as well as develop their technical capability. You'll need to be full of drive and ambition and enjoy responsibility because we offer real freedom here. We have an open, collaborative culture, where there is a huge importance placed on building relationships, you'll be as happy listening to the ideas of others as you are sharing your own.
We also require for the following:
international mobility and fluency in English and another European language;
readiness to work in a team to solve new business cases through the application of leading-edge technology;
desire to develop yourself together with us in a fast growing, multi-national environment;
a master's degree in mechanical, electrical or chemical engineering.
Find out more at: marskariera.pl or mars.ambertrack.co.uk
Program start September 2019.