Ogłoszenie wygasło 5 lat temu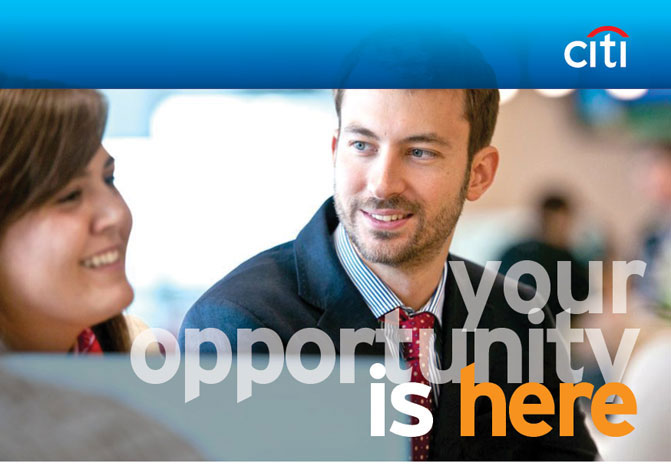 Citi Service Center (CSC)
is an initiative to establish a network of service centers providing high quality services to other entities operating within the

Citi

Group.
Citi Service Center Poland
was founded in 2005, and it currently employs over 3000 highly qualified staff in three locations: Warsaw, Olsztyn and Lodz. CSC cooperates with other Citi entities from all over the world.

Currently we provide services to over

60 countries in Europe, Asia, Africa, both Americas and Australia

. Our employees use over 24 languages every day. Working in our organization involves working on international projects, in an international and dynamic environment as well as learning the top quality organizational culture.
Candidates interested in this job position are asked to apply by
or by the yellow apply button below
Read more about career opportunities at: careeratciti.pl or facebook.com/citigradsemea

www.citibankinternational.pl
Citi Service Center Poland
Project Analyst
(Project Support Department)
Work place: Warszawa
PAN/1214/ML

Responsibilities:
Designing and managing of Access Databases

Automating tools based on VBA and SQL

Analyzing and redesigning of the process to gain productivity efficiencies

Analyzing and designing of the systems connections in Middle Office area

Initiating and executing the technical improvements & projects
Requirements:
Master's Degree in an accounting, banking, finance or IT discipline (last year pre graduates will be taken into consideration)

Experience on similar position in banking area

Very good knowledge of VBA in MS Excel and MS Access

Very good knowledge of SQL

Knowledge of .Net is a plus

Very good knowledge of capital markets and accounting area will be an asset

Excellent organizational and planning skills

Strong analytical and interpersonal skills

Teamwork skills

Fluent English (both verbal and written)
To our Employees we offer:
Possibility to work with professionals in the multicultural environment

Opportunity to broaden the practical knowledge and the art of negotiation in dealing with employees and business in labor problems

Broad social benefits (medical care, Benefit System, life insurance)
Please be informed that we will contact selected candidates only.
You are kindly requested to include the following clause in your application: "I hereby give my consent to the processing of my personal data included in my job application for the purpose of the recruitment process and after its completion for the purpose of future recruitments (pursuant to the Personal Data Protection Act as of 29 August 1997, Journal of Laws No. 133, item 883).

© 2013 Citigroup Inc. All rights reserved. Citi and Arc Design and Citibank are trademarks and service marks of Citigroup Inc. or its affiliates, used and registered throughout the world.

Project Analyst
(Project Support Department)
Numer ref.: PAN/1214/ML
Responsibilities:
Designing and managing of Access Databases

Automating tools based on VBA and SQL

Analyzing and redesigning of the process to gain productivity efficiencies

Analyzing and designing of the systems connections in Middle Office area

Initiating and executing the technical improvements & projects
Requirements:
Master's Degree in an accounting, banking, finance or IT discipline (last year pre graduates will be taken into consideration)

Experience on similar position in banking area

Very good knowledge of VBA in MS Excel and MS Access

Very good knowledge of SQL

Knowledge of .Net is a plus

Very good knowledge of capital markets and accounting area will be an asset

Excellent organizational and planning skills

Strong analytical and interpersonal skills

Teamwork skills

Fluent English (both verbal and written)
To our Employees we offer:
Possibility to work with professionals in the multicultural environment

Opportunity to broaden the practical knowledge and the art of negotiation in dealing with employees and business in labor problems

Broad social benefits (medical care, Benefit System, life insurance)
Candidates interested in this job position are asked to apply by
or by the yellow apply button below
Ogłoszenie archiwalne