Purchasing Specialist
DGS Poland Sp. z o.o.
więcej
Purchasing Specialist
Mierzyn k. Szczecina, zachodniopomorskie

Specjalista

27.02.2019
Pracodawca ma prawo zakończyć rekrutację we wcześniejszym terminie.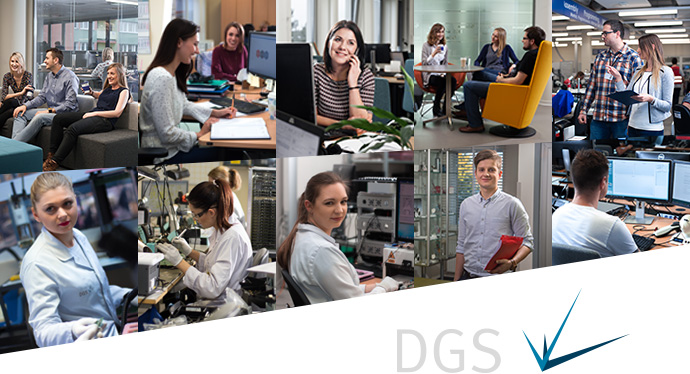 Purchasing Specialist
DGS w Polsce funkcjonuje od 2007 roku. Początkowo firma działała pod nazwą Oticon Polska Production i wytwarzała aparaty słuchowe w zakładzie produkcyjnym w Mierzynie. W trakcie 10-letniej działalności firma rozwinęła nie tylko produkcję zaawansowanych technologicznie aparatów słuchowych i urządzeń diagnostycznych, ale także usługi IT, HR, rozwoju oprogramowania, zapewnienia jakości, finansów i logistyki. Ze względu na dynamiczny rozwój oraz kompetentną kadrę, w 2015 roku zdecydowano o utworzeniu nowej organizacji, która rozpoczęła świadczenie wspólnych usług dla firm należących do światowej grupy William Demant. Obecnie DGS w Polsce zatrudnia łącznie ponad 2 500 osób i wciąż rozszerza swoją działalność, poszukując nowych pracowników.
Stabilna umowa, świetne warunki do rozwoju kariery zawodowej i przyjazna atmosfera.
To podstawa. Ale to nie wszystko – oferujemy dużo więcej.

Prywatna opieka medyczna

Domki letniskowe w Danii

Bezpłatne autobusy
Bilety do kina
Imprezy firmowe
Parking samochodowy i rowerowy

Stołówka firmowa

Karta sportowa i siłownia
DGS is part of the international organization William Demant, which is the only one in the world involved in the production of hearing aids, bone implants, diagnostic devices, as well as devices for communication. We help millions of people regain the joy of listening for many years. Feel this joy with us!
You will become a part of an enthusiastic team, working in a challenging environment. The Purchasing Team contributes to achieving high performance of the Supply Chain, which involves securing material availability for production and/or sales, optimal stock management and order handling, efficient collaboration with the supplier base and close monitoring of logistic key performance indicators. Other cyclical activities, such as processing claims raised by Quality, supporting Finance/Accounting in settling price differences and claims with suppliers, optimization activities (order size, packaging, UOM, delivery schedule) to increase efficiency in Warehouse and Distribution, among others.
As an actor within the supply chain, you will perform everyday purchasing duties. Your objective will be procuring competitive and quality components, with optimal transport set up and timely delivery. Developing an effective relationship with our supplier base will be key for you to contribute in achieving high performance of the value chain.
Working with us You will receive:
a unique opportunity to develop in an international environment, both professionally and personally;
growth by being part of a fast developing organization, with co-workers striving for excellence and with access to a competitive supplier base from across the globe;
empowerment to drive improvements, share Your experience and to positively influence your department, as well as other functional areas;
recognition in a company that promotes engagement, open communication and trust;
sharing experience and acquiring new skills;
internal and external training courses in order to strengthen Your knowledge and acquire new skills;
medical healthcare, sport card, annual family picnic with a concert of a Polish star and holiday cottages in Denmark.
What tasks are waiting for You ?
Securing on-time material availability, optimizing stock levels and handling purchase orders;
Developing a strong relationship with suppliers by keeping daily contact, monitoring their performance and running periodic meetings;
Working side by side with the strategic and project purchasing counterparts;
Supporting mass production projects, such as: business consolidation and supplier base optimization;
If You:
have a Technical, Logistics or Economics background;
have worked for at least 2 years in purchasing, in a manufacturing company;
are an effective communicator and your English skills allow you to conduct daily activities and run business meetings proficiently;
could capitalizing your organizational skills to execute regular order handling, while multi-tasking with special assignments;
are able to work under pressure, and your analytical skills will help you to identify potential issues and prevent supply disruptions;
are creating and customizing fairly complex reports in Excel, and feeling comfortable while working with an ERP system and web based applications ;
recognize the value of team work and of strong cross-functional collaboration, which are essential for achieving our goals.
Dowiedz się więcej – kliknij na "Aplikuj teraz"
---
Oferty z dopisaną klauzulą: Zgodnie z Ustawą o Ochronie Danych Osobowych z dnia 29.08.1997 r. (Dz. U. nr 101, poz. 926) wyrażam zgodę na przetwarzanie moich danych osobowych zawartych w ofercie dla procesu rekrutacji w DGS Polska Sp. z .o.o., prosimy przesyłać za pomocą przycisku "Aplikuj".
Uprzejmie informujemy, że nadesłanych dokumentów nie zwracamy. Jednocześnie zastrzegamy sobie możliwość do kontaktu tylko z wybranymi kandydatami.