Qualified Person
POLPHARMA S.A.
więcej
Qualified Person
Gdańsk, pomorskie

pokaż mapę

Kierownik

07.06.2018
Pracodawca ma prawo zakończyć rekrutację we wcześniejszym terminie.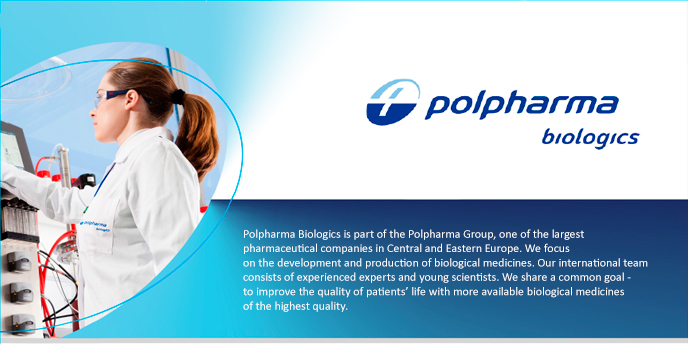 if you want to work
in one of the
most modern biotechnology
centres in Europe

in place where
profesionals
from all over
the world work
on the highest-quality equipoment

in the production
of biotechnological
drugs, which dive
access to effective
therapy to more
patients

in a company that will
dive you stable
employment competetive
remuneration attracive
benefits and the
opportunity to participate
in training at home
and abroad

Currently we're looking for
1
Join "start-up" Biologics division with strong international and local team at site!
We are waiting just for you!
What will you do?

Ensuring cGMP and regulatory compliance of operations leading to biological Drug Substance and Drug Product
Ensure that all aspects of the handling, manufacturing of biopharmaceutical products at the site comply with the requirements meet all relevant cGMP regulatory and legislative requirements. Ensure that a high quality of products is achieved through qualification and validation based upon quality risk analysis, product quality assessments, and ongoing verification
Support Life cycle management of a manufacturing facility up to and including GMP compliant market production
Being in charge for the release of commercial PB products
Ensures that all processes and products in the unit have built-quality and meet all internal and external requirements. Conducts activities related to the establishment, implementation and supervision on the required quality processes in product development, manufacturing, testing, storage and distribution
Responsible for the decision on the use of batches of finished products – Certification according to Annex 16, Preparation of CoA and CoC
Batch record review and review of all batch related documents, Responsible for the review and approval of shipment of finished products, Approval of Master batch manufacturing records and procedures for DS, bulk product and FDF manufacturing (e.g. sampling procedures), Approval of specifications for the product, Certificates/Statements of DP Latex, PVC etc.
Participation in investigation on deviations and complaints, OOS/OOT, recalls and escalations; support change control requests, assure GMP and regulatory compliance in the requests, Participation in risk assessments
Supports in all product and process related activities e.g. process transfers, process characterization, process validation and continuous process verification (including e.g. stability studies, hold time studies, E&L; approval of protocols and reports;
Preparation of APQR
Proper preparation and review of required GMP documents, assist in the coordination and preparation of Polpharma Biologics for the inspections and controls in order to obtain the GMP Certificate. Supervices the preparation of PB areas for a variety of inspections and audits. Participate in internal and external audits
Support the establishment of Quality Management System documentation. Develop and update the system GMP documents, policies and standards for QA and QC in accordance with the requirements of Polpharma and the HA requirements of the areas where the products are marketed
Ensures the correctness and data integrity of all regulatory relevant development and manufacturing data

What do we expect?

Higher education in biologics, chemistry, pharmacy, biotechnology or related, supported by min. 5 years of work experience in the pharmaceutical industry, including two years in the evaluation of pharmaceutical products in the area of ​​control or quality assurance
Excellent knowledge of GMP requirements and pharmaceutical laws and regulations related to pharmaceuticals, especially in the ICH environment
Understanding of analytical technologies related to the evaluation of biopharmaceutical products, knowledge in technologies producing sterile pharmaceutical products
Knowledge of Quality management Systems
Understanding the issues and needs of qualification and validation in biopharmaceutical manufacturing
Knowledge in Quality Management systems including quality requirements in clinical trials and Pharmacovigilance Experienced in Biotechnology manufacturing
Fluent knowledge of English both, written and spoken