Recruiter in EMEA Campus Team
Philips
więcej
Recruiter in EMEA Campus Team
Łódź, łódzkie

Specjalista

01.04.2019
Pracodawca ma prawo zakończyć rekrutację we wcześniejszym terminie.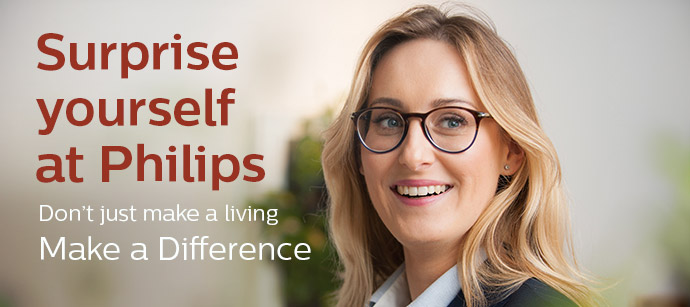 Recruiter in EMEA Campus Team
Lodz

We welcome you to a challenging, innovative environment with great opportunities for you to explore. We are looking for a motivated and experienced recruitment professional who would like to join our EMEA Campus Team.
As a Recruiter in EMEA Campus Team you will have opportunity to develop a strategic relationship with colleges and universities to drive a campus relationship recruiting model. Attracting the best talent is critical to business success, so you will act as a strategic advisor. We expect you to have strong business acumen and judgement, deep external/internal market expertise and excellent operational capabilities to influence hiring decisions.
In this role you will be part of the EMEA Campus Team which consists of people located in several European countries (Netherlands, France, Germany and UK). You will work closely with HR Managers, HR Business Partners, Centers' of Expertise and Philips People Services.
You will be responsible for:
Managing end-to-end campus recruitment projects and activities based on the relevant academic calendar in CEE

Following and updating strategy for the recruitment year including all campus events and relationship activities

Developing, maintaining and strengthening relationships with internal and external stakeholders (including Members of the Board and Senior Managers)

Providing the best in class customer experience (hiring managers, candidates and partners)

Creating excellent intern experience beyond the learning pathway and proactively promote interns for full time graduate opportunities

Driving and continuously improving intern activities

Staying up to date with regards to knowledge about the labor market, graduate recruitment and sourcing tools.
To succeed in this role, you should have the following skills and experience:
University degree
Excellent developed stakeholders' management skills
Proven experience within the recruitment field
Good knowledge about university's society (e.g. students' organizations, university's events)
A strong customer focus and a service oriented way of working
Broad experience in the professional use of social media to approach and attract young talent
Strong planning and organizational skills
Excellent analytical skills in combination with a pragmatic approach which suits the dynamics of recruitment
Fluency in English and Polish (both verbally and in writing) is a must
Ability to analyze the organization's competitive position by considering market and industry trends, existing and potential stakeholders
In return, we offer you:
We offer the unique combination of a critical and challenging role and a creative and empowering office environment. You will be actively encouraged to make improvements, establish best in class recruitment service and have a direct impact on the success of Philips on a daily basis.
Yearly bonus based on performance achieved.

Private medical care with option to extend it to family members.

Benefit System cards.

Discount for Philips' products

Convenient working conditions in the office in the city center

Positive energy and professional support in everyday duties

We kindly inform you that we will contact only chosen candidates.

Please provide a clause: "Hereby I agree to process my personal data included in my application for requirements of the recruitment process (in accordance to Personal data Protection Act dated 29 August 1997; Official Journal no 133, item 883)".

Philips Information clause
The processing of your personal data will take place in order to execute the recruitment process on the basis of the applicable law provisions, the legal basis for processing is Art. 6 (1) (c) of the General Data Protection Regulation of 27 April 2016 (hereinafter: "GDPR"). As part of this aim, the data can be used in the profiling process to direct job offers to candidates on qualifications relevant to the job position (Art. 6 (1) (f) of the GDPR). Data processing in a broader scope than it result from regulations of the Labor Code and for the purposes of future recruitment will take place on the basis of the consent expressed in the recruitment form (Art. 6 (1) (a) of the GDPR).
Please be advised that the controller of your personal data is Philips Polska sp. z o.o. with its registered office in Warsaw, Al. Jerozolimskie 195B (02-222 Warsaw) hereinafter referred to as the "Controller" or "Company".
Data Protection Officer (DPO)
The Controller has appointed a Data Protection Officer (DPO) with which you can contact with the following e-mail address: [email protected] in all matters regarding your personal data.
The period of data storage
Your personal data will be stored for a period of 6 months from the date of submitting the application or 1 year from the date of submitting the application with the consent to use it in future recruitment. Personal data will not be processed after your consent has been withdrawn or opposition has been filed, if such permission is granted.
Recipients of data
The recipient of personal data provided by you may be third parties supporting the Company in the recruitment process (consultancy in the field of recruitment, IT support), while these entities process data only in accordance with the Company's recommendations.
The rights of the data subject
You have the right to access your personal data, demand their rectification, removal, objection, limitation of processing, transfer of data to another controller and submission of a complaint to the President of the Office for Personal Data Protection if you consider that the processing of your personal data violates the law.
Providing by you your personal data collected by us on the basis of applicable provisions is voluntary, but necessary to execute the recruitment process. The consequence of not providing personal data will be the inability to participate in the recruitment process.
The consent expressed may be withdrawn at any time. Its withdrawal will not affect the lawfulness of processing your personal data prior to its withdrawal. You can object to profiling at any time. The statement of withdrawal of consent and objection should be sent to the e-mail address: [email protected].
Pełną informację odnośnie przetwarzania Twoich danych osobowych znajdziesz tutaj.