Regional Contract Logistics Manager
Kuehne+Nagel Sp. z o.o.
więcej
Regional Contract Logistics Manager
Poznań, wielkopolskie

Kierownik

08.06.2018
Pracodawca ma prawo zakończyć rekrutację we wcześniejszym terminie.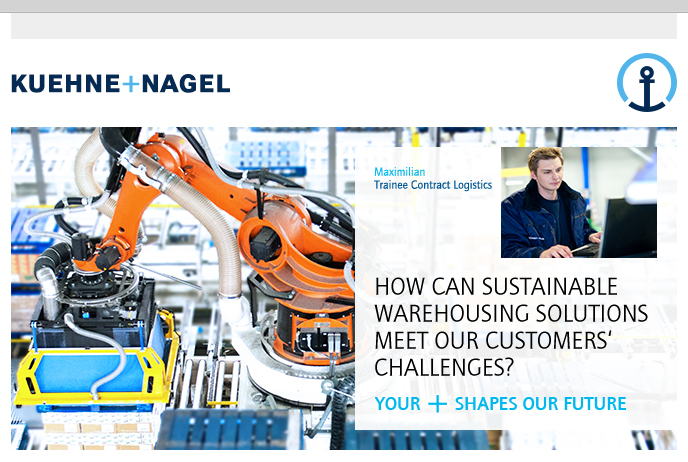 Regional Contract Logistics Manager
Poznań

Mission
Provides leadership of one of the three Contract Logistics Regions in Poland. Owns full responsibility for Profit & Loss management of the North - West Region, while supports business development with the exising and new customers. Leads day to day operations through empowered teams that are committed to meet and exceed customer expecations.
Your duties and responsibilities
+ Ensures timely, efficient, and cost-effective distribution for the customers
+ Develops profitable growth with the existing and new customers, while ensures hight utilization of the resources (people, space and equipment)
+ Supervises short, mid and longterm capacity management of the DCs
+ Utilizes meaningful key performance metrics to measure performance and drive change
+ Develops budgets/policies/procedures to support and improve functional excellence
+ Works closely with the Distribution team to optimize end-to-end service and costs
+ Motivates, coaches and implements best management practices that keeps high satisfaction of employees and therefore customers
Your experience and skills
+ Senior managerial level with min. 10 years of Distribution experience in B2B service environment
+ Exceptional planner and forward thinker that drives decisions based on data
+ Proven Lean and continuous process improvement promoter
+ Concept development and process mapping based on customer requirements, familiarity with VOC and VSM
+ Good understanding of IT solutions
+ Knowledge of Finance / Controlling in order to ensure good follow up of P&L
+ Understanding of outsourcing projects and earlier operational experience in Contract Logistics is a must
+ Excellence in building customer relationship and management of senior stakeholder
+ Fluency in cooperation with local, regional and corporate / international environment
+ Experience in building relationship with third parties (carriers, public organizations, consultants, etc.)
+ Highly developed negotiation skills
+ Fluent in spoken and written Polish and English
+ Readiness for travelling: Domestic (40-60% of working time in other than base locations); International - occasional
What we offer
+ To work in the most innovative logistics organization, as part of the most innovative division in Kuehne+Nagel
+ Job security in a large, stable company with an international environment
+ Attractive salary

Administratorem danych osobowych jest spółka Kuehne+Nagel Sp. z o.o. z siedzibą w Gądki 62-023, ul. Spedycyjna 1.
Dane kontaktowe inspektora ochrony danych: [email protected]
Dane zbierane są dla potrzeb obecnej rekrutacji, a w przypadku wyrażenia przez Panią/Pana wyraźnej i dobrowolnej zgody również na potrzeby przyszłych rekrutacji.
Podanie danych w zakresie określonym przepisami ustawy z dnia 26 czerwca 1974 r. Kodeks pracy oraz aktów wykonawczych jest dobrowolne, ale konieczne do przeprowadzenia rekrutacji. Podanie dodatkowych danych osobowych jest dobrowolne i wymaga Pani/Pana wyraźnej zgody.
Przysługuje Pani/Panu prawo do wycofania zgody w dowolnym momencie, przy czym cofnięcie zgody nie ma wpływu na zgodność przetwarzania, którego dokonano na jej podstawie przed cofnięciem zgody. Dane osobowe będą przetwarzane aż do ewentualnego wycofania przez Panią/Pana zgody na przetwarzanie danych w procesie rekrutacji, nie dłużej jednak niż do zakończenia rekrutacji, w której bierze Pani/Pan udział.
Posiada Pani/Pan prawo dostępu do swoich danych osobowych, ich sprostowania, usunięcia lub ograniczenia przetwarzania, prawo do przenoszenia danych oraz prawo wniesienia skargi do organu nadzorczego.