Regional Solutions Engineer Visualisation and Simulation
Kuehne+Nagel Sp. z o.o.
więcej
Regional Solutions Engineer Visualisation and Simulation
Wrocław, dolnośląskie

Specjalista

28.05.2018
Pracodawca ma prawo zakończyć rekrutację we wcześniejszym terminie.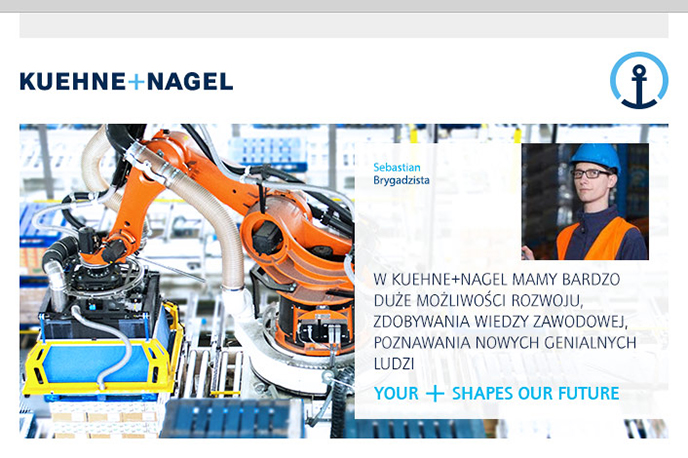 Regional Solutions Engineer Visualisation and Simulation
Wrocław

Mission
Are you looking for the next opportunity to design the most successful Warehouse solutions for our Customers?
This role will give you the chance to contribute in growing our Contract Logistics Business supporting our European Solutions teams through designing the best Warehouse layouts and flows. With the help of the creative minds of our employees, we are always a step ahead, developing innovative solutions to meet complex logistics needs.
Your duties and responsibilities
+ You will be working on maybe three or four Warehouse Design projects at any one time, all with set deadlines, producing CAD layouts, 3 D visualisations and simulations
+ With the request for support coming from the different European Solutions Teams, you will create designs and simulations with the appropriate data summaries including tables, graphics, maps, charts etc. all which will be inputs to the Contract Logistics Solutions process, and also potentially used in presentations to Customers
+ You will identify gaps and anomalies in the Layout Design for feedback to the European Country teams and you will notify of appropriate "benchmarks" or template solutions already in place within KN for re-use
Your experience and skills
+ Degree level and experience of a Graduate Training programme or similar
+ At least four years working in a variety of warehouse environments – ideally a mixture of operations and solutions design
+ Very well developed data manipulation and analysis skills - MS Excel and Access
+ Experienced in warehouse layout tools such as CAD and Class
+ A good standard of English language – written and verbal
What we offer
Our people and their expertise are the key to achieve our ambition. This role will give you the opportunity to shape processes and solutions every day within a collaborative environment. We are always on the look-out for the next improved solutions or unique idea.
Your input together with our innovative methods and technologies will help us to continue being the logistics player of tomorrow.
Administratorem danych osobowych jest spółka Kuehne+Nagel Sp. z o.o. z siedzibą w Gądki 62-023, ul. Spedycyjna 1.
Dane kontaktowe inspektora ochrony danych: [email protected]
Dane zbierane są dla potrzeb obecnej rekrutacji, a w przypadku wyrażenia przez Panią/Pana wyraźnej i dobrowolnej zgody również na potrzeby przyszłych rekrutacji.
Podanie danych w zakresie określonym przepisami ustawy z dnia 26 czerwca 1974 r. Kodeks pracy oraz aktów wykonawczych jest dobrowolne, ale konieczne do przeprowadzenia rekrutacji. Podanie dodatkowych danych osobowych jest dobrowolne i wymaga Pani/Pana wyraźnej zgody.
Przysługuje Pani/Panu prawo do wycofania zgody w dowolnym momencie, przy czym cofnięcie zgody nie ma wpływu na zgodność przetwarzania, którego dokonano na jej podstawie przed cofnięciem zgody. Dane osobowe będą przetwarzane aż do ewentualnego wycofania przez Panią/Pana zgody na przetwarzanie danych w procesie rekrutacji, nie dłużej jednak niż do zakończenia rekrutacji, w której bierze Pani/Pan udział.
Posiada Pani/Pan prawo dostępu do swoich danych osobowych, ich sprostowania, usunięcia lub ograniczenia przetwarzania, prawo do przenoszenia danych oraz prawo wniesienia skargi do organu nadzorczego.