Sales Team Manager
HILTI
więcej
Sales Team Manager
łódzkie

Kierownik

19.08.2019
Pracodawca ma prawo zakończyć rekrutację we wcześniejszym terminie.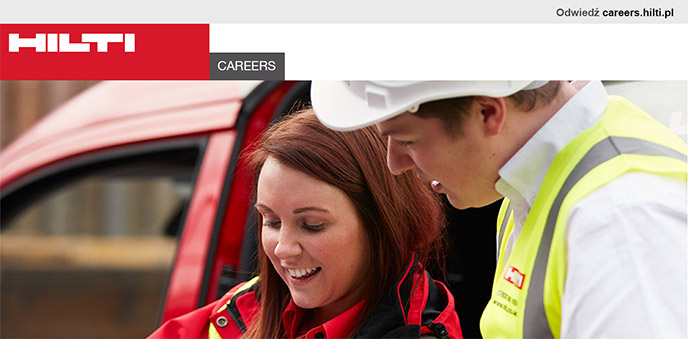 Sales Team Manager (today), General Manager (in the future)
Kogo szukamy?
Are you a successful area sales manager with a dream of an international career? Your professional development has slowed for some time? Your ambition is to manage the organization on a strategic level, and the position of General Manager is in the sphere of your aspirations? You are not looking for a new job, you're looking for opportunity- something extraordinary. Well ... probably you just found it! Do you associate the role of Area Sales Manager only with sales goals and accounting for results? Certainly not in Hilti! Independence, partnership and prestige - this is how you manage your Hilti sales. Every day our managers deal with many interesting challenges. Hera are some of them: how to transfer from Supplier to Partner approach? How to build long-term business relationships with customers? How to inspire them and create today and future market needs? How to be the first to bring innovations to the market? How to build and develop my team to be successful today and in the future? How to find and develop my successor? Do you have your own experience to share? Maybe Hilti is the right place answer those questions! We are looking for Area Sales Managers, experienced in team management, who are ready to start their career in a fast-paced, high-performing and rewarding multinational company.
Kim jesteśmy?
We provide innovative tools, technologies, software and services for the construction industry. What distinguishes us is the emphasis we place on human development. Our company, employing 29,000 people globally, has its branches in over 120 countries. We employ 500 people in Poland. Our unique approach to global employee development means that we have been the winners of contests for the best employers in the world, also in Poland. We believe that it is people who influence the success of our brand.
Na czym polega praca na tym stanowisku?
For us, the sales department is the heart of the organization. Area Sales Manager plays one of the key roles in Hilti. Our managers have full management confidence and independence in managing their own budget or making business and personal decisions. All this makes their relationship with Management Team and customers based on partnership and jointly undertaking new challenges. Area Sales Manager's role is to define and implement sales plans in the assigned region. It requires close, partner cooperation with the client, based on understanding his needs, loyalty and seeking mutual benefits. Area Sales Manager cooperates with other Hilti teams to take full advantage of sales potential and professionally serve key company's clients. Your tasks will also include the management of a team of Territorial Sales Representatives, especially care for the development of their competences, as well as outlining the directions of activities and inspiring. We recognize that the team's progress (in terms of achieving results and development of competences) is a direct reflection of the leader's work. We are looking for leaders, who inspire and develop others and bring outstanding results.
At Hilti you will have development opportunities such as in a large corporation, while gaining full independence.
At Hilti you will have development opportunities such as in a large corporation, while gaining full independence.
Co oferujemy?
If you want to gain competences that characterize the best entrepreneurs - get to know us and see if this is what you are looking for. We will provide you with autonomy and freedom in choosing actions that will enable you to achieve above-average results. Show us what you can do! The balance between private and professional life is an area of great challenge for many of us. That's why we meet the expectations of our employees, we trust them and give employees the opportunity to choose the right flexible work model according to their individual needs and the type of work performed.
Dlaczego mam złożyć aplikację?
Answer is simple – we are great company, great employer, with great people and great development possibilities! As soon as you cross the threshold of our door you will find out for yourself and you will feel unique atmosphere on your own skin. We are sure that in every Hilti organization you will feel the same - we are a truly global team. Therefore, it does not matter if you do not have previous experience in building construction industry. At Hilti you will achieve success thanks to your skills, personality and teamwork. Experience is of secondary importance. Check out our GM's Tomas Trocil profile to see the unlimited development possibilities at Hilti.
Oczekujemy od Ciebie:
higher education (Master's / Bachelor's degree)
fluency in English
experience in team management
professional experience in sales or marketing
skills to build long-term relationships with clients
ability to bring out the best in people
strategic and business thinking skills
high analytical and interpersonal skills
willingness to develop in Hilti's international structures
readiness to travel all over Poland and abroad
energy, courage and willingness to leave your comfort zone
If you participate in recruitment, as a part of the recruitment process, we will take you on a one-day "field trip" that will give you an idea of the nature of work and personality of our employees. If you want to see what the partnership in business is all about and have an impact on building a premium brand recognized among professionals all over the world – apply!
Osoby zainteresowane prosimy o przesyłanie aplikacji klikając w przycisk aplikowania.