Senior Process Safety Engineer
Air Liquide Global E&C Solutions Poland S.A.
więcej
Senior Process Safety Engineer
Kraków, małopolskie

pokaż mapę

Specjalista

14.12.2018
Pracodawca ma prawo zakończyć rekrutację we wcześniejszym terminie.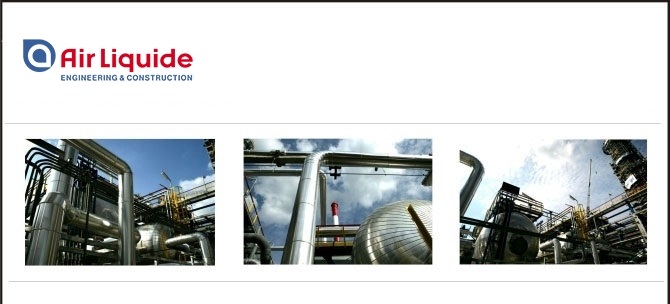 Senior Process Safety Engineer
Company presentation
World leader in gases, technologies and services for Industry and Health, Air Liquide is present in 80 countries with approximately 65.000 employees and serves more than 3 million customers and patients. Oxygen, nitrogen and hydrogen have been at the core of the company's activities since its creation in 1902. Air Liquide's ambition is to be the leader in its industry, delivering long-term performance and acting responsibly.
Entity and activity description
Air Liquide Engineering & Construction - A technology partner of choice
Air Liquide Engineering & Construction builds the Group's production units (mainly air gas separation and hydrogen production units) and provides external customers with efficient, sustainable, customized technology and process solutions. Our core expertise in industrial gas, energy conversion and gas purification, enables customers to optimize natural resources. We cover the entire project life-cycle: license engineering services / proprietary equipment, high-end engineering & design capabilities, project management & execution services. In addition we also offer efficient customer services through our worldwide set-up. As a technology partner, customers benefit from our research and development to achieve energy transition goals.
For the Air Liquide Global E&C Solutions Poland S.A. we are looking for:
Senior Process Safety Engineer
Location: Kraków

Mission and Responsibilities
Key responsibilities:
Systematic analysis of the respective chemical process with regard to the substance characteristics and hazards (e.g. fire, explosion, substance release, overpressure, vacuum, chemical reactions), deriving of adequate protective concepts and design of the corresponding components;
Planning, organizing, supporting and managing qualitative and quantitative systematic safety studies in projects of all technology types such as HAZOP, HAZID, What-If, SIL, LOPA; preparing studies according to company procedures (GRA, ARA) or external codes and standards or according to contractual definitions agreed with the customers;
Conducting dispersion modelling calculations and assessing the loss potential in the fields of explosion and toxicity;
Supporting planning the fire protection concept;
Coordinating, with approval authorities and official experts, as well as participating in the preparation of approval documents for the construction and operation of industrial plants;
Preparing technical risk management plans for the design phase and safety reports;
Conducting Pre-Startup Safety Reviews (PSSRs);
Advising the project teams in all matters relating to plant and process safety;
Participating in the harmonization and coordination of our activities within E&C and the Air Liquide Group, cooperation in internal committees and working groups as well as in the preparation and optimization of existing tools and standards for plant and process safety.
Reporting line & localisation:
Senior Process Safety Engineer reports functionally to the Head of Industrial Risk Management and Process Safety.
This role is located in Kraków, Poland and will require worldwide business trips.
Competencies and Profile:
University degree in Chemical Engineering, Safety Engineering, Environmental Engineering or a comparable technical or scientific discipline and professional experience in the field of plant and process safety with a focus on technical risk analysis;
Professional experience in plant engineering (construction, engineering) and in the application of relevant codes and standards;
Excellent communication skills, poise and assertiveness;
Autonomous working style and analytical mindset;
Strong organizational skills and good teamwork capabilities;
Very good command of English (both spoken and written);
Willingness to travel;
Willingness to further develop your professional skills.
Additional information
We offer:
Interesting, challenging position in an international company,
Work in a multicultural team,
Training and opportunities to develop,
Possibility of changing position, department, gaining new knowledge and experience,
Attractive compensation and benefits package,
Possibility to purchase company shares on preferential terms,
Private healthcare and MultiSport card.

Aplikując na to ogłoszenie wyraża Pan/Pani zgodę na przetwarzanie danych osobowych zawartych w dokumentach aplikacyjnych, zgodnie z rozporządzeniem Parlamentu Europejskiego i Rady (UE) 2016/679 z dnia 27 kwietnia 2016 r. w sprawie ochrony osób fizycznych w związku z przetwarzaniem danych osobowych i w sprawie swobodnego przepływu takich danych oraz uchylenia dyrektywy 95/46/WE (ogólne rozporządzenie o ochronie danych), przez Air Liquide Global E&C Solutions Poland S.A. w celu realizacji procesu rekrutacji oraz udostępnianie tych danych innym podmiotom grupy Air Liquide. Ponadto, wyraża Pan/Pani zgodę na przetwarzanie danych osobowych zawartych w dokumentach aplikacyjnych przez Air Liquide Global E&C Solutions Poland S.A. również w celu realizacji przyszłych procesów rekrutacyjnych.
Zgodnie z art. 13 ust. 1 i 2 RODO informujemy, iż:
Administratorem Pani/Pana danych osobowych jest Air Liquide Global E&C Solutions Poland S.A. z siedzibą w Krakowie, ul. Mogilska 41;

Pani/Pana dane osobowe przetwarzane będą w celu związanym z nawiązaniem i przebiegiem procesu rekrutacji na podstawie Pani/Pana dobrowolnej zgody, na podstawie art. 6 ust.1 lit. a RODO;

Odbiorcą Pani/Pana danych osobowych jest Air Liquide Global E&C Solutions Poland S.A. oraz inne podmioty grupy Air Liquide;

Pani/Pana dane osobowe będą przechowywane w okresie 1 roku od złożenia aplikacji.

Posiada Pan/Pani prawo do dostępu do treści swoich danych oraz prawo ich sprostowania, usunięcia, ograniczenia przetwarzania, prawo do przenoszenia danych, prawo wniesienia sprzeciwu, prawo do cofnięcia zgody na ich przetwarzanie w dowolnym momencie bez wpływu na zgodność z prawem przetwarzania, którego dokonano na podstawie zgody wyrażonej przed jej cofnięciem;

Ma Pan/Pani prawo wniesienia skargi do Prezesa Urzędu Ochrony Danych Osobowych gdy uzna Pan/Pani, iż przetwarzanie danych osobowych Pana/Pani dotyczących narusza przepisy RODO;

Podanie przez Pana/Panią danych osobowych jest dobrowolne, ale konieczne dla celów związanych z nawiązaniem i przebiegiem Pana/Pani zatrudnienia; Zgoda może być w każdej chwili odwołana. Wystarczy wysłać taką informację na adres e-mail:

[email protected]

, lub złożyć wniosek w siedzibie spółki lub Oddziale.