Senior DevOps Engineer
EY Global Delivery Services
więcej
Senior DevOps Engineer
Wrocław, dolnośląskie

Specjalista

14.07.2018
Pracodawca ma prawo zakończyć rekrutację we wcześniejszym terminie.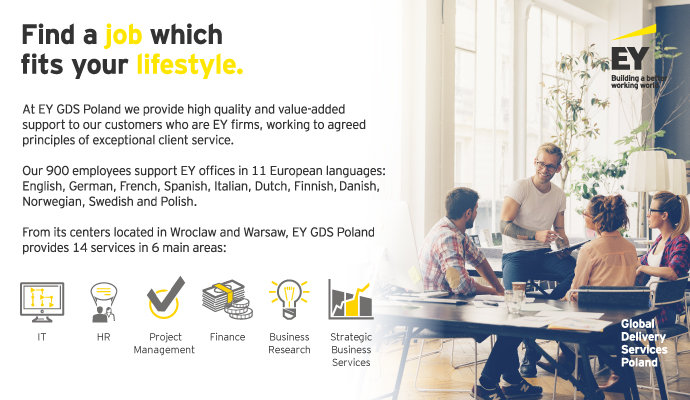 Senior DevOps Engineer
Workplace: Wrocław
Ref no: WRO001LH

About EY GDS
EY Technology is a global organization that works with our internal clients, to provide IT support and solution to client teams, internal support functions and global projects and programs. Over the next few years, GDS Poland will increase the number of IT professionals in its center to develop and support EY's business and internal applications. These professionals include IT project managers, business analysts, software architects, infrastructure engineers.
IT Services team maintains and enhances EY's IT infrastructure and works for our internal clients across the globe. You will work with EY locations, supporting our service lines and key business processes or be part a dedicated IT team handling cross-organizational initiatives and transformational projects.
Position Summary:
Reporting directly to the Platform Engineering Lead, the Shared Business Platform Engineer is responsible for participating in scrum team based activities that are assigned to incubation group.
The role is responsible for providing subject matter expertise in relation to virtualization & cloud technologies, engineering of new solutions that enhance our existing offerings and building of new automation around IaaS, PaaS, and Network-as-a-service in support of our clients.
The position is a hands-on technical role, assisting in the engineering and integration of existing and leading edge technologies, collaborating across the organization with multiple internal and sometimes external teams. The candidate would be expected to provide Level 3 (engineering support) and Level 4 (engineering development) type of activities that ensure continuity of the produced solutions that enable businesses.
Knowledge and Skills Requirements:
Broad understanding of global environments, including regional issues and differences.
Demonstrated experience working with a distributed international team, across cultures and time zones with minimal supervision
Strong ability to interact with all levels of the organization
Taking ownership of assigned issues/enhancements/features and helping to define a plan and related coordination activities to provide an end to end solution.
Proactively anticipates problems before they occur; identifies possible causes; works with team to identify solutions; selects and implements most appropriate solution.
Proactively raising issues to Engineering Lead.
Produce documents which contain clear, precise descriptive language
Providing 3rd/4th level support for all solutions produced by the team.
Applies judgment in implementing methodologies, processes, and practices to specific requirements of projects/programs which may include product design engineering, information security, code maintainability and reliability.
Provide required training and support to other peer teams for newly designed and developed functionality.
Utilize approved tools, adopt key performance indicators (KPIs), increase technology component reuse, and consolidate platforms, environments and products with the goal of reducing overall IT costs.
Proven solution design skills
Being able to script and automate a solution end-to-end (infrastructure, middleware and application layers).
Experience of IT service business and engineering of multi-year managed services:
Degree in Computer Science or related discipline or equivalent work experience
Cloud (3-5 years) in an engineering role using service and hosting solutions such as private/public cloud IaaS, PaaS and SaaS platforms. Experience in engineer technical solutions for Microsoft-centric solutions based on industry standards using Azure or other cloud providers IaaS, PaaS and SaaS capabilities. Nice to have Experience with any of the following: O365, Azure, Azure Stack, Azure AD
Scripting (3-5 years) – having knowledge and experience with Microsoft PowerShell (required) and Linux shell scripting (preferred). Being able to understand and use best practices of completing tasks and finding solutions using existing or building new scripts to help automate today's manual infrastructure and application tasks.
Configuration Management (2-3 years) – being able to develop recipes for new solutions to deploy consistent systems, enforce configurations and settings through configuration management systems like PowerShell DSC, Chef or Puppet.
Web Services, API, REST (1-2 years) – Understanding and having experience with leveraging web services (SOAP), different API endpoints including the usage of REST based APIs to be able to be able to build loosely coupled architectures and solutions that are quick to implement and are easy to monitor.
Networking (1-3 years) - Have a solid understanding of networking capabilities, including load balancers, web application firewalls, network access control lists (NACLs), security groups, routing, tracing, DNS resolution are key to building efficient and stable solutions that prevent business downtime and provide high availability capabilities.
Documentation (2-3 years) - Being able to create technical documents that provide insight into the design and implementation of a solution provides teams with the ability to effectively communicate their needs and requirements across the organization. The candidate has to be able to produce clear and concise architecture and design documentation that can assist his team and other peer groups in understanding of the built solutions. The candidate must also be able to communicate complex technical issues with sensitivity to diverse audiences and people with different level of technical understanding that range from entry level support teams, management, and technical engineering resources.
Operational Support awareness (2-3 years) – A good understanding of what it takes to support the deployed applications and solutions is key to providing great service to the end users. The candidate has to be able to put themselves into a position of understanding of their consumer pain points to be able to figure out creative ways not only to find quick workarounds but also analyze the root cause of the problem and come up with ideas of resolving them in the long term.
Source code management (1-3 years) – Familiarity with source control tools such as Git, Team Foundation Server (TFVC), and SVN are a big part of automation and compliance. Understanding how these tools are and could be used is key to not only provide the proper change control management to new versions of products that are being developed, but also to help provide consistency in deploying those products/solutions throughout environments using automation.
Who we look for?
We love working with people who are passionate about their job and have amazing skills in their area a think that: you're an expert in the field with highly developed business and interpersonal skills, you're always ready to face new professional challenges, you're a person with a great sense of humor and you're open to cross-border experiences; it's a role for you.
What EY GDS offers?
Work in prestigious, stable company
Contract of employment
Fair salary
Relocation package
Participating in interesting projects
Work in a professional, dynamic, truly global team
Development opportunities in international multilingual environment
Medical cover
Life insurance
Sports card
Laptop
Business trips support
Language classes
Referral programme
Charity initiatives
Fresh juice twice a week and fruit once a week
Trainings
Wellness & Spa programme
Sport Groups
Additional bonuses
Modern office space near market square
Home office up to 3 days per week
If you feel that the role suits your personal goals and career path, please send us your current resume.
Join us in building a better working world. Apply now.